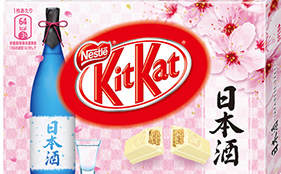 Japan is well-known for its wide variety of Kit Kats, with flavors ranging from New York cheese cake, wasabi, red bean, pumpkin pudding, and of course the all time favorite green tea. Last month we reported on the new flavor Kit Kat based on the country's traditional rice wine, sake as it is known internationally.
Online retailer of Japanese goods, JList, have gone the extra mile to bring you the limited edition 2016 version of the sake flavored Kit Kat.
Sake Kit Kat – This flavored Kit Kat is current available on JList here (get 5% off with coupon code MOE-N3Y-4YW0QK).