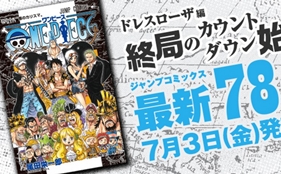 On the Oricon Charts for this week, it has been shockingly revealed that the 78th volume of Eiichiro Oda's One Piece manga sold over 1,676,264 copies. The amount sold 8,000 copies more than volume 77, with 1.668 million last April 13 report. This makes the 78th volume of One Piece the best record for first-week sales. The 78th volume was released on July 3, 2015.
Top 10 Sales of Manga Volumes from Oricon Ranking (June 29 – July 5):
One Piece Volume 78 by Eiichiro Oda – 1,676,264
Ansatsu Kyoushitsu Volume 15 by Yusei Matsui – 423,828
Bleach Volume 68 by Tite Kubo – 223,964
Toriko Volume 35 by Mitsutoshi Shimabukuro – 142,908
Ore Monogatari!! Volume 9 by Kazune Kawahara and Aruko – 106,865
New Prince of Tennis Volume 15 by Takeshi Konomi – 95,078
Tokyo Ghoul:re Volume 3 by Sui Ishida – 84,610
Gin no Saji Volume 13 by Hiromu Arakawa – 76,965
Nanatsu no Taizai Volume 15 by Nakaba Suzuki – 71,215
Kimi to Boku. Volume 15 by Kiichi Hotta – 70,535
One Piece manga began under Shueisha's Weekly Shounen Jump on July 22, 1997. An anime produced by Toei Animation began airing on October 20,1999 and will have 701 episodes this week.
Volume 78 CM
Synopsis of One Piece manga from MAL:
Gol D. Roger was known as the Pirate King, the strongest and most infamous being to have sailed the Grand Line. The capture and death of Roger by the World Government brought a change throughout the world. His last words before his death revealed the location of the greatest treasure in the world, One Piece. It was this revelation that brought about the Grand Age of Pirates, men who dreamed of finding One Piece (which promises an unlimited amount of riches and fame), and quite possibly the most coveted of titles for the person who found it, the title of the Pirate King.

Enter Monkey D. Luffy, a 17-year-old boy that defies your standard definition of a pirate. Rather than the popular persona of a wicked, hardened, toothless pirate who ransacks villages for fun, Luffy's reason for being a pirate is one of pure wonder; the thought of an exciting adventure and meeting new and intriguing people, along with finding One Piece, are his reasons of becoming a pirate. Following in the footsteps of his childhood hero, Luffy and his crew travel across the Grand Line, experiencing crazy adventures, unveiling dark mysteries and battling strong enemies, all in order to reach One Piece.
Source: Oricon
sevenpocky | Anime and Manga Enthusiast. Slice-of-life and Sports genre fanatic. Shoujo manga lover.
Oh, and I'm short and I love writing manga news.