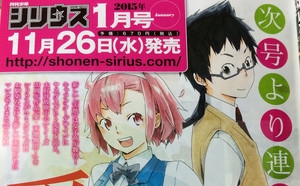 On Saturday,  it was announced that there will be a manga adaptation of the currently airing anime, Ai Tenchi Muyo! according to the December issue of Kodansha's Monthly Shōnen Sirius magazine. It will be released on November 26 on the January issue of the magazine. The manga illustrator will be Haruna Nakazato, who won the 23rd Sirius New Face Awards in 2012 by his short manga called Hoshi no Ame.
The short comedy, sci-fi, shounen original anime show, Ai Tenchi Muyo!, was based from the Tenchi Muyo! franchise. It was made to promote the city of Takahashi in the Okayama Prefecture, Japan and to celebrate the 20th anniversary of the franchise. It aired on October 6, 2014 and is expected to have 50 5-minute episodes. The anime was produced by AIC Plus+ (Amagami SS, Strike Witches), directed by Hiroshi Negishi (Tenchi Muyo!, Love Pheromone) and was created by Kajishima Masaki (Isekai no Seikishi Monogatari, Dual Parallel! Trouble Adventures).
Announcement of the manga adaptation: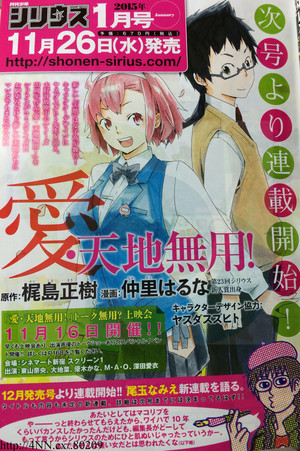 Ai Tenchi Muyo! is a Japanese anime series produced by AIC. The series is based on the Tenchi Muyo! franchise and is sponsored by the city of Takahashi, Okayama in order to promote tourism for the city. It was also created to commemorate the franchise's 20th anniversary. The anime series is set to air on Tokyo MX beginning in October 2014, which will consist of 50 four-minute episodes. The series will be directed by Hiroshi Negishi (who previously directed Tenchi Universe), with Suzuhito Yasuda providing the new, updated character designs. Many of the voice actors from the original franchise are set to return, with the exception of Ayeka, who will now be played by Haruhi Nanao.
Synopsis of Ai Tenchi Muyo! from Wikipedia:
In this story, the world is in chaos, thanks to Washu. Now in order to save it, Tenchi Masaki must go undercover as a student teacher at an all-girls school. Unfortunately for him, trouble always comes his way as he has a hard time to deal with the hijinks of his new students.
Source – ANN
sevenpocky | Anime and Manga Enthusiast. Slice-of-life and Sports genre fanatic. Shoujo manga lover.
Oh, and I'm short and I love writing manga news.