Kadokawa began streaming a promotional video for the seventh Blu-ray and DVD volume of Amagi Brilliant Park on Friday. The volume will include the 13th and final episode that aired on television, as well as an unspecified number of unaired episodes. The video features the song "Extra Magic Hour" by AKINO with bless4 which was used as Amagi Brilliant Park's opening theme.
The seventh Blu-ray and DVD will also include the "Waku Waku Mini Theater Rakugaki Backstage Sono 7" video, specially illustrated cases, special guide, stickers, and cast and staff commentaries. The limited-edition Blu-ray Disc release will cost 6,975 yen ($58), while the limited-edition DVD will cost 5,975 yen ($50).
The "Amagi Brilliant Park Kaien 30 Shunen Kinen Premium Event" (Amagi Brilliant Park Opening 30th Anniversary Commemorative Premium Event) will be held in Tokyo's Kadokawa Cinema Shinjuku on April 26 at 7:00 p.m. The anime's main voice cast members will attend the event, and tickets will cost 3,800 yen ($32).
Visual: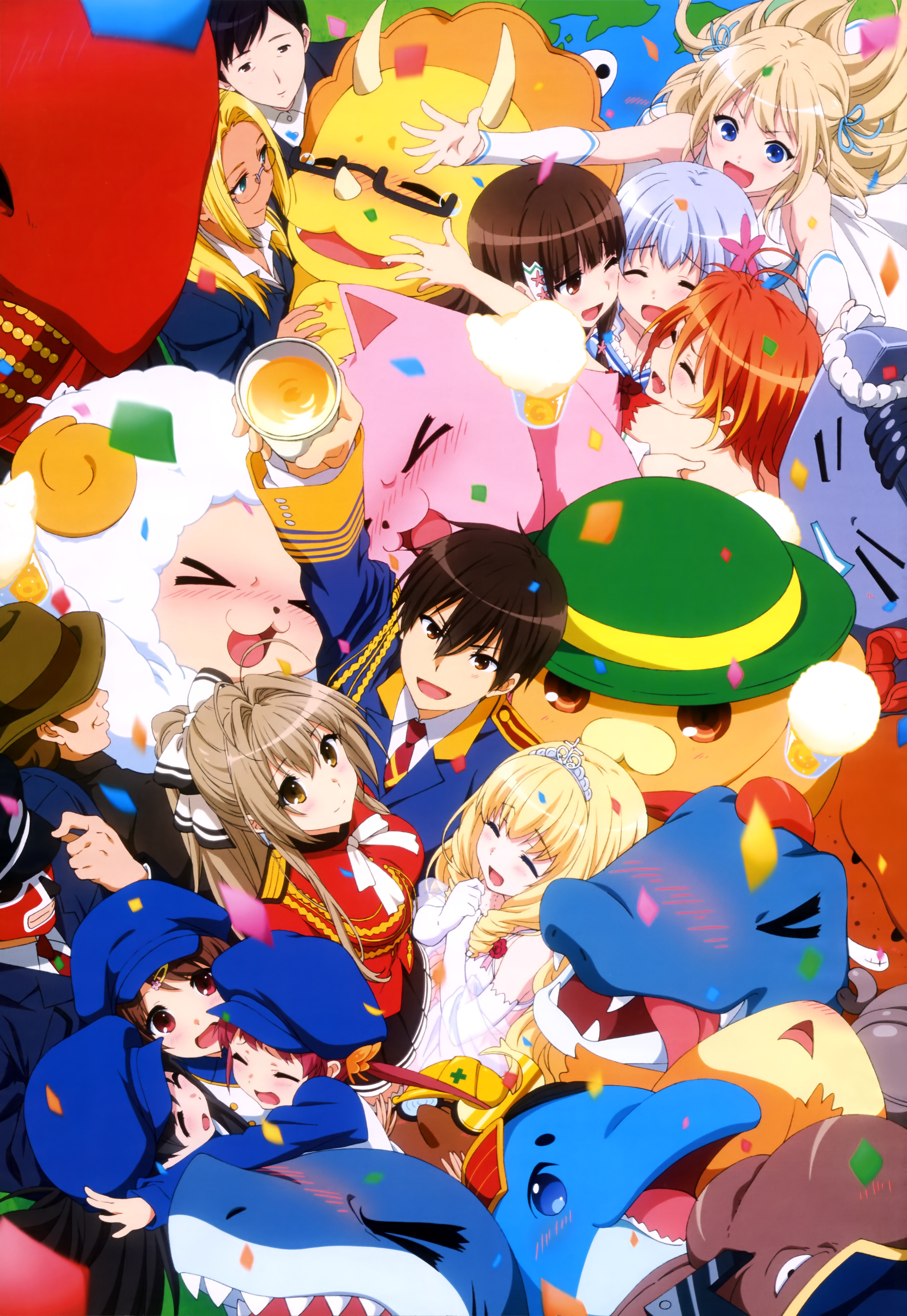 Amagi Brilliant Park is a Japanese light novel series written by Shoji Gatoh and illustrated by Yuka Nakajima. Fujimi Shobo has published five volumes since February 20, 2013, under their Fujimi Fantasia Bunko imprint. There are three manga adaptations published by Fujimi Shobo and Kadokawa. A 13-episode anime television series adaptation by Kyoto Animation and directed by Yasuhiro Takemoto, who directed Hyouka and Full Metal Panic? Fumoffu – the latter is another anime based on Gatoh's works, aired in Japan between October 6 and December 25, 2014.
Amagi Brilliant Park synopsis from Haruhichan:
The story centers around high school student Seiya Kanie, a self proclaimed genius with looks, intellect, and athletic ability. On a Sunday, a mysterious transfer student who carries a musket gun takes him to an old and deserted amusement park, Amagi Brilliant Park. He is told that if the park can't attract 100,000 visitors in the next two weeks, it will be closed immediately. And thus the business comedy, Amagi Brilliant Park, begins!
Source: ANN