Last month, it was announced that the 46th compiled limited edition volume of Yuuji Terajima's (Giant Step) Diamond no Ace will include the series' third original video animation but no synopsis has been revealed yet. In a Japanese anime flyer, it was revealed that the third OVA will be centered towards the reverse ace pitcher of Seidou Highschool, Kawakami Norifumi. The cast was also announced, which are four of the second-year students. The story is an original, thus it wasn't taken place in the manga. The limited edition set will be released on March 17, 2015.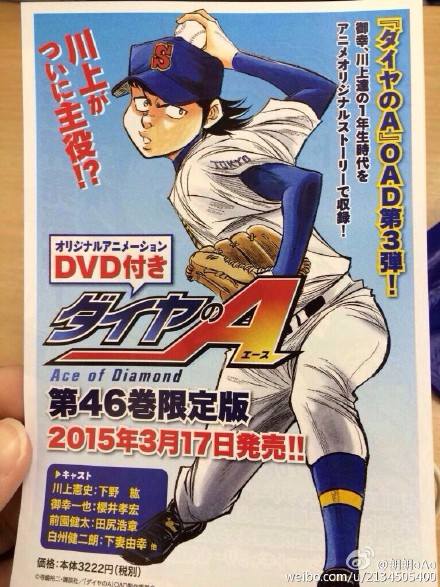 Announced Cast:
Hiro Shimono (Shingeki no Kyojin's Connie Springer, Tonari no Seki-kun's Toshinari Seki) as Kawakami Norifumi
Sakurai Takahiro (Code Geass's Suzaku Kururugi, Hitsugi no Chaika's Shin Acura) as Miyuki Kazuya
Hiroaki Tajiri (Yowamushi Pedal's Taura, SKET Dance's Mamoru Ozaki) as Kenta Maezono
Yoshiyuki Shimozuma (Baby Steps' Nariyuki Koshimizu, Yowamushi Pedal: Grande Road's Ryou Ibitani) as Kenjirou Shirasu
On November 17, 2014, the 44th compiled limited edition manga volume was released with the first OVA of the series. It was titled as Kominato Ryousuke Special Bangai-hen: Face and it appeared in the Diamond no Ace: Guide Book – Ura as a one-shot. The one-shot was published on May 14, 2014 as chapter 327.1.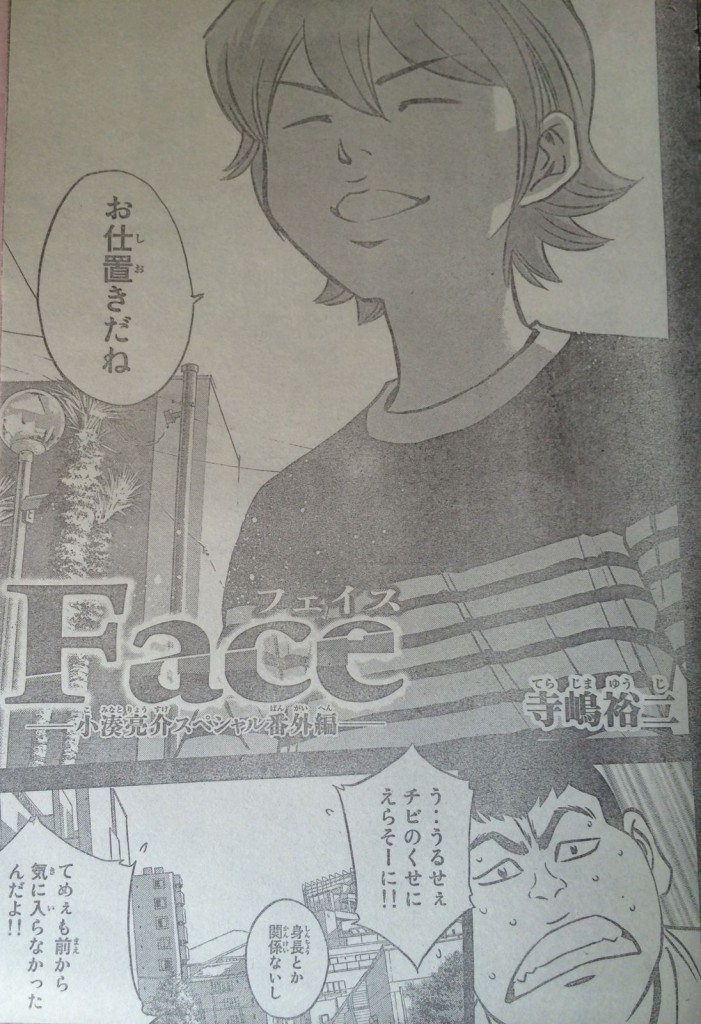 【CM放送中】予約9/30迄(11/17発売)ダイヤのA(44) DVD付き限定版 『Face-小湊亮介スペシャル番外編-』をアニメ化 小湊亮介:岡本信彦 小湊春市:花江夏樹 #ダイヤのA pic.twitter.com/Qgq9epzxrC

— 逢坂良太さん備忘録 (@RO_memo_) August 3, 2014
The second OVA will be released along with the limited edition 45th compiled manga volume of the series tomorrow, January 16, 2015. It will be titled as Kuramochi Youichi's Special Bangai-hen: OutRun. This is an adaptation of a one-shot that is included in the Diamond no Ace: guide Book – Ura that was published on March 17, 2014 as chapter 319.1. The OVA will show Kuramochi Youichi's past.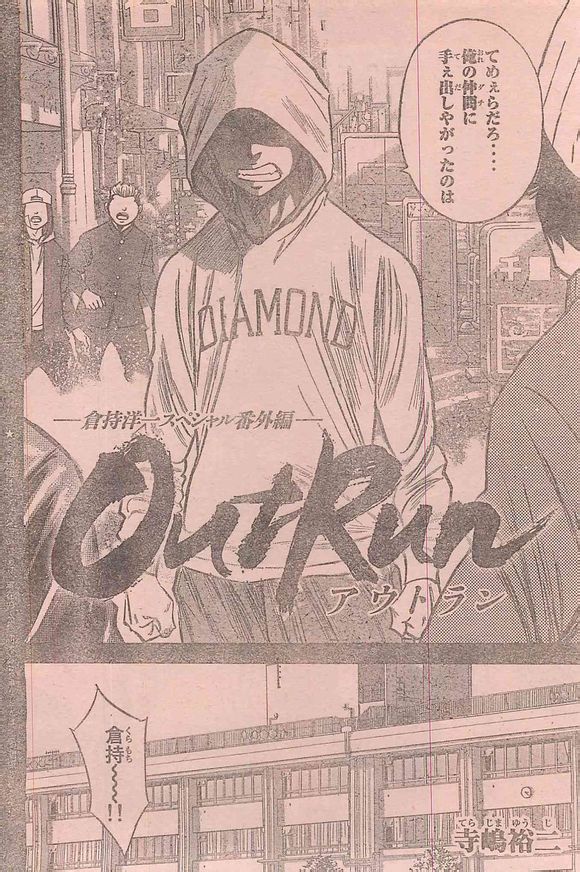 【書籍】1月16日発売予定 DVD付き ダイヤのA(45)限定版 [予約] http://t.co/BAcAm80XFo 『倉持洋一スペシャル番外編-OutRun』をオリジナルアニメーション化! #ダイヤのA #diaace pic.twitter.com/BDDbsP6ScB

— ダイヤのA 最新グッズ情報 (@diaaceBOT) December 25, 2014
The manga, Diamond no Ace, was published by Kodansha and was serialized by Weekly Shounen Magazine since 2006. There are will be 45 compiled manga volumes as of tomorrow. An anime adaptation was premiered on October 6, 2013 and is still airing. It was announced that it will end on March 2015. The anime was produced by a collaboration of Madhouse (Hajime no Ippo, Chihayafuru) and Production I.G (Kuroko no Basuke, Haikyuu!!).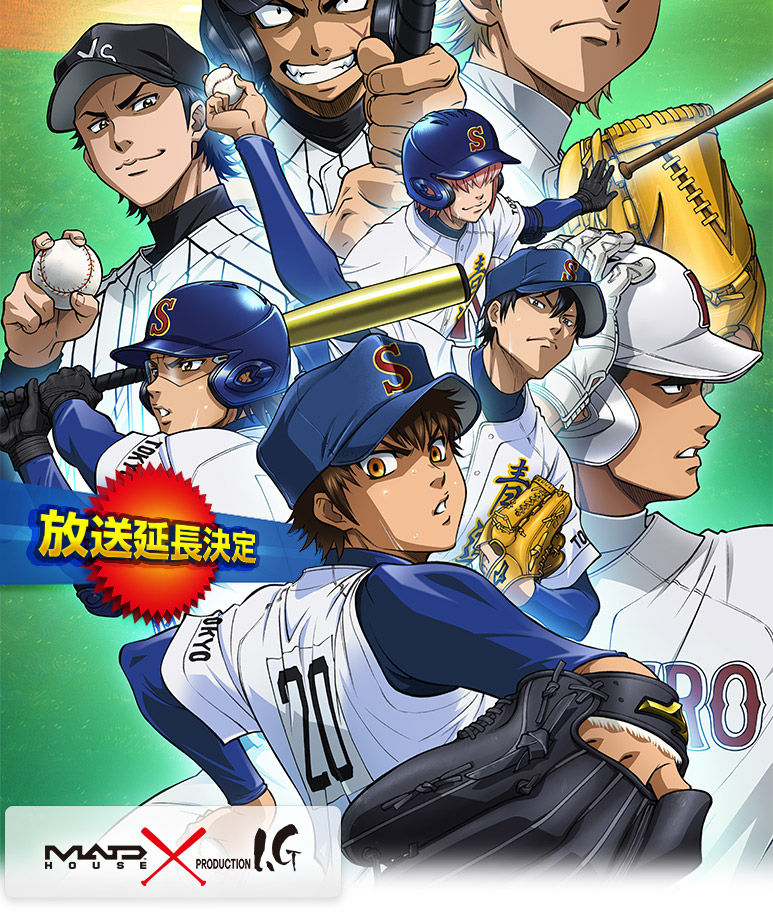 Synopsis of Diamond no Ace from Haruhichan:
The story follows Eijun Sawamura, a pitcher who joins an elite school with a brilliant catcher named Kazuya Miyuki. Together with the rest of the team, they strive for Japan's storied Koushien championships through hard work and determination.
Synopsis of Diamond no Ace OVA from Haruhichan:
The limited-edition DVD will animate "Face -Kominato Ryousuke Special Bangai-hen-", which appeared in the Ace of Diamond Official Guidebook Ura and tells the "moving secret story of the Kominato brothers that cannot be seen in the television series."
Source – Weibo