The official website of the Durarara!! anime has released the second promotional video which also previews the opening theme HEADHUNT by OKAMOTO'S. The first cour (Durarara!!x2 Shou or "understanding") will premiere in January 2015 followed by the second part (Durarara!!x2 Ten or "motion") in July 2015 and the third part (Durarara!!x2 Ketsu or "conclusion") in January 2016.
http://www.dailymotion.com/video/x29rmpl
The additional cast was also announced earlier as well as the first promotional video:
http://www.dailymotion.com/video/x27wr9j_%E3%83%87%E3%83%A5%E3%83%A9%E3%83%A9%E3%83%A9-%EF%BC%92-pv01_creation
Key visual: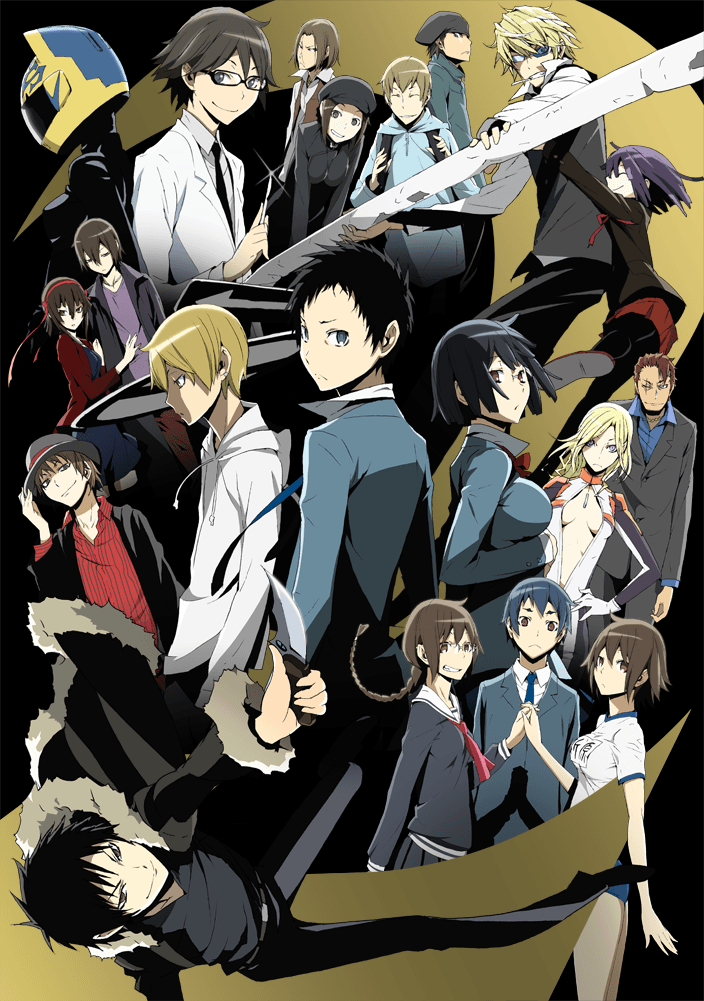 This new anime is part of the 10th anniversary celebration of the Durarara!! series, which began as a light novel series in 2004 published by ASCII Media Works' Dengeki Bunko. The original light novels ended in January this year, but the creator of the series Ryohgo Narita, has stated that he will be begin a new series of light novels titled Durarara!! SH, set two years after the original's conclusion. The first issue will release on April 10th. The light novels received an anime adaptation in 2010 from animation studio Brains Base. In addition, two manga adaptations were also released and a few visual novels. To date the light novels has a total of 13 volumes. and are illustrated by Suzuhito Yasuda.
A manga adaptation by Akiyo Satorigi started serialization in the shounen manga magazine Monthly GFantasy on April 18, 2009. An anime adaptation began airing in Japan in January 2010. Two games based on the series for the PlayStation Portable were released, and a game for PlayStation Vita was released on June 19, 2014 in Japan.
The new Durarara!! season will continue on from the original and will air this Winter anime season.
Durarara!!x2 synopsis from Haruhichan:
Second season of Durarara!!
Source: Durarara!! official website