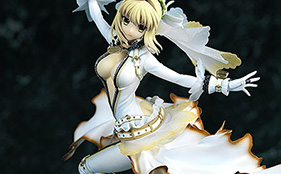 A new fascinating 1/7th scale figure of Saber Bride from the popular game Fate/EXTRA CCC has been revealed. She is shown wearing her signature bridal gown-like costume in an absolutely perfect pose. This figure is wonderfully crafted to capture the elegance of Saber Bride. She also carriers her patented weapon the Aestus Estus: The Embryonic Flame. From Good Smile Company.
Fate/EXTRA CCC – Saber Bride 1/7 Figure – Pre-orders are available on Jlist here and is expected to be released in June 2016.
Saber Bride can be pre-ordered here.