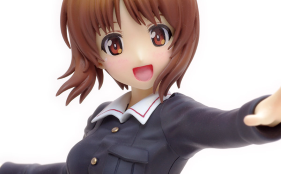 From the figure manufacturer Wave, a new figure from the popular tank series Girls und Panzer was recently announced and its none other than everyone's favorite tank commander Nishizumi Miho!
The 1/8 scale figure comes in at 220 mm (around 8.5 inches) and will be retailing at 9800 yen plus tax (about 82 USD). The figure features a smiling Miho in her signature panzer jacket, complete with anglerfish logo on the back. The prototype base is a rather detailed earthy patch on which her combat boot will be resting. Overall its a rather simple figure but one that will still be a welcome addition to any fan of the series.
The figure is now or will soon be up for preorder now at all major figure selling sites!
snakes88 is an anime and PVC enthusiast . Have feedback on the article? Feel free to get in touch on Twitter to talk about all things anime and PVC.