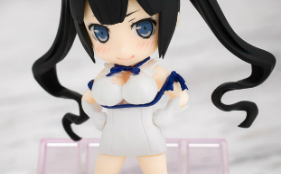 While most figures come with stands to display the mold and figure itself, company PULCHRA had something new in mind. Their newest Hestia figure from Danmachi holds up your smartphone in the back, and features a built in stand for the figure itself. The Hestia figure stands 80mm (3 inches) tall and features a matte black hair paint job and her famous ribbon dress. While the specifications for the phone size are not given in the description, it is assumed that anything from an Iphone to a Samsung can fit into the holder.
Danmachi – Hestia Smartphone Stand Bishoujo Character Collection No.12 – Pre-orders are available on Jlist here and is expected to be released in November 2015.
Hestia smartphone stand can be pre-ordered here.
Business Major at University and lover of all things cute. Ask me about my figure collection