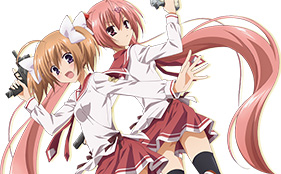 The official website for the upcoming anime adaptation of Chuugaku Akamatsu's and Shogako Tachibana's spin-off manga series, Hidan no Aria AA, revealed that the series will premiere this October. The staff, cast, and a preview of the series have also been revealed.
The staff for the Hidan no Aria AA anime series includes:
Director: Takashi Kawabata (Arakawa Under the Bridge x Bridge, Mahou Shoujo Madoka Magica Movie 1: Hajimari no Monogatari, Nisemonogatari)
Series Composition: Fumihiko Shimo (Clannad, Golden Time,  Mikakunin de Shinkoukei)
Character Designer: Miwa Oshima (Baka to Test to Shoukanjuu, GJ-bu, Saiunkoku Monogatari)
Chief Animation Directors: Mariko Kubo, Chisato Kukinaga
Music: Takuro Iga (Yuuyake Dandan)
Music Production: Flying Dog
Animation Production: Doga kobo (Gekkan Shoujo Nozaki-kun, Mikakunin de Shinkoukei, Yuru Yuri)
Additionally, the main cast for the anime was also announced:
Ayane Sakura (Nao Tomori from Charlotte) as Akari Mamiya
Rie Kugimiya (Kagura from Gintama) as Aria H. Kanzaki
Ai Kayano (Nana Hayashida from Golden Time) as Shino Sakaki
Mao Ichimichi (Aoko Nakamori from Magic Kaito 1412) as Raika Hino
Aoi Yuuki (Madoka Kaname from Mahou Shoujo Madoka Magica) as Kirin Shima
Sarah Emi Bridcutt (Yuki Nonaka from Shinmai Maou no Testament) as Urara Takachiho
The first promotional video was also streamed:
A new key visual was also revealed:
Hidan no Aria AA synopsis from Haruhichan:
A young girl idolizes the world-renowned S-ranked butei Kanzaki H. Aria and plans to follow in her footsteps. However, her test grades her out as only an E-rank! All is not lost, however, as Aria agrees to give her some pointers. Can Aria help this newcomer become a first-rate butei?
Source: Moca News