According to the January 2015 issue of Kadokawa Shoten's Shounen Ace magazine that will be shipped this Wednesday, the manga adaptation of Hitsugi no Chaika will end in the February issue that will be released next month.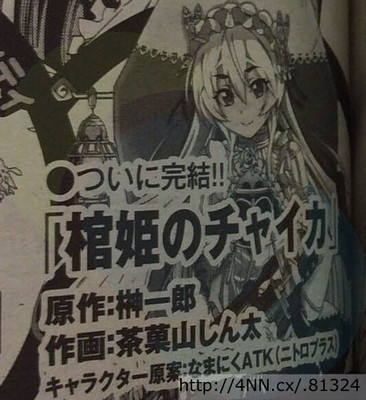 The fantasy-adventure manga was adopted from Ichirou Sakaki's (Outbreak Company, Shinkyoku Soukai Polyphonica) light novel of the same title with Shinta Sakayama (one of the contributors of Boku wa Tomodachi ga Sukunai: Koushiki Anthology Comic) as the illustrator. The manga began serializing on December 26, 2011. There are currently three compiled volumes, having the fourth volume to be released on March 20, 2015.  Last month it was announced that the manga was licensed by Yen Press in North America, in which the first volume will be released on June 2015.
Hitsugi no Chaika is one of the three manga adaptations of the light novel: one is a 4-koma manga, Hitsugi no Chaika kka, and the other one is Gakuen Chaika! that was just released this Winter 2014.
The series has received a 12-episode anime adaptation last Spring 2014 and a 10-episode sequel, Hitsugi no Chaika: Avenging Battle, which is currently airing this Fall 2014. Both seasons were produced by studio Bones (Fullmetal Alchemist: Brotherhood, Captain Earth) and was directed by Souichi Masui (Scrapped Princess). It will also receive an OVA bundled with the 12th light novel volume that will be released on March 10, 2015.
Synopsis of Hitsugi no Chaika from Haruhichan:
Toru Acura is a 20-year-old retired soldier meandering through life post-war. He encounters Chaika Trabant, a 14-year-old sorceress carrying a coffin, and follows her in hopes of finding some semblance of meaning in his life again. The two are accompanied by Toru's adopted sister Akari, the sole employed member of the group and thereby their source of sustenance.
Source – ANN