Today, in the January 2015 issue of Kodansha's Nakayoshi monthly shoujo manga magazine, it was announced that Natsumi Eguchi's Hoozuki no Reitetsu manga will get a special chapter. The special chapter will be released in the February 2015 issue of the magazine which will be out on December 27, 2014. On the chapter preview, it states that the original story lists that "The rumored super-sadistic boy makes his appearance in the Valentine's Day issue!"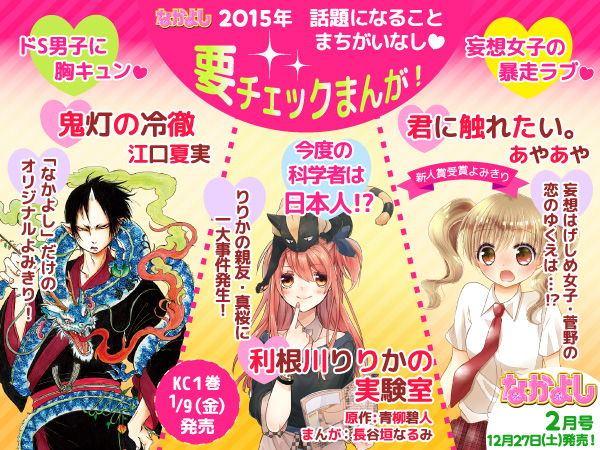 Hoozuki no Reitetsu is a supernatural dark-comedy manga written and illustrated by Natsumi Eguchi. It was first published under Kodansha's Weekly Morning magazine on 2011. It has currently 16 compiled manga volumes in which the 16th volume was published on November 21, 2014. It was nominated for the fifth edition of an annual manga award, Manga Taishou, in 2012. In the same year, it was chosen as a jury selection at the 16th Japan Media Arts Festival Awards.
The manga has received an anime adaptation that was produced by Wit Studio. It was aired on January 9, 2014 to April 3, 2014 with 13 episodes. The anime was directed by Hiro Kaburaki (Kimi ni Todoke, Tonari no Kaibutsu-kun). A 3-episode original video animation (OVA) will be released next year as it bundles with the limited editions of 17th, 18th and 19th compiled manga volumes (February 23, 2015 to August 21, 2015). There will be an advanced screening of the OVA on December 6 in 11 theaters in Japan.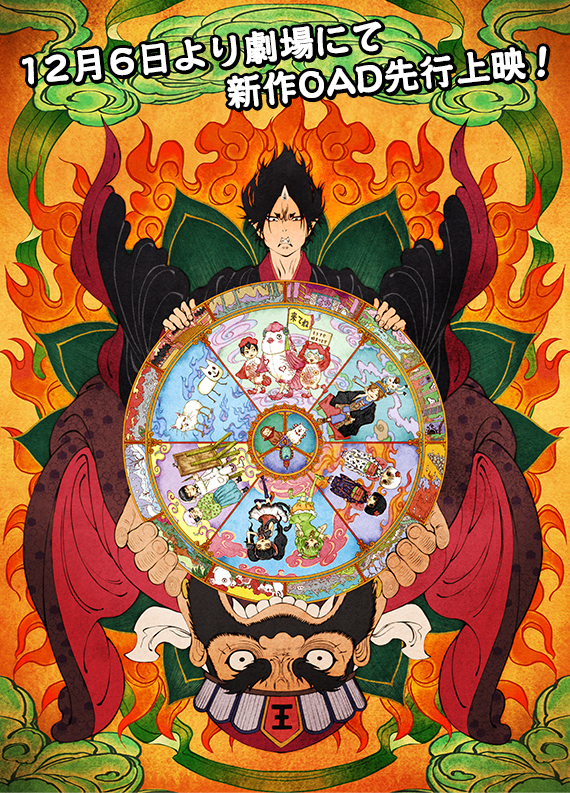 Synopsis of Hoozuki no Reitetsu from Haruhichan:
The dark comedy revolves around the fierce god aide to the Great King Yama, Hoozuki. Calm and super-sadistic, he tries to resolve problems that often occur in Hell.
Read the official Japanese web-release of Hoozuki no Reitetsu's first few pages here.
Visit the official anime website (Japanese) and Starchild official anime website.
Source – Nakayoshi Magazine's Official Site, Hoozuki no Reitetsu Page on Weekly Morning Magazine