The official website of the upcoming anime adaptation of Norimitsu Kaihou and Sadoru Chiba's Gakkou Gurashi! (School-Live!) manga has released a preview of Inori Minase's character in the Summer series.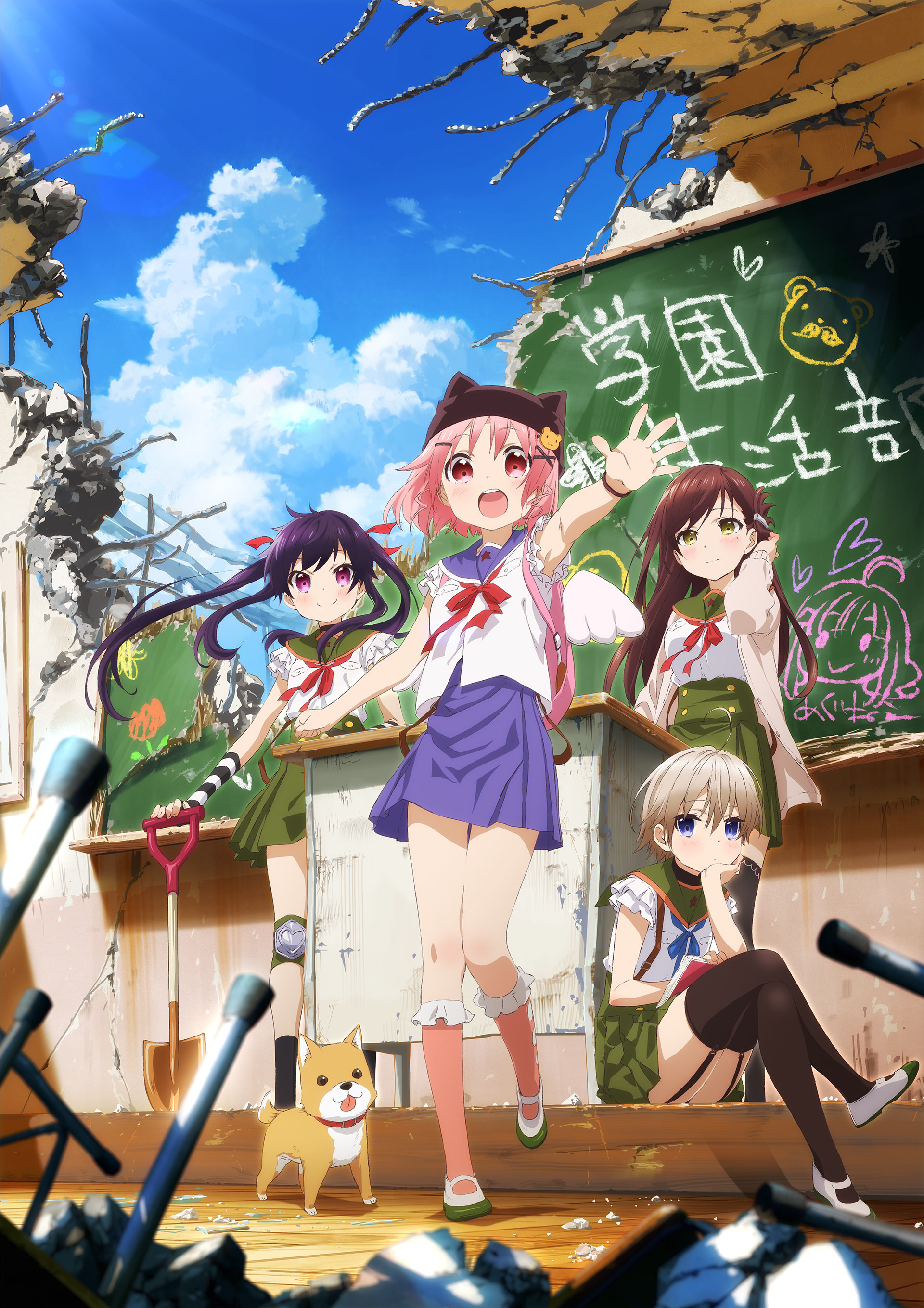 Three pieces of preview audio of the voice of main character Yuki Takeya has been posted on the anime's website. She will be voiced by Inori Minase, who has voiced Chino Kafuu in Gochuumon wa Usagi Desu ka?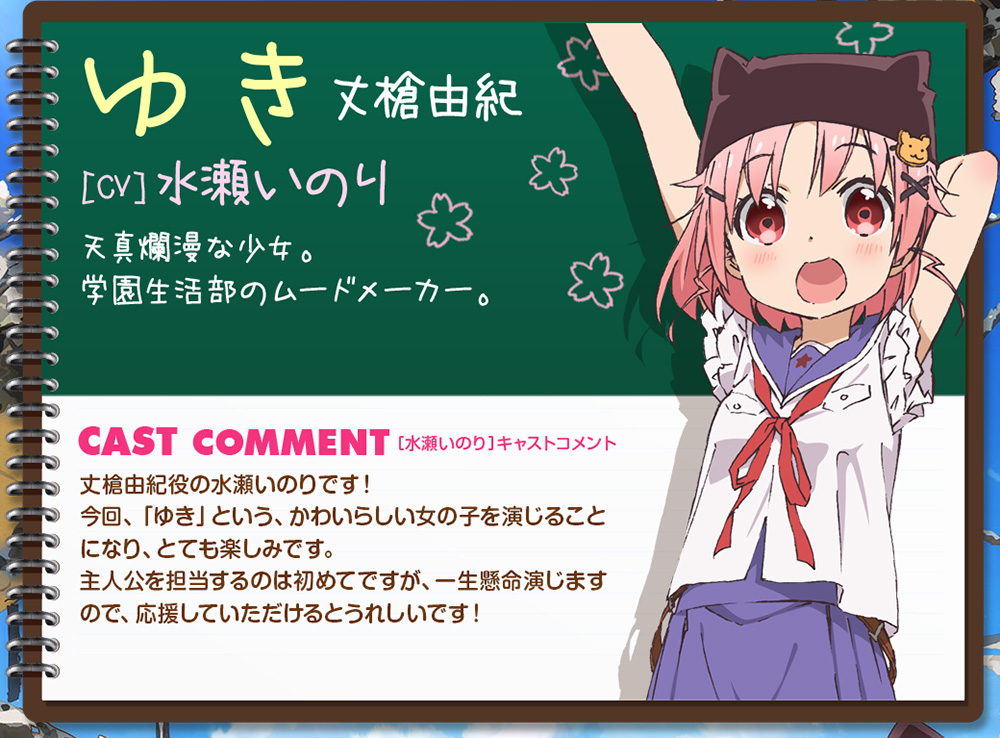 The main cast were earlier revealed and includes:
Inori Minase (Chino Kafuu from Gochuumon wa Usagi Desu ka?) will be voice the role of Yuki Takeya
Ari Ozawa (Chiyo Sakura from Gekkan Shoujo Nozaki-kun) is going to voice Kurumi Ebisuzawa
M.A.O (Kazumi Schlierenzauer from Gokukoku no Brynhildr) will voice Yuri Wakasa
Rie Takahashi (Asuka Fuji from Shirobako) as Miki Naoki
The staff was also announced and is as follows:
Director: Masaomi Ando (White Album 2) at Lerche (Assassination Classroom, Carnival Phantasm)
Scripts: Norimitsu Kaihou (Gunslinger Stratos
Anime Character Designer: Haruko Iizuka (Little Busters!, Tamayura)
Gakkou Gurashi! is a Japanese manga series written by Nitroplus' Norimitsu Kaihou and illustrated by Sadoru Chiba. The series began serialization in the July 2012 issue of Houbunsha's Manga Time Kirara Forward magazine. An anime adaptation by Lerche will begin airing in Summer 2015
Gakkou Gurashi! from Haruhichan:
Takeya Yuki is in love with the school. For her, it's a wonderful place, where she enjoys her school activities, especially the activities of her club: School Life Club. The club has Rii-chan as the president, Kurumi-chan as another member, and the teacher, Megu-nee, always there for them. Yes, she is in love with her school… on her mind. Because, for her, the reality of the school and their club's activities is way too hard to be perceived…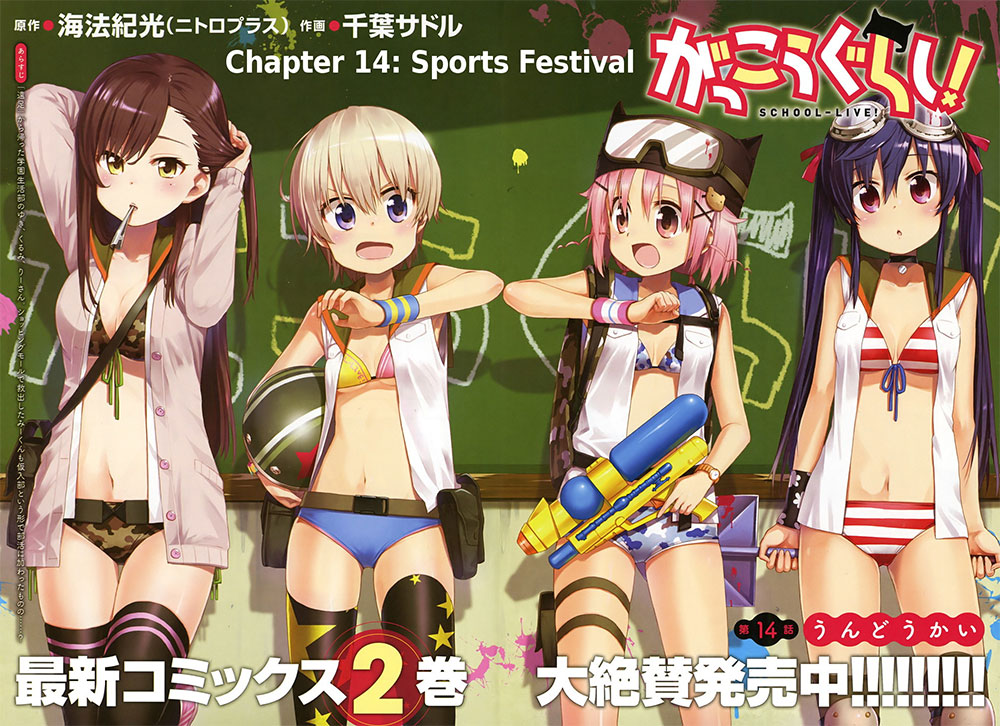 The Gakkou Gurashi! TV anime will be airing airing this July during the Summer 2015 anime season. Further information about the anime will be revealed in the following weeks.
You can visit the anime's website here: http://gakkougurashi.com/
And follow their Twitter: @gakkou_gurashi
Source – Gakkou Gurashi! Anime Website