A camera quality leak of the full Mahou Shoujo Madoka Magica concept movie has appeared online:
In addition to this, the January 2016 issue of Kadokawa's NewType magazine has revealed an interview with SHAFT representative director and president Mitsutoshi Kuboto and it unveils more details on the Mahou Shoujo Madoka Magica concept movie which was recently shown at SHAFT's 40th anniversary "Madogatari" exhibit last month. Kubota is credited as the producer for the project. He confirms that the project will not end with just the concept movie, but will launch a brand new Mahou Shoujo Madoka Magica project.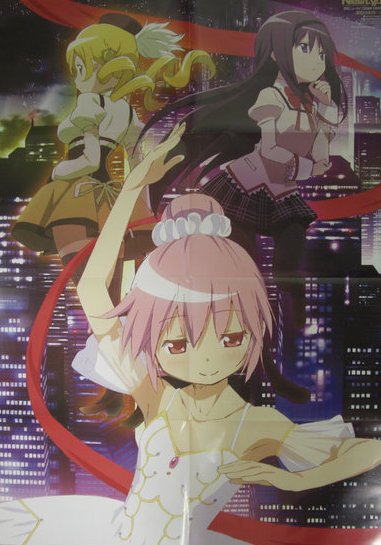 Kubtota comments that the concept movie will be the core of the new project, and will act as a trailer for the project. The staff is working to integrate everything shown in the concept movie to be a part of the new work, including the image of Madoka Kaname performing ballet. Mami Tomoe, Sayaka Miki, Kyoko Sakura, and Homura Akemi all appear in the concept movie, and Kubota also mentions that Hitomi Shizuki and Nagisa Momoe will have a role in the new work and will be featured more as well. Kubota also singled out Mami Tomoe, stating that the new project will strengthen the image of Mami as a "God of Battle," and compared her to Guan Yu from The Romance of the Three Kingdoms.
Magica Quartet – the team behind the Mahou Shoujo Madoka Magica anime series, consisting of director Akiyuki Simbo, character designer Ume Aoki, scriptwriter Gen Urobuchi (Nitroplus), and animation studio Shaft – have continued plans for a new work since the Mahou Shoujo Madoka Magica The Movie Part 3: Rebellion film opened in October 2013. The concept movie was born from their meetings.
Simbo created the storyboards and served as chief director for the short, while series director Yukihiro Miyamoto returned to direct. Composer Yuki Kajiura contributed a new musical piece. Other returning staff members include:
The following cast members from previous anime recorded new lines for the concept movie:
Aoi Yuuki (Yuuki Konno from Sword Art Online II) as Madoka Kaname
Chiwa Saito (Yona from Akatsuki no Yona) as Homura Akemi
Kaori Mizuhashi (Minami Shimada from Baka to Test to Shoukanjuu) as Mami Tomoe
Eri Kitamura (Gray Fullbuster from Fairy Tail) as Sayaka Miki
Ai Nonaka (Konoka Konoe from Mahou Sensei Negima!) as Kyouko Sakura
Emiri Katou (Hideyoshi Kinoshita from Baka to Test to Shoukanjuu) as Kyubey
Kana Asumi (Mio Kitahara from Ano Natsu de Matteru) as Nagisa Momoe
Mahou Shoujo Madoka Magica synopsis from Haruhichan:
She has a loving family and best friends, laughs and cries from time to time… Madoka Kaname, an eighth grader of Mitakihara middle school, is one of those who lives such a life. One day, she had a very magical encounter. She doesn't know if it happened by chance or by fate yet. This is a fateful encounter that can change her destiny—this is a beginning of the new story of the magical girls.
Mahou Shoujo Madoka Magica is a Japanese anime television series produced by Shaft and Aniplex. It was directed by Akiyuki Shinbo and written by Gen Urobuchi, with original character designs by Ume Aoki, character design adaptation by Takahiro Kishida, and music by Yuki Kajiura. The story follows a group of female middle school students who choose to become magical girls and must battle surreal enemies called witches. However, they consequently learn of the anguish and perils associated with their newfound roles.
The first ten episodes of the series aired in Japan on TBS and MBS between January and March 2011, while the final two episodes were delayed until April 2011 due to the 2011 Tōhoku earthquake and tsunami. A manga adaptation of the series and various spin-off manga series have been published by Houbunsha and licensed in North America by Yen Press. A novelisation by Nitroplus was released in August 2011, and a dedicated magazine, Manga Time Kirara Magica, was launched by Houbunsha in June 2012. A video game for the PlayStation Portable was released in March 2012, with another for PlayStation Vita released in December 2013. A film series has also been produced, consisting of two films recapping the anime series, released in October 2012, and a third film featuring an original story which was released on October 26, 2013.
Mahou Shoujo Madoka Magica has received widespread critical acclaim, with critics praising the writing, visuals and soundtrack of the series, as well as its approach to the magical girl subgenre. It has also been a commercial success, with each BD volume selling more than 50,000 copies. The series won several awards in Japan, such as the Television Award at the 16th Animation Kobe Awards, as well as 12 Newtype Anime Awards and the Grand Prize for animation in the 2011 Japan Media Arts awards.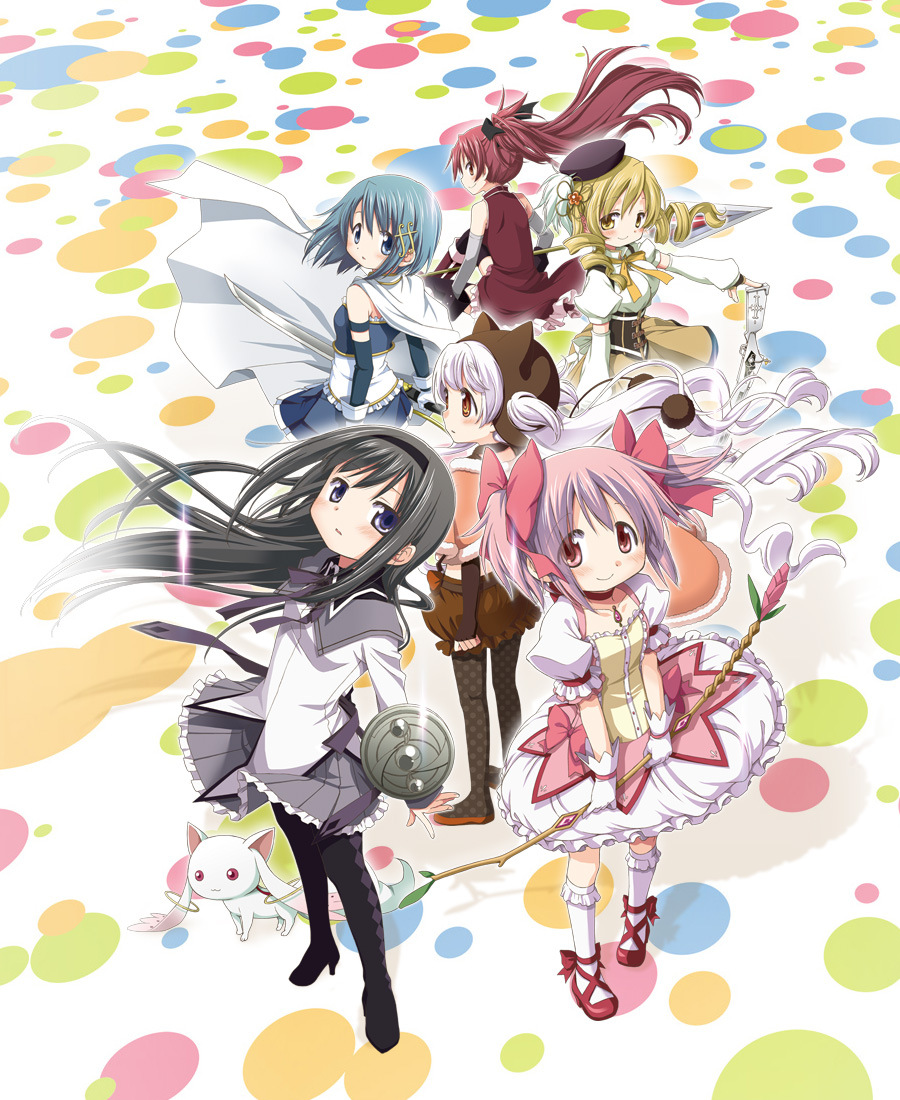 The new Mahou Shoujo Madoka Magica concept movie will be available online soon, which will follow a brand new story. It has not been confirmed whether or not this will spark a new anime project.
You can visit the 40th aniversary website here: http://www.madogatari.jp/
You can visit the anime's website here: www.madoka-magica.com
And follow their Twitter: @madoka_magica
Source: Reddit Anime, ANN