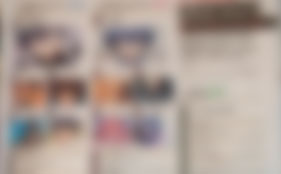 Today's ranking comes from the July 2014 issue of the popular Japanese magazine, NewType; we've taken the time to translate the whole article for your enjoyment. Earlier this week we did a write-up on this issue, giving an in-depth look into the magazine itself as well as the posters that come with it: you can read that here.
Before we go to the listings here is the image scan of the July 2014 Anime Popularity Ranking from the latest NewType Magazine.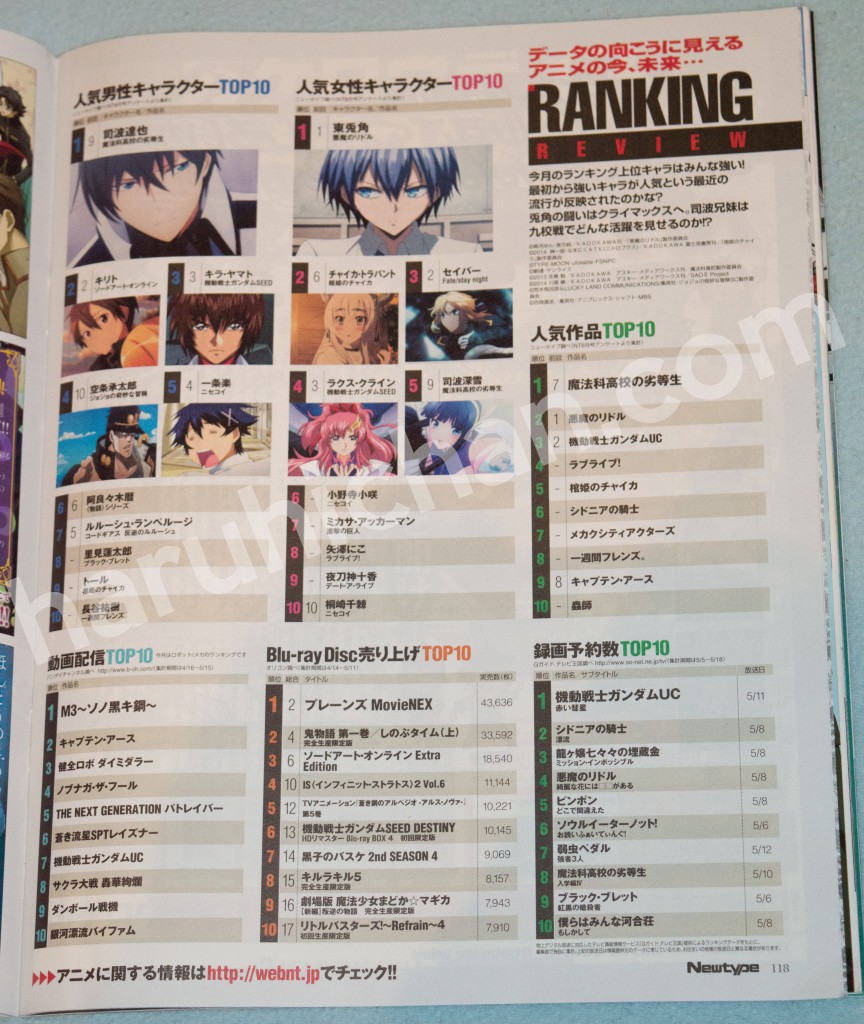 Males Ranking:
1. Shiba Tatsuya (Mahouka Koukou no Rettousei)
2. Kazuto "Kirito" Kirigaya (Sword Art Online)
3. Kira Yamato (Mobile Suit Gundam Seed)
4. Joutarou "JoJo" Kuujou (Jojo's Bizarre Adventures)
5. Raku Ichijou (Nisekoi)
6. Koyomi Araragi (Monogatari Series: Second Season)
7. Lelouch "Lelouch vi Britannia" Lamperouge – (Code Geass: Hangyaku no Lelouch)
8. Satomi Rentarou (Black Bullet)
9. Tooru Acura (Hitsugi no Chaika)
10. Hase Yuuki (Isshuukan Friends.)
Females Ranking:
1. Tokaku Azuma (Akuma no Riddle)
2. Chaika Trabant (Hitsugi no Chaika)
3. Saber "King of Knights" (Fate/stay night)
4. Lacus Clyne (Mobile Suit Gundam Seed)
5. Shiba Miyuki (Mahouka Koukou no Rettousei)
6. Onodera Kosaki (Nisekoi)
7. Misaka Ackerman (Shingeki no Kyojin)
8. Yazawa Nico (Love Live! School Idol Project)
9. Yatogami Tohka (Date A Live)
10. Chitoge Kirisaki (Nisekoi)
Series Ranking:
1. Mahouka Koukou no Rettousei
2. Akuma no Riddle
3. Mobile Suit Gundam Unicorn
4. Love Live! School Idol Project
5. Hitsugi no Chaika
6. Knights of Sidonia
7. Mekaku City Actors
8. Isshuukan Friends.
9. Captain Earth
10. Mushishi
Top 10 series streamed:
1. M3: Sono Kuroki Hagane
2. Captain Earth
3. Kenzen Robo Daimidaler
4. Nobunaga the Fool
5. The Next Generation Patlabor
6. Blue Comet SPT Layzner
7. Mobile Suit Gundam Unicorn
8. Sakura Taisen: Gouka Kenran
9. Danball Senki
10. Ginga Hyouryuu Vifam
Top 10 Blu-ray Disc sales:
1. Planes MovieNEX
2. Monogatari Series: First Season Shinobu Time Volume 1
3. Sword Art Online Extra Edition
4. Infinite Stratos 2 Volume 6
5. Aoki Hagane no Arpeggio: Ars Nova Volume 5
6. Mobile Suit Gundam SEED HD Remastered Blu-Ray Box 4
7. Kuroko no Basket 2 Volume 4
8. Kill la Kill Volume 5
9. Mahou Shoujo Madoka Magica Movie 3: Hangyaku no Monogatari Limited Edition
10. Little Busters!: Refrain Volume 4
Top 10 record count (People recording it on their TV):
1. Mobile Suit Gundam Unicorn: The Red Comet (ep2)
2. Knights of Sidonia: Adrift (ep5)
3. Ryuugajou Nanana no Maizoukin: Mission: Impossible (ep5)
4. Akuma no Riddle: Beautiful Flowers Have Their ___ (ep6)
5. Ping Pong the Animation: Where Did I Go Wrong? (ep5)
6. Soul Eater Not!: Invitation Fighting! (ep5)
7. Yowamushi Pedal: The Strong Three (ep31)
8. Mahouka Koukou no Rettousei: Enrollment Part IV (ep4)
9. Black Bullet: The Crimson Black Assassin (ep5)
10. Bokura wa Minna Kawaisou: Could it Be? (ep6)
Translations were done by Swaps4 and Lillia from Haruhichan.
What are your thoughts on this month's rankings? What would you personally change? It's nice to see JoJo climbing the ranks compared to last month's ranking. Let us know your thoughts in the comments below.