The official website of the upcoming TV anime Nurse Witch Komugi-chan R has revealed that the series will premiere on Nihon TV at 02:25 and other networks from January 10, 2016.
It has also been revealed the OP song "Ready Go!!" is performed by a newly formed unit named "Magical☆R" consisting of the three main voice actresses of the show: Kei Tomoe (Komugi Yoshida), Erii Yamazaki (Kokona Saionji) and Makoto Koichi (Tsukasa Kisaragi). The three junior high school girls are also working as idols in the story. The CD single will be released in Japan on January 27, 2016.
The main staff for the new series were also announced earlier, including:
Director: Keiichiro Kawakami
Series Composition: Momoko Murakami
Screenplay: Momoko Murakami, Kazuyuki Fudeyasu (Hells, Penguin no Mondai Movie)
Original Character Design: Akio Watanabe (Bakemonogatari, Grisaia no Kajitsu, Tsukimonogatari)
Character Design: Takao Sano (Shomin Sample)
Chief Animation Director: Mina Ozawa, Keisuke Goto
Sound Director: Yuichi Imaizumi
Music: Kousuke Yamashita (Chihayafuru, Digimon Xros Wars, Xenosaga The Animation)
Animation Production: Tatsunoko Production (Gatchaman Crowds, Psycho-Pass 2, SKET Dance)
The main cast includes:
Kei Tomoe as Komugi Yoshida
Erii Yamazaki (Makoto Ogawa from Re-Kan!) as Kokona Saionji
Makoto Koichi as Tsubasa Kisaragi
The supporting cast consists of:
Hiroyuki Yoshino (Favaro Leone from Shingeki no Bahamut: Genesis) will voice Usa-P
Daisuke Namikawa (Rokuro Okajima from Black Lagoon) as Tanu-P
Ryouta Takeuchi (Shrio from Ansatsu Kyoushitsu (TV)) as Neko-P
Yasuaki Takumi (Tsukasa Mizugaki from Plastic Memories) as Yuuto Tachibana
Shizuka Itou (Frolaytia Capistrano from Heavy Object) as Ai Mitaka
Kenta Miyake (Elephantus from Yoru no Yatterman) as Toranosuke Matsukawa
Kenji Nojima (Yuuto Kiba from High School DxD) as Tomoya Yoshida
Minami Kabayama as Kotarou Yoshida
Rena Maeda (Soredemo Sekai wa Utsukushii) as Misuzu-sensei
Ryuusei Nakao (Nike Remercier from Sore Ike! Anpanman) as Camera Man
Akane Kohinata (Matsuri Souma from Isuca) as Tamako
Eriko Matsui (Benio Yonomori from Mikakunin de Shinkoukei) as Rei
Meemu Tachibana as Miki
Madoka Asahina as Maki
Anime visual: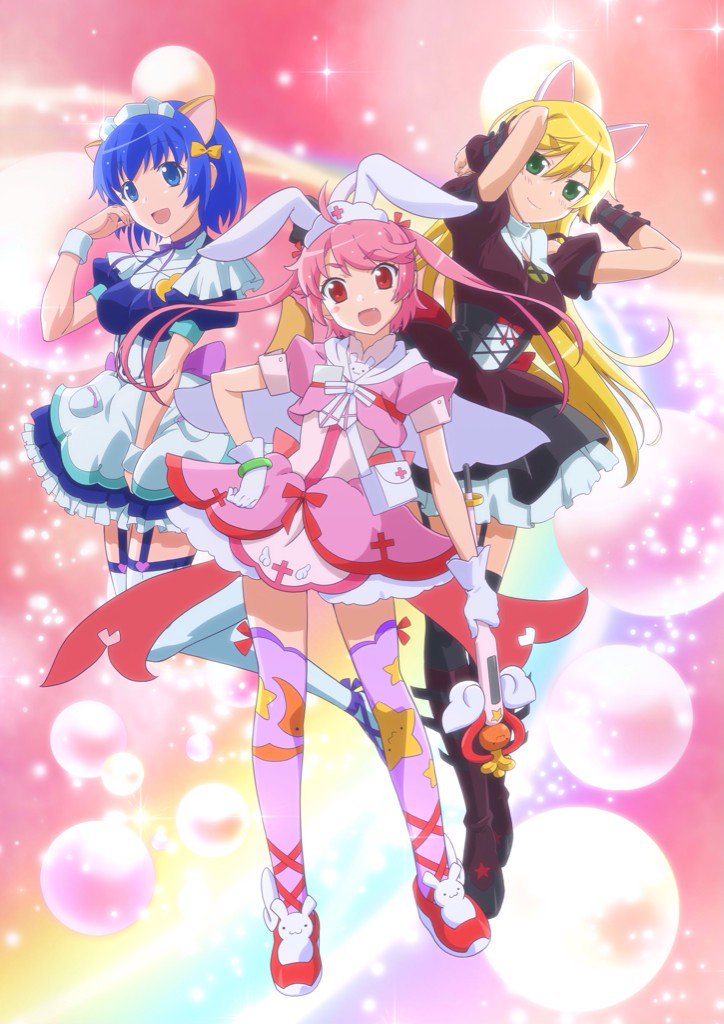 Nurse Witch Komugi is an original video animation (OVA) anime series co-produced by Tatsunoko Production and Kyoto Animation. The series lasted for five episodes (six if episode 2.5 that appeared in the middle of the series is included), all of which were released on DVD in North America by ADV Films. A two episode long sequel OVA series was created, Nurse Witch Komugi-chan Magicarte Z.
The story of the anime itself is basically a parody of both the The SoulTaker anime series and the magical girl anime genre. It revolves around Komugi Nakahara, a cosplay idol who turns into Magical Nurse Witch Komugi when trouble is around.
While the English dub of the show was adapted by ADV, the original The SoulTaker dub was not. In a rare move, ADV recalled many of the voice actors from The Ocean Group dub of The SoulTaker to reprise their roles in Nurse Witch Komugi to keep consistency between the two dubs.
An anime TV series has been announced.
Nurse Witch Komugi-chan R synopsis from Haruhichan:
The new "slapstick" story will depict Komugi-chan and her rivals as they juggle their daily lives as students, idols, and magical girls "with laughter and tears."

Komugi Yoshida is a somewhat clumsy second-year middle-school student whose strong point is her spiritedness. She performs as an idol like Kokona Saionji (her classmate and close friend) and Tsubasa Kisaragi (an idol who dresses in male clothing). However, unlike Kokona whose popularity is skyrocketing and Tsubasa with her charisma in male attire, Komugi's only gigs are low-end ones like those at the local shopping district. Still, Komugi has her "dream" as she lives her dual lives as a idol and a middle school girl.

One day, a mysterious injured creature named Usa-P appears before Komugi. Komugi gives Usa-P medical treatment, and Usa-P, in consideration of Komugi's kindness, asks if she wants to be a Legendary Girl who can use magical powers.

Having become a reluctant Legendary Girl, Komugi battles strange masked figures who suddenly appear! As a newly deemed Magical Nurse, she fights still more waves of masked figures. Meanwhile, a Magical Maid, a Magical Sister, and more also appear to make it a three-way battle!? Can Komugi handle the three roles of middle school girl, idol, and Magical Nurse? And, what lies ahead in these battles and her "dream"…?!