New character designs for the upcoming anime based on SEGA's Phantasy Star Online 2 MMORPG, titled Phantasy Star Online 2: The Animation, have been revealed.
The first members of the cast of Phantasy Star Online 2: The Animation were revealed. The revealed cast includes:
Shouta Aoi (Daiki Tomii from Shounen Hollywood: Holly Stage for 49)
Ayaka Suwa (Tokaku Azuma in Akuma no Riddle)
Mao Ichimichi (Kazumi Schlierenzauer in Gokukoku no Brynhildr)
The main staff of the anime consists of:
Director: Keiichiro Kawaguchi (Minami-ke Tadaima, Sket Dance)
Series Composer and Scriptwriter: Mitsutaka Hirota (Persona 4: The Animation, Hero Company)
Anime Character Designer: Minoko Takasu (O-jii-san no Lamp)
Animation Studio: Telecom Animation Film (Aikatsu!, Lupin the Third)
The first visual was also revealed: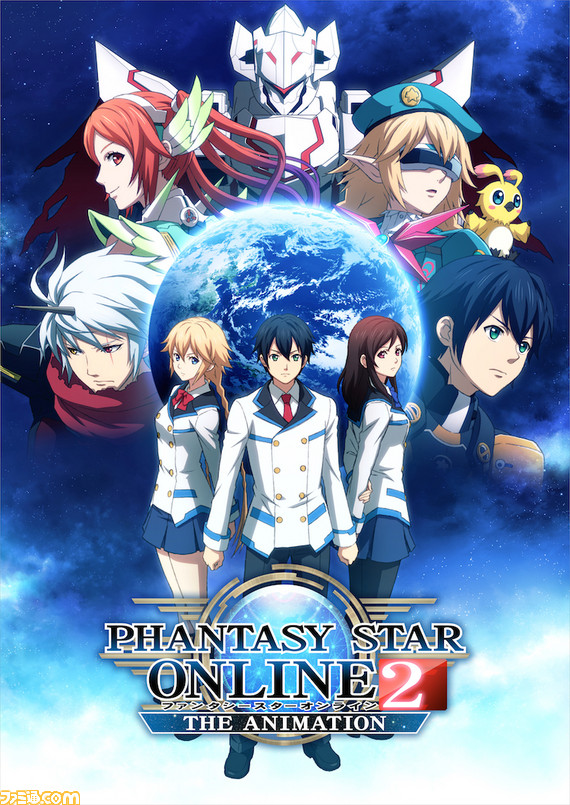 The Phantasy Star Online 2 The Animation series will have a completely original story, and the story will take place on Earth in the near future. The anime will be the eighth project to commemorate the 15th anniversary of the Phantasy Star Online franchise and will broadcast in 2016.
Phantasy Star Online 2 is a video game in the Phantasy Star series published by Sega. It was released for Microsoft Windows on July 4, 2012, and for PlayStation Vita on February 28, 2013. A spin-off game, Phantasy Star Online 2es, was released for Android on April 7, 2014 and for iOS on May 14, 2014. The game is currently only available commercially in Japan and the Pacific Southwest, but an English-language patch was released.
Phantasy Star Online 2: The Animation is currently scheduled for a 2016 broadcast. Not much is known about the series and more information is expected to be released in the forthcoming months.
You can visit the website here: http://phantasystar.sega.jp/psportal/pso15anniversary/animation/
And follow the game on Twitter: @sega_pso2
Source: Famitsu