The first promotional video has been released for the third OVA adaptation of HERO's Hori-san to Miyamura-kun manga. The new OVA will have the same staff and cast from the previous, albeit with a new studio opened by the director. The third OVA will be directed by Tetsuo Hirakawa (Hori-san to Miyamura-kun, Kawa no Hikari), written by Yuniko Ayana (Kiniro Mosaic, Futsuu no Joshikousei ga [Locodol] Yatte Mita.) and will be animated by the new studio Marone. The main cast includes: Asami Seto (Chihaya Ayase in Chihayafuru) as Kyouko Hori, Yoshitsugu Matsuoka (Kirito from Sword Art Online) as Izumi Miyamura, Kana Ueda (Yumi Fukuzawa from Maria-sama ga Miteru) as Yuki Yoshikawa and Yoshimasa Hosoya (Junpei Hyuuga in Kuroko's Basketball) as Tooru Ishikawa.
The third OVA of Hori-san to Miyamura-kun will be releasing in Japan this February.
Two new visuals have also been released for the upcoming OVA: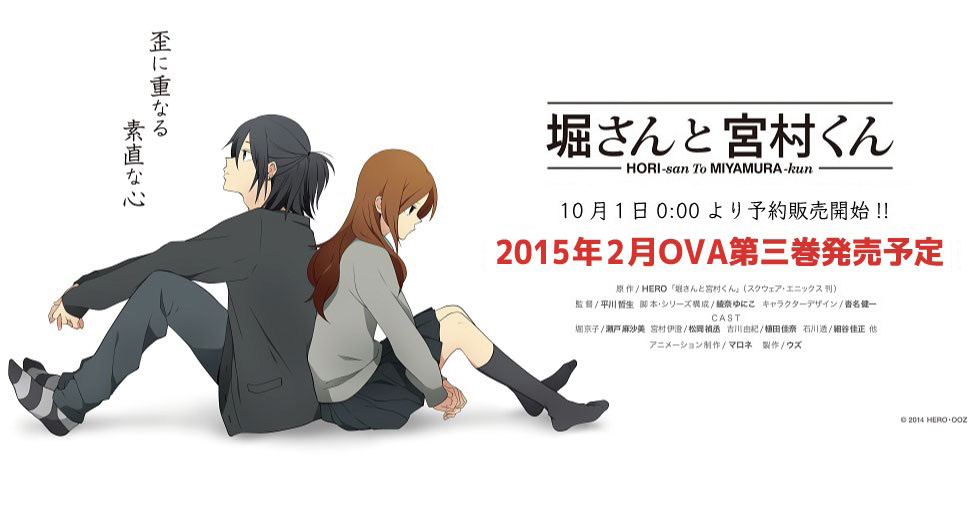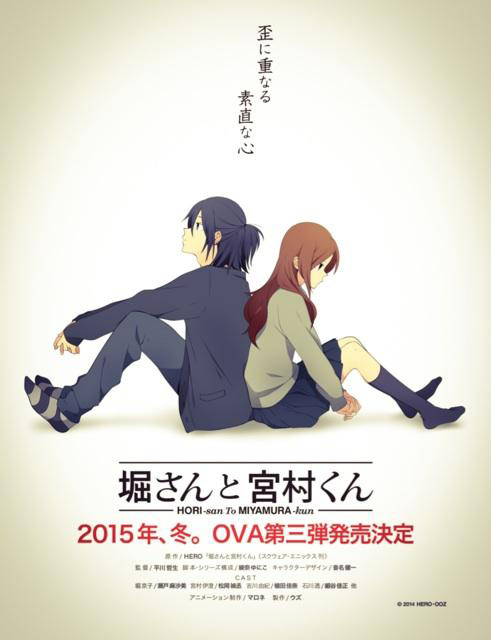 Here is the visual of the OVA series: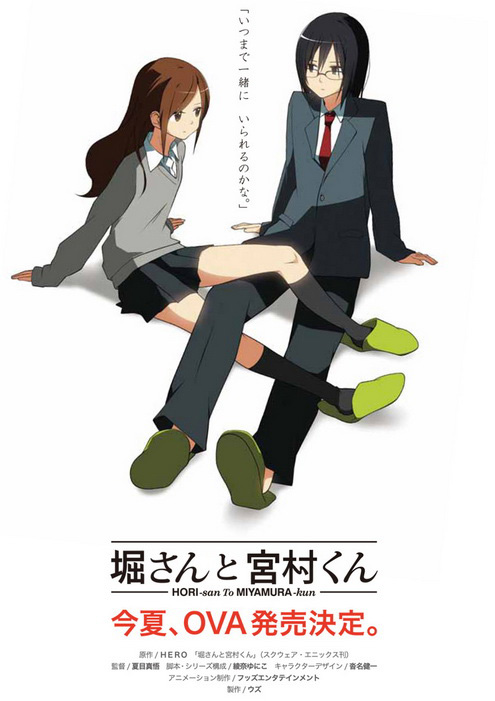 Here is a synopsis of the series from Haruhichan:
People say that the youthful days are always bittersweet, but maybe it's just bitter?

Kyouko Hori is a flashy high school girl, who, despite her ostentatious appearance, excels in academics and has a family-loving character. Izumi Miyamura is a bland high school boy, who, despite not wanting to stand out in class, secretly wears piercings outside of school and has a large body tattoo.

One day, Miyamura finds Hori's little brother injured and helps him back to Hori's house, where the relationship between Hori and Miyamura begins with Hori's discovery of Miyamura's secret.
You can purchase the OVA here: http://www.oozlaya.jp/shop/products/detail.php?product_id=93