At the recent GA Bunko 10th Anniversary Festa it was announced that Riku Misora and Won's Rakudai Kishi no Cavalry (A Chivalry of the Failed Knight/A Tale of Worst One) light novel series will be receiving an anime adaptation. The first details about the upcoming anime were revealed on the website and includes: the first visual, cast members, staff members and the first promotional video.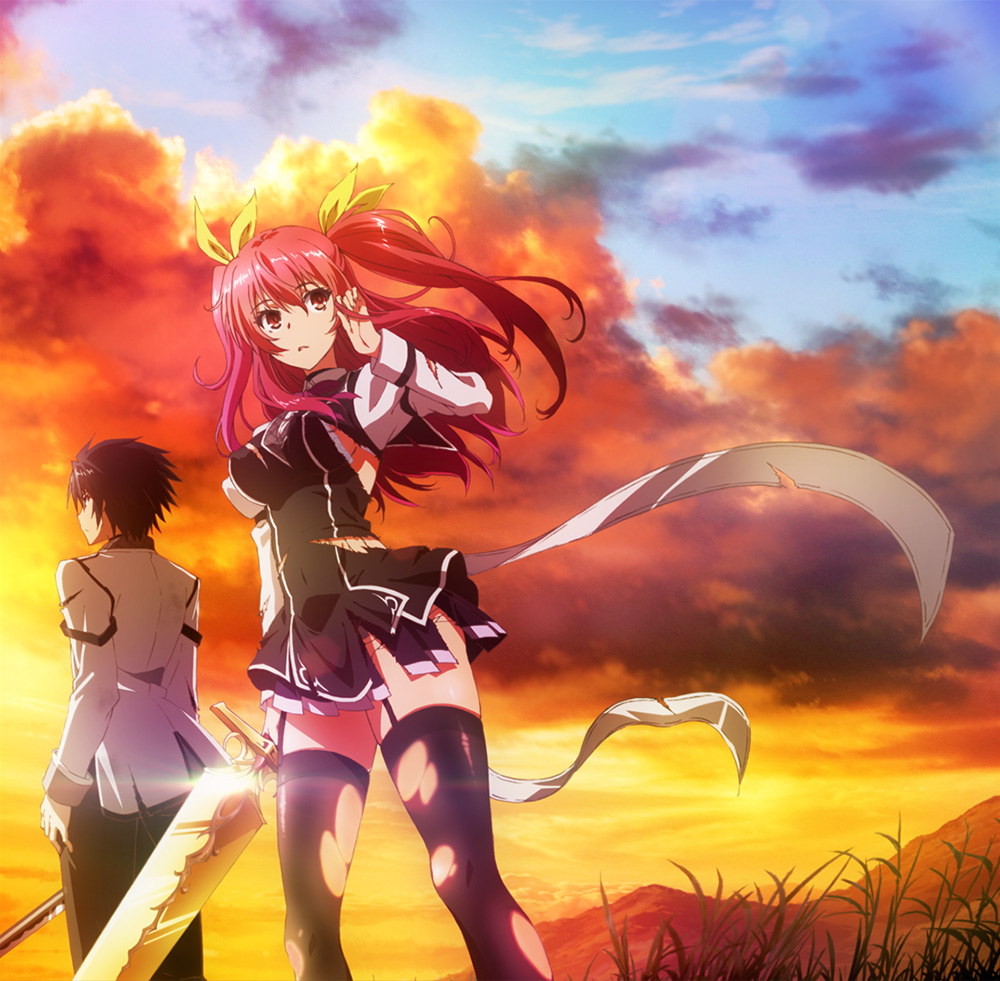 The first members of Rakudai Kishi no Cavalry's main cast were also revealed. They include:
Ryota Ohsaka (Motoki Yaze in Strike the Blood) will voice Ikki Kurogane
Shizuka Ishigami (Ellis Fahrengart in Seirei Tsukai no Blade Dance) voices Stella Vermillion
Nao Touyama (Chitoge Kirisaki in Nisekoi) as Shizuku Kurogane
Shintaro Asanuma (Takumu Mayuzumi from Accel World) is voicing the role of Nagi Arisuin
The main members of the anime's staff were also revealed. The current staff consists of:
Director: Shin Oonuma (Baka to Test to Shoukanjuu, Watamote)
Series Director: Jin Tamamura (Koutetsu no Vendetta, Watamote Episode Director)
Series Composer: Shogo Yasukawa (Terra Formars, Shokugeki no Souma)
Anime Character Designer: Sei Komatsubara (Toaru Kagaku no Railgun S and Little Busters! Animation Director)
Sound Director: Jin Aketagawa (Aldnoah.Zero, High School DxD)
Animation Studios: Silver Link (Non Non Biyori, Kokoro Connect) and Nexus (Santa Company, Rakudai Kishi no Cavalry)
Here is the announcement promotional video that reveals the cast and staff:
Rakudai Kishi no Cavalry (A Chivalry of the Failed Knight/A Tale of Worst One) is an school, action light novel series written by Riku Misora and illustrated by Won. The series first began in 2013 under SB Creative's GA Bunko imprint. A total of 7 novels have been released, with 6 main novels and one spin-off. A manga adaptation of the series by Megumu Soramichi began last year being published in Monthly Shonen Gangan.
Here is a synopsis of the series from Haruhichan:
The "school sword action" story revolves around Magic Knights, modern magic-users who fight with weapons converted from their souls. Ikki Kurogane goes to a school for these Magic Knights, but he is the "Failed Knight" or "Worst One" who is failing because he has no magical skills. However, one day, he is challenged to a duel by Stella, a foreign princess and the "Number One" student. In this duel, "the loser must be obedient for life."
An anime adaptation of Rakudai Kishi no Cavalry is currently in production. Further information about the anime will be revealed in the upcoming weeks.
You can visit the anime's website here: http://www.ittoshura.com/
And follow their Twitter: @ittoshura
Source – Anime News Network, Rakudai Kishi no Cavalry Anime Website