The wraparound jacket band of the 16th compiled book volume of Tsuyoshi Yasuda's Days soccer manga revealed on Friday that the manga's upcoming television anime will premiere this summer on MBS, Tokyo MX, BS11, and Animax.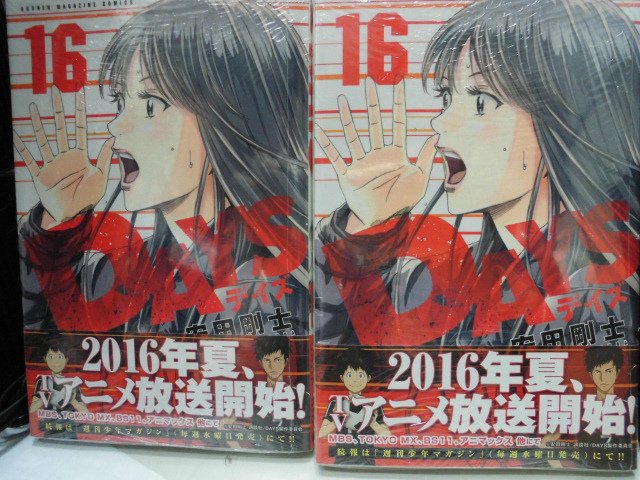 In addition to this, the supporting cast and their character designs were recently revealed:
Mariya Ise (Sawa Nakamura from Aku no Hana) will voice Chikako Ubukata
Ayane Sakura (Kokoa Hoto from Gochuumon wa Usagi Desu ka?) as Sayuri Tachibana
Katsuyuki Konishi (Haji from Blood+) as Katsutoshi Nakazawa
The previously announced main cast consist of:
Takuto Yoshinaga (Kouji Harada from Uchuu Show e Youkoso) as Tsukushi Tsukamoto
Yoshitsugu Matsuoka (Hajime Aoyagi from Yowamushi Pedal) as Jin Kazama
Daisuke Namikawa (Hisoka from Hunter × Hunter) as Hisahito Mizuki
The main staff consist of:
Original Work: Tsuyoshi Yasuda
Director: Konosuke Uda (Ginga e Kickoff!!, One Piece)
Character Designer: Kazuto Nakazawa (Samurai Champloo, House of Five Leaves)
Sound Director: Masafumi Mima (Kuroko no Basket)
Sound Production: Techno Sound
Music: Yoshihiro Ike (Tiger & Bunny, Blood: The Last Vampire)
Music Production: Pony Canyon
Animation Production: MAPPA (Teekyuu!, Rage of Bahamut: Genesis, Zankyou no Terror)
In addition to this, Pony Canyon began streaming the first teaser which previews the animation of the series.
https://www.dailymotion.com/video/x40o807
In addition to this, the official website also revealed a key visual for the anime:
The anime announcement was revealed on this year's seventh issue of Kodansha's Weekly Shounen Magazine.
Days is an ongoing Japanese slice of life comedy sports shōnen manga series written and illustrated by Tsuyoshi Yasuda. It's published by Kodansha, with serialization on Weekly Shōnen Magazine and with 12 volumes compiling the chapters released so far. An anime TV adaption has been announced.
Days synopsis from MAL:
The series is about two boys named Tsukushi and Jin. Tsukushi is a boy with no special talent or traits while Jin is considered a soccer genius. On one stormy night, Jin meets Tsukushi, and they get dragged into the world of soccer.
Source: Days official website, animatesssgo