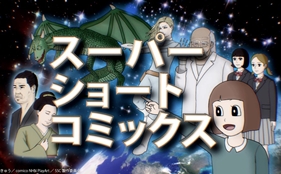 During the AnimeJapan 2015 event the promotional video for the upcoming Spring 2015 short anime, Super Short Comics, as well as the key visuals/cut scenes from the PV was revealed. The anime is scheduled to have 8 episodes.
Promotional Video:
Text: An extravagant cast of voice actors star!
Text: Kenji Akabane! Shizuka Ishigami! Ikue Ootani! Ai Kakuma! Yuki Kaji! Yui Kano! Ayako
Kawasumi! Hidenobu Kiuchi! Takayuki Kondou! Masaki Terasoma! Nobuo Tobita! Kenji Hamada! Jun Fukushima! Ayumu Murase! Seiichirou Yamashita! Nozomi Yamamoto!
Text: Theme song – "Super Short Time Showtime" by Ichiro Mizuki
Text: Animation Production – Steven Steven
Text: Music – Hidehiro Kawai
Text: Director – Keisuke Matsumoto
Key Visuals:
Cast includes:
Kenji Akabane (Meganebu!'s Akira Souma) as the P.E. teacher
Shizuka Ishigami (Seirei Tsukai no Blade Dance's Ellis Fahrengart) as Fujikawa Yumi
Yuki Kaji (Ao Haru Ride's Kou Mabuchi) as Tanaka
Ai Kakuma (Selector Infected WIXOSS' Ruko Kominato)
Ikue Ootani (One Piece's Chopper Tony Tony)
Yui Kano (Wagaya no Oinari-sama.'s Misaki Sakura)
Hidenobu Kiuchi (Monster's Kenzo Tenma)
Ayako Kawasumi (Fate/stay night's Saber)
Takayuki Kondou* (Shakugan no Shana's Eita Tanaka)
Masanori Jisen (Kyo kara Maou! 3rd Series's Adalbeld)
Masaki Terasoma (Naruto: Shippuuden's Hidan)
Nobuo Tobita (Code Geass' Clovis la Britannia)
Kenji Hamada (Kuroko no Basket's Teppei Kiyoshi)
Jun Fukushima (Yowamushi Pedal's Shoukichi Naruko)
Seiichirou Yamashita (Walkure Romanze's Takahiro Mizuno)
Nozomi Yamamoto (Absolute Duo's Julie Sigtuna)
*There are two voice actors under the same name, this will be updated soon.
Staff:
Director: Matsumoto Keisuke
Music: Kawaihideihiro (Kingdom Hearts)
Production: STEVE N' STEVEN (Mou Hitotsu no Mirai wo., Hana to Alice: Satsujin Jiken)
Opening Song (Super Short Time Showtime) and Ending Song (Emily no Inai Yoru) Performer: Mizuki Ichirou (Choujin Sentai Baratack, Katte ni Kaizou)
NHN Play Art, announced on Friday that five manga series from Comico, a free manga smartphone app by NHN Play Art, will be receiving an anime adaptation. The list includes ReLIFE by Sou Yayoi, Momokuri by Kurose, Nambaka by Shou Futamata,Super Short Comics by Kyuu Amekawa and Nar Doma by Kaite Meetoru.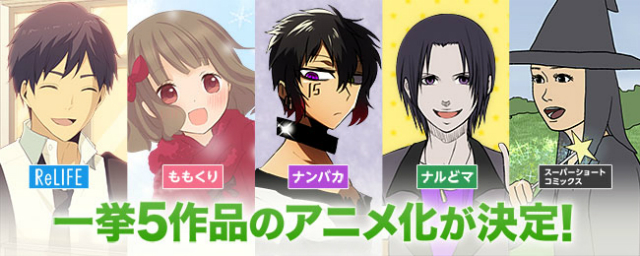 Super Short Comics is a parody, comedy web manga. It was published on September 21, 2014. There are currently 20 chapters as of February 15, 2015. There is no compiled manga volume for this series as well.
Read Super Short Comics in Japanese for free on Comico here.
Synopsis of Super Short Comics from Haruhichan:
A manga about the characters' superiously random, hilarious and absurd everyday life.
Source – GYAO!