The official site for the upcoming TV anime adaptation of Kibidango Project's digital light novel series Momo Kyun Sword has posted the second promotional video introducing its basic storyline.
The Momo Kyun Sword TV anime will be produced by project No.9 (Ro-Kyu-Bu!, Saikin, Imouto no Yousu ga Chotto Okashiinda ga. (Recently, My Sister is Unusual)) and has a bishoujo protagonist named MoMoko which will be voiced by Ayana Taketatsu.
2nd PV

1st PV

The main voice cast:
MoMoko: Ayana Taketatsu
Onihime: Minami Tsuda
Ringo: Shiori Mikami
Kaguya: Mikako Komatsu
Sumeragi Tennyo: Masumi Asano
Inugami: Wataru Hatano
Sarugami: Shotaro Morikubo
Kijigami: Asami Imai
Suika: Suzuko Mimori
Karin: Yuka Ohtsubo
Kushinada: Asami Shimoda
The theme song will be "Momoiro Fantasy (桃色ファンタジー)" by Haruka Chisuga
If you can't tell already from the PV or if your brain is in a blur and trying to calculate where you know MoMoko's seiyuu from; She is Ayana Taketatsu and has voiced popular characters such as Suguha "Leafa, Sugu" Kirigaya – Sword Art Online, Kirino "Kiririn" Kousaka – Ore no Imouto ga Konnani Kawaii Wake ga Nai, Azusa "Azu-nyan" Nakano – K-ON!, Koneko "Shirone" Toujou – High School DxD and many more.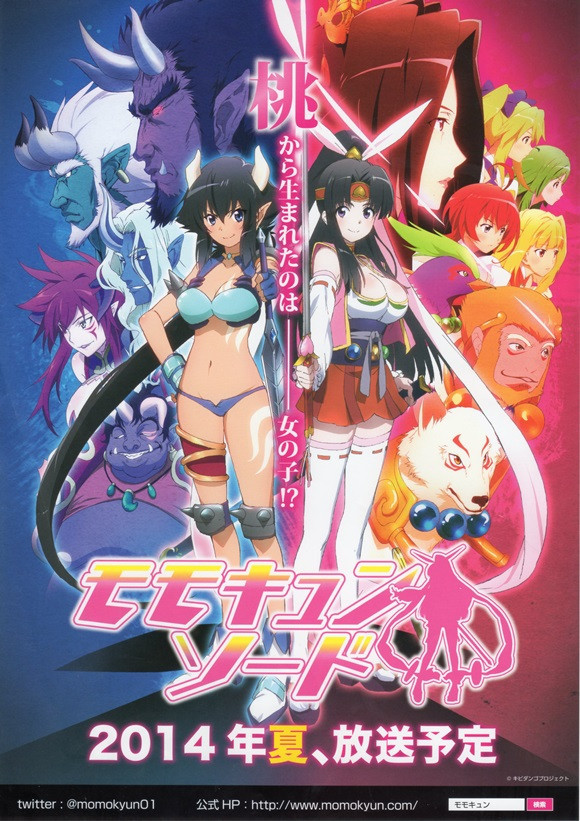 Synopsis from Haruhichan:
Momoko is a beautiful young sword fighter who was born inside a peach (momo in Japanese). She lives with her constant companions—the dog god Inugami, the monkey god Sarugami, and the pheasant god Kijigami—in a peaceful paradise. However, a demon army led by devil king invades the paradise and steals the precious treasure that protects Momoko's land. To retrieve the treasure and save the people, Momoko embarks on a great adventure with her three companions.