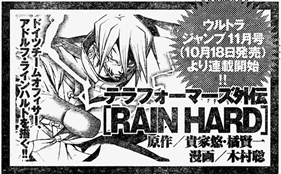 Today it was announced in the February 2015 issue of Shueisha's Ultra Jump magazine that Satoshi Kimura's (Chikyuu Shinryaku! Colreonis) Terra Formars manga spin-off, Terra Formars: Gaiden Rain Hard, will end in the next issue of the magazine. The March 2015 issue will ship on February 19, 2015. The first and only compiled manga volume for the manga will also ship on the same day.
The spin-off manga is written and illustrated by Satoshi Kimura on October 18, 2014. The release was announced in the 41st 2014 issue of Shueisha's Young Jump magazine. The manga centers around a German team officer Adolph Reinhard.
The original manga, Terra Formars, was written by Yu Sasuga and was illustrated by Kenichi Tachibana (VS – Kitakantou Renzoku Youjo Yuukai Satsujin Jiken no Shinjitsu). The manga was launched on January 13, 2011 under Shueisha's Young Jump magazine. There are currently 11 compiled manga volumes being published. The 11th volume was released on November 19, 2014 with a second OVA bundle included, titled Terra Formars: Bugs2 2599. The 12th volume will ship on the same date as the spin-off's, February 19, 2015.
Viz Media licensed the manga in North America. Tomorrow, January 20th, the fourth English compiled manga volume will ship.
There is an anime adaptation for the manga under the same title. It was produced by LIDENFILMS (Yamada-kun to 7-nin no Majo, Aiura) and was directed by Hiroshi Hamasaki (Steins;Gate, Blade & Soul). The anime has 13 episodes and aired on September 27, 2014 to December 20, 2014.
Synopsis of Terra Formars from Haruhichan:
With the space program attempting to travel to Mars, 21st century scientists were tasked with warming up the planet so that humans could survive on its surface. They came up with an efficient and cost-effective plan of sending cockroaches and mold to the surface so that the mold would absorb the sunlight and the insect corpses would serve as a food source for the mold.

It is now the year 2577 and the first manned ship to Mars has landed on the planet and the six crew members are ready for their mission. But what they find are giant mutated humanoid cockroaches with incredible physical strength. The crew members are easily wiped out, but not before sending a transmission back to Earth. Now, humanity will send elite warriors to exterminate the mutated bugs and claim back Mars.
Source – ANN
sevenpocky | Anime and Manga Enthusiast. Slice-of-life and Sports genre fanatic. Shoujo manga lover.
Oh, and I'm short and I love writing manga news.