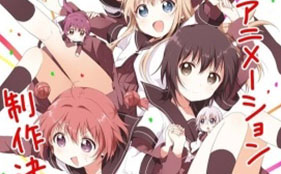 Last Friday Pony Canyon released a streaming teaser video for the upcoming Yuru Yuri OVA (Yuru Yuri Nachuyachumi!). The OVA will open in five theaters in Japan on November 29 followed by a physical release later.
Kyoko: Hot. It's hot.
Yui: Because it's summer.
Kyoko: I get that but it's hot.
Chinatsu: Kyoko-sempai please stop. After all the heat will get worse.
Akari: That's right, Kyoko-chan—
Kyoko: Hoooot… I know! Let's go now!
Yui: That was sudden. Kyoko: Now that I think about it… It seems to be playing at this theater.
Chinatsu: Eh?
Yui: Say stuff like that early!
Chinatsu: That's right, what about mental preparedness?
Akari: Yuruyuri Nachu Yachumi! Advance tickets now on sale.
Kyoko: Wow Akari, you sound main character-ish.
Above are the updated designs of the series' main characters for Nachuyachumi!. They are illustrated by Motohiro Taniguchi (Fullmetal Alchemist: Brotherhood, Strike Witches) who is also the key animator. A comparison image of the new OVA designs and the character designs from the two anime series was also released. The designs on the left are from the 2011 and 2012 anime, designed by Chiaki Nakajima (Love Lab), and the ones on the right are from Taniguchi.
The cast will remain the same from the anime but the staff will change. Hiroyuki Hata (Saikin, Imouto no Yousu ga Chotto Okashiinda ga.) will replace Masahiko Ohta as director. Michiko Yokote (Gintama, Shinryaku! Ika Musume) will handle the scripts, and Motohiro Taniguchi (To Love-Ru -Trouble- Darkness, Saikin, Imouto no Yousu ga Chotto Okashiinda ga. animation director) will replace character designer Chiaki Nakajima and serve as chief animation director. The series will be animated at TYO Animation (Tamayura ~hitotose~) instead of Dogakobo.
YuruYuri, is a manga series created by Namori that released in June 2008 and is still running. The manga has a total of 11 volumes thus far and has sold over 1 million copies as of December 2011. Namori has also created two more manga series alongside YuruYuri: YuruYuri Reset!, which is currently on hiatus, and YuruYuri Ohmuroke a web manga that started in July 2012. The series also received an anime adaptation in July 2011 by animation studio Dogakobo. The second season of the anime titled YuruYuri♪♪ aired in 2012, also in July.
Key Visual: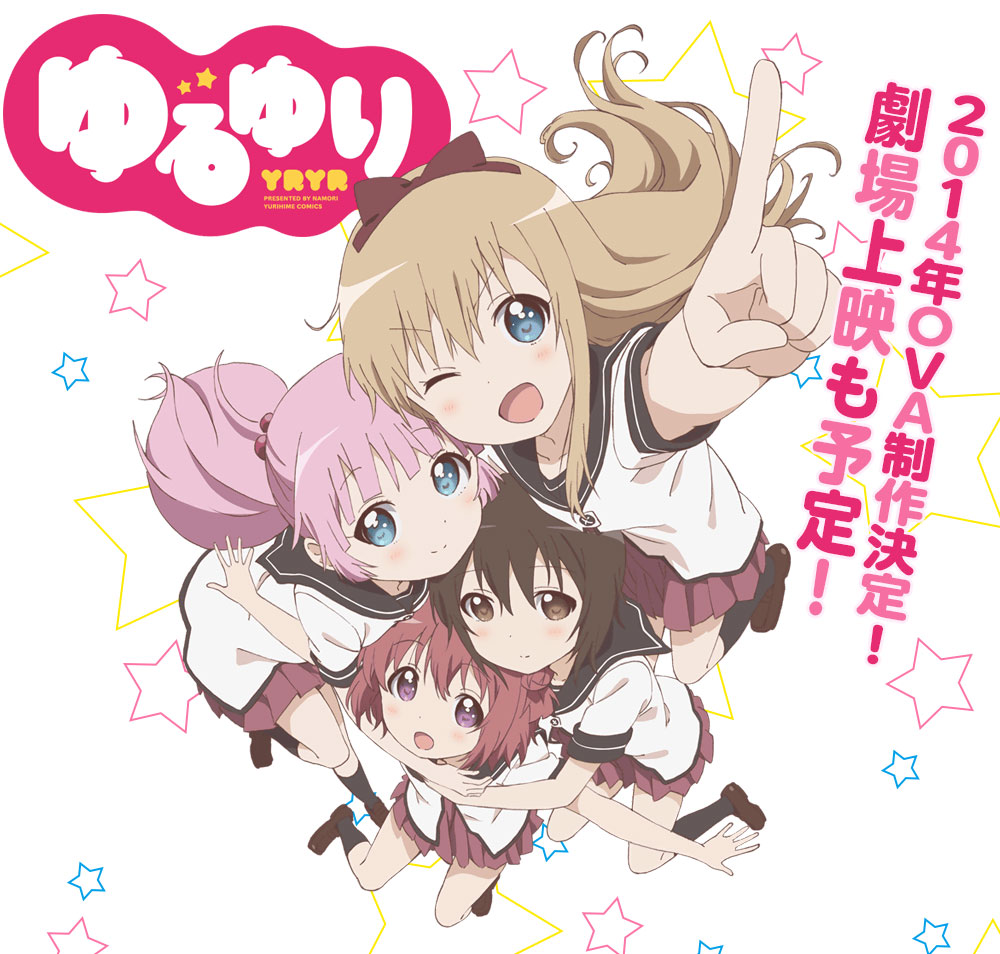 Yuru Yuri Nachuyachumi! synopsis from Haruhichan:
Based on a manga series written and illustrated by Namori, serialised in Comic Yuri Hime S from June 12, 2008, later in Comic Yuri Hime in September 2010.
Source: ANN