The official website of The Rolling Girls has revealed that Wit Studio's upcoming original anime will be airing from January next year. The site has also updated with a brand new visual, the anime's main cast and their respective character designs, the first promotional video and two new TV spots.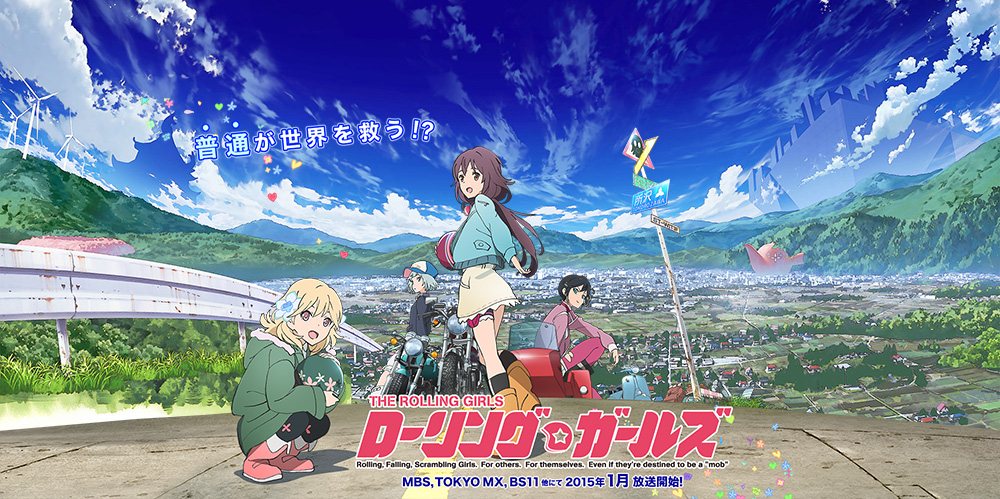 The anime's website has revealed the main cast of the upcoming series. Additionally, the first set of character designs for the main characters of The Rolling Girls were also released and are as follows:
Ari Ozawa (Chiyo Sakura in Gekkan Shoujo Nozaki-kun) will voice lead character Nozomi Moritomo, the newest member of the "Hiyoshi Town Propellers" whose family runs the Moritomo restaurant. She is neighbours with Masami Utoku and adores her. Her favourite food is melonpan. Her childhood nickname is Nonsuke.
Rina Hidaka (Silica from Sword Art Online) voicing as Yukina Kosaka, a tone-deaf runaway girl travelling with Nozomi, but prefers to be alone. She uses polite language around others and her favourite food is Sushi with Sake. Her childhood nickname is Yukippe.
Risa Taneda (Mirai Kuriyama from Kyoukai no Kanata) as Ai Hibiki, an upbeat overactive girl travelling with Nozomi who is an airhead, but has a big heart. Her ambition is to be strong and can tackle any situation. Her favourite foods include hamburgers, curry rice, and grilled meat. Her childhood nickname is Uu-tan.
Yumiri Hanamori (First major role) as Chiaya Misono, a young girl who travels with Nozomi collecting mysterious stones for an unknown reason. Her favourite food is Moritomo Takoyaki and by chance knows the childhood nicknames of the other girls. She also has a fang.
The first promotional video for The Rolling Girls was officially released on the anime's website:
Additionally, more TV spots were also released:
The anime's staff were earlier revealed:
Director: Deai Kotomi (Gin no Saji 2nd Season)
Script: Muto Yasuyuki (Seikai no Senki III)
Original Character Design: tanu (Koitabi: True Tours Nanto, Tari Tari)
Character Setting: Kitada Katsuhiko (Guilty Crown)
Animation Studio: Wit Studio (Attack on Titan, Hal)
The Rolling Girls is an original anime being produced by Wit Studio. The series will be receiving two manga adaptations. The first launched early this month on October 4th in Mag Garden's Monthly Comic Garden magazine and is written by Yosuke Miyagi (Guilty Crown manga) and illustrated by Bonkara. The second is a 4-koma manga titled Ro~lling Gi~rls Inspirtation x Traveler that will be published in Mag Garden's online Comic Blade magazine from October 27, and will also be written by Miyagi, but illustrated by Sheepbox.
Here is the synopsis of the series from the PV:
It's been 10 years since the Great Tokyo Decisive Battle, in a Japan where all the prefectures have become independent countries. This is a not-so-ordinary story about ordinary girls, according to ordinary girls. Can the ordinary save the Earth!?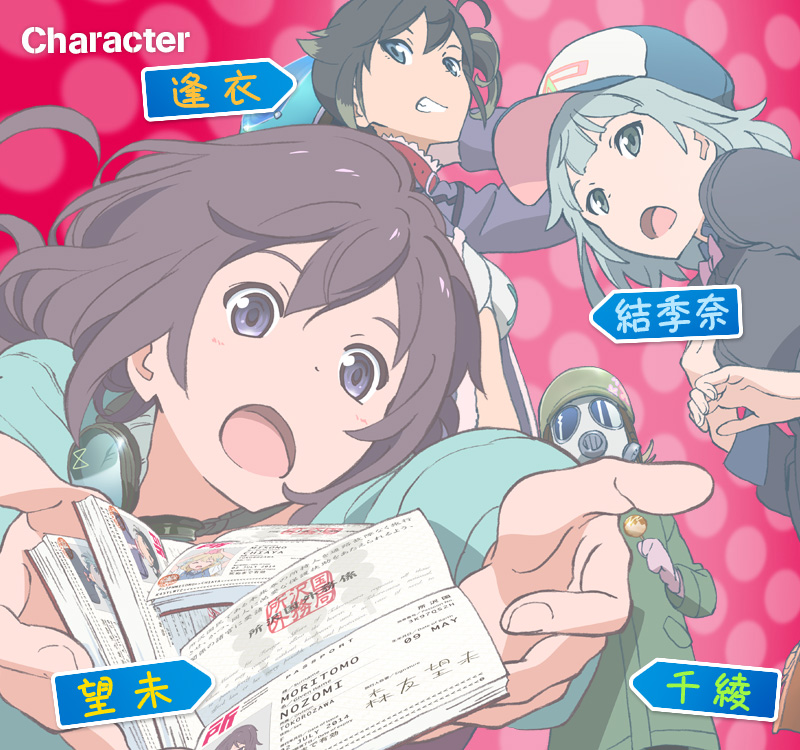 The Rolling Girls will be airing from January, during the Winter 2014/2015 anime season. Further information and footage about the series will be released in the upcoming months.
So what do you think of the anime so far? Will Wit Studio deliver? Let us know in the comments below.
You can visit the anime's website here: http://rollinggirls.com/
And follow their Twitter here: @therollinggirls 
Source – The Rolling Girls Website, Anime News Network, Moca News