Director Mamoru Hosoda, who directed the 2012 film Wolf Children, has just announced at a recent press conference his next film project, Bakemono no Ko (The Boy and the Beast). The film itself is scheduled to release in Japan on June 11, 2015 and the movie's official website is now online and released the first key visual of the anime movie.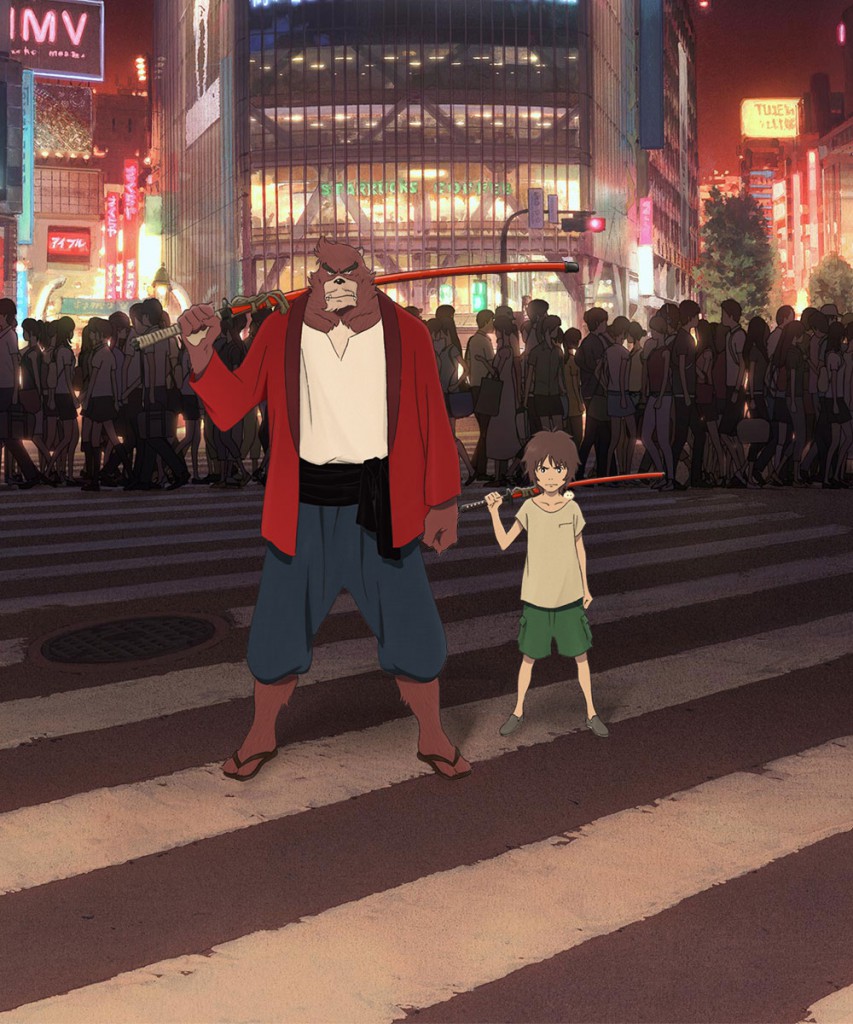 Hosoda will be directing and writing the script of his upcoming film. There are already plans for a French release of Bakemono no Ko with French movie studio Gaumont handling the distribution of the film outside of Asia. The film's production staff were also revealed at the conference:
Director and Scriptwriter: Mamoru Hosoda (Wolf Children, The Girl Who Leapt Through Time)
Animation Directors: Takaaki Yamashita (Digimon: The Movie, Wolf Children) and Tatsuzou Nishida (Summer Wars, Fullmetal Alchemist: The Movie – Conqueror of Shamballa)
Art Directors: Takashi Omori (From Up On Poppy Hill, Ponyo), Youhei Takamatsu (Hoshi wo Katta Hi), Youichi Nishikawa (Debut Role)
Music: Masakatsu Takagi (Wolf Children)
Animation Studio: Studio Chizu (Wolf Children)
At the conference, Hosoda discusses more about the premise of Bakemono no Ko:
The movie is a training story about a boy who was separated from his parents and becomes a disciple of a bakemono (supernatural creature). It's going to be a traditional yet novel story. [I think] that there are thrilling things hidden in this town [Shibuya] of adventure. There are surprisingly few animated works set in Shibuya. Even though it's a famous place, it'll be novel as a movie setting.
The first trailer for Bakemono no Ko also released:
Mamoru Hosoda is a well known anime director who have directed many well known anime films. His first major work was with Toei Animation (Dragon Ball Z, One Piece) for the production of the Digimon series, where he directed the two Digimon films: Our War Game and Hurricane Touchdown. He also directed the 2005 One Piece film Omatsuri Danshaku to Himitsu no Shima. He later left the studio to work with Madhouse (Hunter x Hunter, No Game No Life) where he created and directed his first original film in 2006, The Girl Who Leapt Through Time. He also directed the 2009 film Summer Wars before leaving Madhouse to form his own studio, Studio Chizu. Their first production is Hosoda's 2012 original film Wolf Children, which won the 2013 Japan Academy Prize for Animation of the Year.
Here is a synopsis of the film:
The story is set in the human realm (Tokyo's Shibuya ward) and the bakemono realm ("Shibutenmachi"). In these two worlds which must not intersect, there lives a lonely boy and a lonely bakemono. One day, the boy gets lost in the bakemono world, becomes the disciple of the bakemono Kumatetsu, and is renamed Kyūta.
Bakemono no Ko (The Boy and the Beast) will be releasing in Japanese theatres on June 11 next year. Further information about the film will release in the upcoming months.
You can visit the anime's website here: http://www.bakemono-no-ko.jp/
Source – Anime News Network, Bakemono no Ko Website, MyAnimeList, Oricon