The official website for the anime adaptation of Ayuko Hatta's romcom manga, Wolf Girl and Black Prince, put up its first promotional video on August 29th, 2014.
Translation:
Sign: I'm a wolf girl!
Text: Erika Shinohara (voiced by Kanae Itō)
Erika: Isn't it just the best when you have your boyfriend in the palm of your hand? Oh! It's from my darling! Hi, darling!
Ayumi: Who's your darling, huh, jerk!?
Erika: San-chan…
Ayumi: How many times are you going to make me make these phone calls!? Do you know how expensive my phone bill is getting!?
Text: The lie she told her friends
Aki: I'm telling you, it's totally a lie that she has a boyfriend.
Marin: Yeah, totally.
Aki: She's just an earsore.
Text: Ayumi Sanda (voiced by Ai Kayano)
Marin: She gives me the chills!
Ayumi: This lie isn't going to continue for long, it seems…
Text: Hellish life
Text: The biggest crisis in her life!
Erika: This is NOT good.
Erika: If I make it so he's my boyfriend…!
Text: Crime, theft
Erika: Ah! Or is he a Yorkshire Terrier!?!
Aki: He's the PRINCE!
Text: Who appeared was…
Kyōya: You're sweating really bad. Are you OK? It looks like there's a reason for it. If you're OK with me, I can at least listen to your problem.
Text: The number one prince in school!?
Erika: He is so nice…! His looks aren't the only perfect thing! He's like a prince! Could it be that if it's this person…
Text: Kyōya Sata (voiced by Takahiro Sakurai)
Text: It would have been nice if it was that simple…
Kyōya: Basically, I just have to act like your boyfriend, right? OK, then before that… Spin around three times, shake paws, and then say "woof."
Erika: Dog!?
Kyōya: I'm telling you to become my dog. Then I'll go along with your stupid problem… Ms. Wolf girl.
TYO Animations' Kenichi Kasai will direct the anime. Scripts and series composition will be by Sawako Hirabayashi. Character design will be by Maki Fujioka, and the soundtrack is composed by Go Sakabe.
The voice acting cast features:
Kanae Itō as Erika Shinohara
Takahiro Sakurai as Kyōya Sata
Ai Kayano as Ayumi Santa
Mariya Ise as Marin Tachibana
Mikako Komatsu as Aki Tezuka
Nobunaga Shimazaki as Yoshito Kimura
Yoshitsugu Matsuoka as Nozomi Kamiya
Yoshimasa Hosoya as Takeru Hibiya
Ayumu Murase as Yū Kusakabe
Wolf Girl and Black Prince (Ookami Shoujo to Kuro Ouji) is a Japanese shoujo manga series written by Ayuko Hatta. It was adapted into a drama CD in 2013. In 2014 the May issue of Shueisha's Bessatsu Margaret magazine announced that a television anime has been green-lit.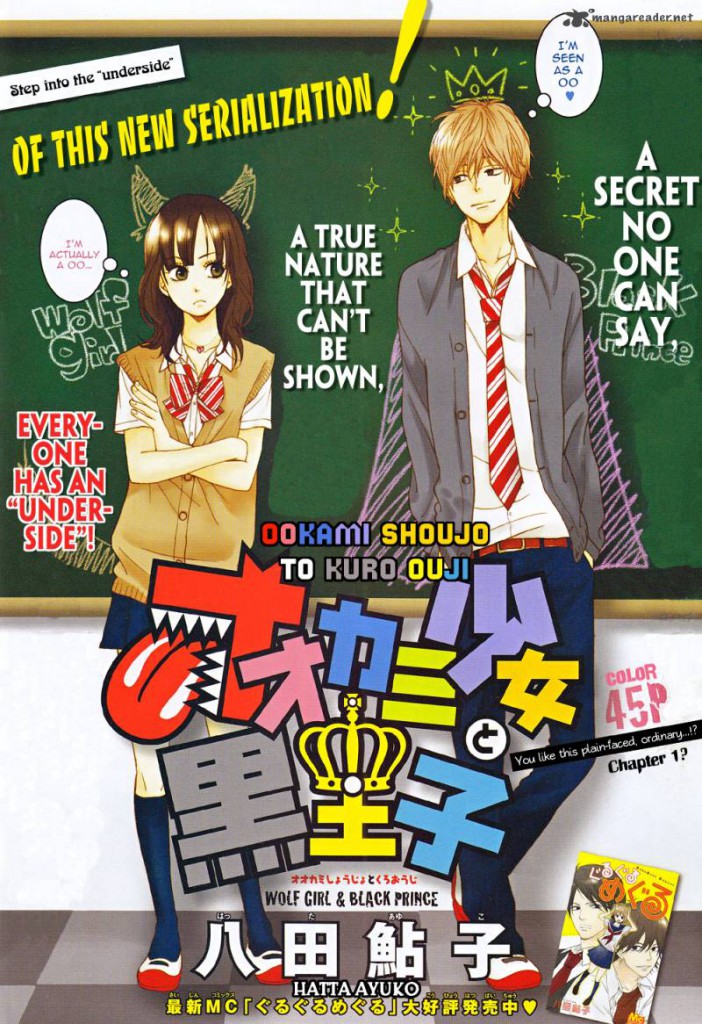 The anime is planned to air in October 2014 during the Fall/Autumn 2014 anime season.
Wolf Girl and Black Prince synopsis from Haruhichan:
The story centers around Erika Shinohara, a vain 16-year-old girl who tells her friends about her romantic exploits, but she actually has no boyfriend. She claims that a handsome boy in a candid photo is her boyfriend, but it turns out that boy is a schoolmate named Kyouya Sata. She has no choice but to make him her fake boyfriend. Unfortunately, Sata may look like a sweet person, but he is actually an ultra-black-hearted sadist. Sata takes advantage of Erika's weakness and treats her like his dog.
Source: ANN, Official Website