Heaps of new images have surfaced online for the latest Fate/stay night promotional video. The upcoming promotional video, the second one, has yet to be released online. So enjoy the large selection of images from the PV, where you can almost put together the video itself.
Studio ufotable were also present during AnimeJapan 2014 and showed off their new designs for the main characters of the series.
Also during AnimeJapan 2014, the official Twitter account for ufotable has announced that a port of the visual novel Fate/hollow ataraxia will be making its way to the PlayStation Vita this year. The VN is a sequel to Fate/Zero, and will contain updated visuals and full voice acting. You can visit the game's official website here: http://www.typemoon.com/products/hollowvita/index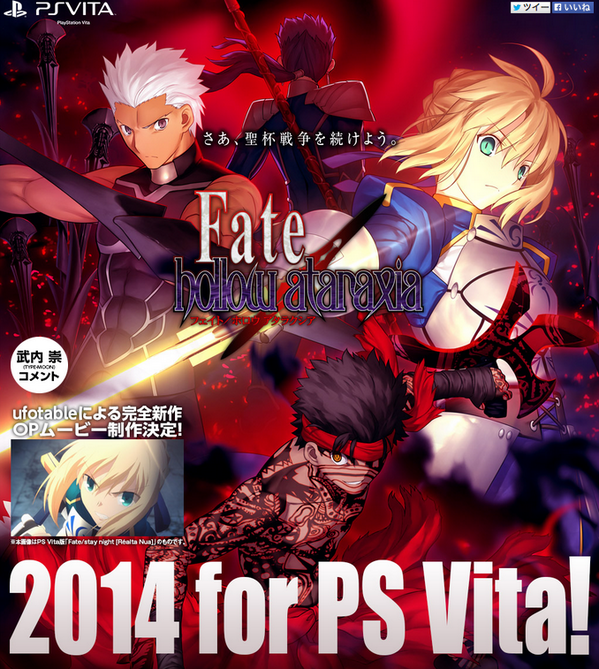 Fate/stay night was initially released by Type-Moon as a visual novel for PC in 2004, and is the first in their Fate series. The visual novel was very successful and claimed the title of highest selling visual novel in that year. 2006 saw two adaptations of the game, a manga by Datto Nishiwaki and an anime series by Studio Deen. Additionally in that year, a light novel series titled Fate/Zero was written by Gen Urobuchi. It is a prequel to the visual novels, set 10 years prior. An anime and manga adaptation of Fate/Zero were created, with the manga written by Urobuchi himself in 2011 and the anime being animated by ufotable. A second season of Fate/Zero was also produced.
The new promotional video for the anime has not been released yet. The remake will air this Fall/Autumn and will be animated by studio ufotable. Expect the full video to be released in the next few days.