The official website for the upcoming 2016 anime adapatation of Katsura Hoshino's D.Gray-man manga series has revealed the series will be titled D.Gray-man HALLOW. The second promotional video was also streamed which reveals that the series is slated for July.
In addition to this, the cast was also revealed:
Ayumu Murase (Shouyou Hinata from Haikyuu!!) will voice Allen Walker
Shinnosuke Tachibana (Tomoe from Kamisama Hajimemashita) as Howard Link
Takuya Satou (Toshiki Kai from Cardfight!! Vanguard) as Yu Kanda
Natsuki Hanae (Haruichi Kominato from Diamond no Ace) as Lavi
Ai Kakuma (Isuzu Sento from Amagi Brilliant Park) as Lenalee Lee
Yutaka Aoyama (Arthur Randall from Kuroshitsuji) as The Millennium Earl
Masakazu Nishida (Kyouma Katagiri from Gunslinger Stratos) as Tyki Mikk
Yui Kondou (Furano Yukihira from NouCome) as Road Kamelot
Shinnosuke Tachibana (Tomoe from Kamisama Hajimemashita) as Howard Link
Soichiro Hoshi (Kei Kusanagi from Onegai Teacher) as Wisely
Ryouta Asari (Toda from Chihayafuru) as Alma Karma
The staff include:
Director: Yoshiharu Ashino (Cross Ange: Tenshi to Ryuu no Rondo, Mahou Shoujo-tai Arusu)
Screenplay: Michiko Yokote, Tatsuto Higuchi, Kenichi Yamashita
Character design and chief animation director: Yosuke Kabashima
Animation Studio: TMS Entertainment (Yowamushi Pedal, Detective Conan)
D.Gray-man HALLOW anime visual: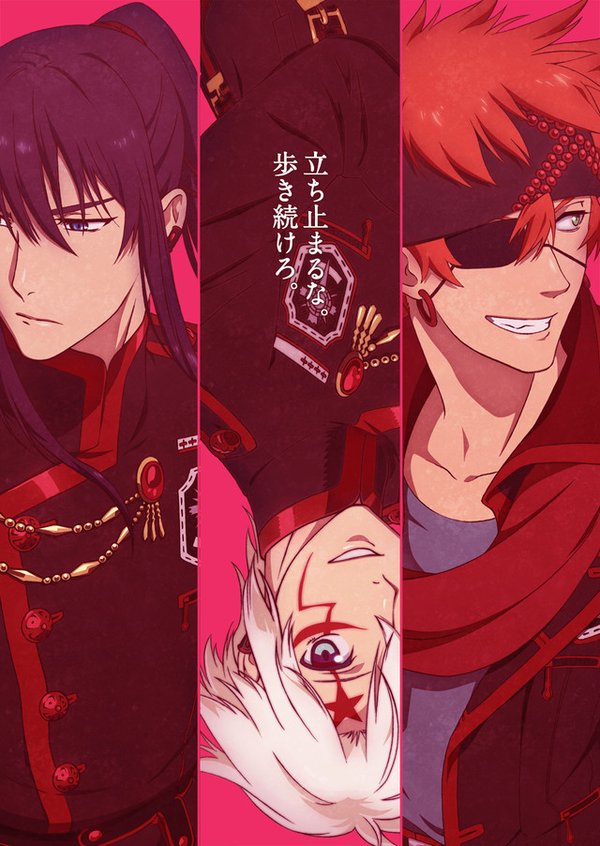 Author Katsura Hoshino commented that the upcoming series will continue the story from the first anime:
Thanks to everyone who went to the D.Gray-man stage today. As was said in the announcement, a new series has been green-lit. Because the staff will be completely different, the story will be a continuation, but I think it will become a completely new D.Gray-man anime. Thank you for everyone who's supported me until now.
Here is the anime's first promotional video:
D.Gray-man is a Japanese manga series written and illustrated by Katsura Hoshino. The series tells the story of a boy named Allen Walker, a member of an organization of Exorcists who make use of an ancient substance called Innocence to combat the Millennium Earl and his demonic army of Akuma. Many characters and their designs were adapted from some of Katsura Hoshino's previous works and drafts, such as Zone.
The manga began serialization in 2004 in the Weekly Shonen Jump magazine, published by Shueisha. It made the transition from a weekly to a monthly series in November 2009, when it began serialization in Jump SQ until December 29, 2012, where the series went on an indefinite hiatus. The series began serialization again on July 17, 2015 in a spin-off magazine of Jump Square, Jump SQ.Crown. There is also a spin-off novel series titled D.Gray-man Reverse, authored by Kaya Kizaki, that explores the history of various characters. As of August 5, 2014, Viz Media has released 24 volumes in the United States. The manga has also been adapted into a 103-episode anime series that aired from October 3, 2006 to September 30, 2008 in Japan. The anime is licensed by Funimation Entertainment in North America. Several related items of merchandise have also been produced.
D.Gray-man synopsis from MAL:
Toward the end of the 19th century, Allen Walker officially joins the organization of Exorcists that destroy the beings known as Akuma; mechanic weapons made by the Millennium Earl with the suffering souls of the dead. Allen has both a cursed eye and an anti-Akuma weapon as an arm, bearing the power of "Innocence," a gift given to him as an apostle of God. Allen, along with his fellow Exorcists must put a stop to the Millennium Earl's ultimate plot that could lead to the destruction of the world and all who live on it.
Source: D.Gray-man official website, yaraon