The fourth volume of Koutarou Kosugi's Futsuu no Joshikousei ga [LocoDol] Yattemita. manga will be released on Tuesday, July 22, 2015 and it will include a Drama CD with a confirmation announcement regarding to the second OVA of the series on its wraparound jacket. The August 2015 issue of Manga 4-koma Kings Palette magazine already announced the anime having a second OVA. As well as the official Twitter account of the 3D anime, Wooser no Sono Higurashi, that collaborated with Locodol on its third episode.
新作OVA制作もきまった『普通の女子校生が【ろこどる】やってみた。』!今後も流川ガールズから目が離せませんっ><!アニメ公式サイトはこちら→ http://t.co/CfCGoYfQii#ろこどる

— お知らせうーさー (@PR_wooser) July 17, 2015
Drama CD cast:
Miku Itou (Re-kan!'s Narumi Inoue) as Nanako Usami
Sachika Misawa (Accel World's Kuroyukihime) as Yukari Kohinata
Maya Yoshioka (Girls und Panzer's Taeko Kondou) as Yui Mikoze
Inori Minase (Danmachi's Hestia) as Mirai Nazukari
Asami Shimoda (IS: Infinite Stratos' Lingyin Huang) as Saori Nishifukai
Shiori Izawa (Witch Craft Works' Tanpopo Kuraishi) as Shouko Noda
Mikako Izawa (Wakaba*Girl's Moeko Tokita) as Satsuki Kashiwaba
Minami Tsuda (Yuru Yuri's Yui Funami) as Misato Mizumoto
The drama CD will be about Nanako's birthday and the local idols' first anniversary event. As well as reminiscing their memories as idols.
The manga was published under Ichijinsha's Manga 4-koma Kings Palette magazine since August 22, 2011. The manga currently has 3 compiled manga volumes. The first volume was published on January 22, 2013.
Futsuu no Joshikousei ga [LocoDol] Yattemita. inspired a 12-episode TV anime adaptation produced by Studio Feel (Yahari Ore no Seishun Love Comedy wa Machigatteiru. Zoku, Outbreak Company). It was directed by Munenori Nawa (Rental Magica, Kiss x Sis). It also had a special that served as the 13th episode bundled on the anime's first DVD/Blu-Ray volume titled Nagarekawa, Annai Shite Mita.. The anime was teased to have a second season.
Anime's First Season Visual: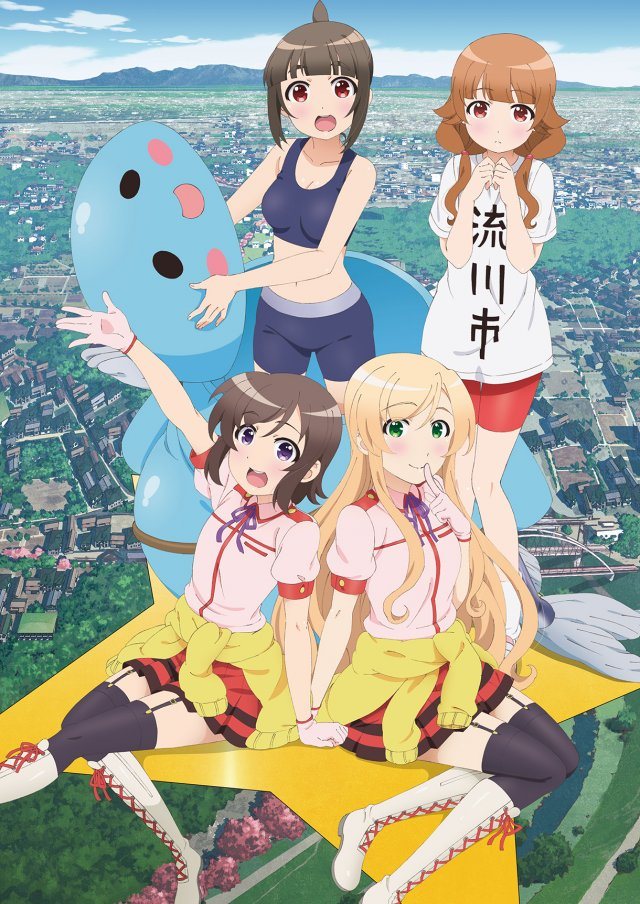 In other news, the third episode of Wooser no Sono Higurashi collaborated with Locodol by showing the anime's mascot, Uogokoro-kun. Wooser and Uogokoro has collaborated many times on events held in Japan to promote each other's anime.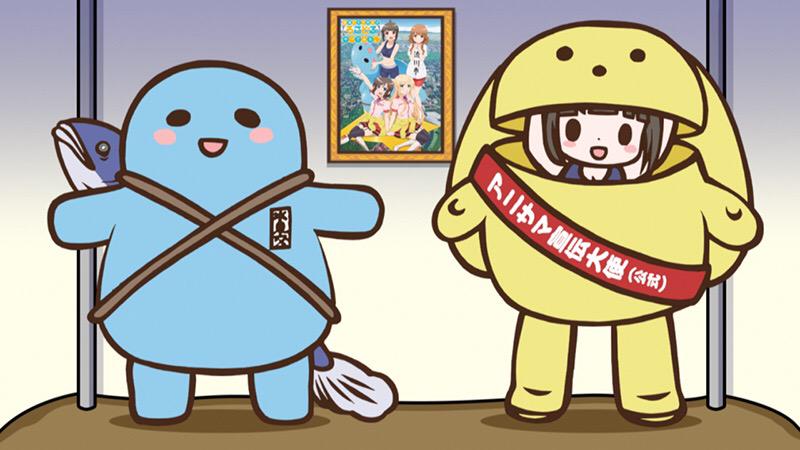 Synopsis of Futsuu no Joshikousei ga [Locodol] Yatte Mita. from MAL:
In the town of Nagarekawa, Nanako Usami, an ordinary high school girl, is approached by her uncle to become a local idol or "Locodol," partnering with upperclassman Yukari Kohinata to form the idol unit, Nagarekawa Girls. As the girls use their talent to promote Nagarekawa and their businesses, they are joined by Yui Mikoze, who acts as the local mascot, and Mirai Nazukari, who serves as Yui's substitute.
Source: Animate, Locodol's Official Anime Website and Official Twitter Account, ANN