The 15th issue of Hakusensha's Hana to Yume magazine will be announcing on Saturday that a television adaptation of Mizuho Kusanagi's shoujo manga Akatsuki no Yona (Yona of the Dawn) has been green-lit.
This adaptation will feature the cast and staff from the earlier drama CD adaptation alongside new contributors. Studio Pierrot will be in charge of the animation.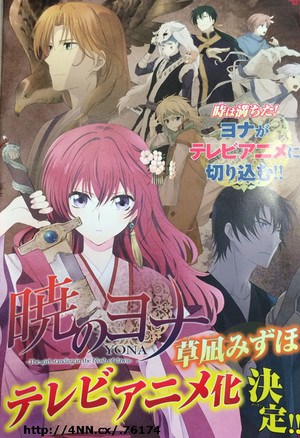 Cast:
Yona: Chiwa Saito
Son Hak: Tomoaki Maeno
Soo-won: Yuusuke Kobayashi
Ki-Ja: Masakazu Morita
Shin-Ah: Nobuhiko Okamoto
Jae-Ha: Junichi Suwabe
Zeno: Hiro Shimono
Yoon: Junko Minagawa
Staff:
Director: Kazuhiro Yoneda
Scripts: Shinichi Inotsume
Character Design: Maho Yoshikawa
Music Composition: Ryo Kunihiko
Sound Director: Yukio Nagasaki
Akatsuki no Yona
synopsis from Haruhichan.
Yona is the sole princess of the kingdom, living the luxurious and carefree life as a princess should. She has it all: the finest clothes and cosmetics, the most divine sweets, a loving emperor as a father, and the hottest cousin crush, Soo-won, anyone could ever hope to have. Now, if only her bodyguard, Son Hak, wasn't so annoying to her and her hair wasn't so red.But her nearly perfect world quickly shatters as the man she loves, Soo-won, murders her father and the path to his ascension to the throne is assured. Son Hak escapes with Yona, and they lead a life on the run from that point on.