Today, it was revealed on the wraparound jacket of the 17th volume of Mizuho Kusanagi's (NG Life, Mugen Spiral) Akatsuki no Yona manga that it will be receiving an original video animation (OVA). More information will be released in the future issues of Hakusensha's Hana to Yume magazine where the manga was being published.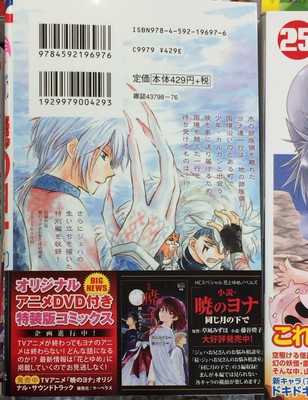 暁のヨナ17巻明日発売です。今回初めて表紙と裏表紙、絵がつながってます。表紙だけ見るとジェハピンだけど、私的には今回の表紙は三龍です(・ω・)ノ宜しくお願いします〜。 pic.twitter.com/FqGQOTjAyS

— 草凪みずほ (@KusanagiMizuho) March 19, 2015
Akatsuki no Yona began in 17th 2009 issue of Hana to Yume magazine. There are currently 17 compiled manga volumes. The 16th volume was released on December 19, 2014. The 9th and 15th compiled manga volumes, Hana to Yume Issue 17-2012 and 18-2013 include Drama CD adaptations.
The fantasy romance manga received a 24-episode anime adaptation produced by Studio Pierrot (Yume-iro Pâtissière, Kingdom). The anime began airing on October 7, 2014 and is scheduled to end next week, March 24, 2015.
Cast:
Chiwa Saito (Bakemonogatari's Hitagi Senjougahara) as Yona
Tomoaki Maeno (Log Horizon's Naotsugu) as Son Hak
Yuusuke Kobayashi (Shirobako's Daisuke Hiraoka) as Su-won
Masakazu Morita (Baccano!'s Claire Stanfield) as Ki-ja
Nobuhiko Okamoto (Haikyuu!!'s Yuu Nishinoya) as Shin-ah
Junichi Suwabe (Uta no☆Prince-sama♪ Maji Love 1000%'s Ren Jinguuji) as Jea-ha
Hiro Shimono (Kami nomi zo Shiru Sekai's Keima Katsuragi) as Zeno
Junko Minagawa (Vampire Knight's Ruka Souen) as Yun
Visual: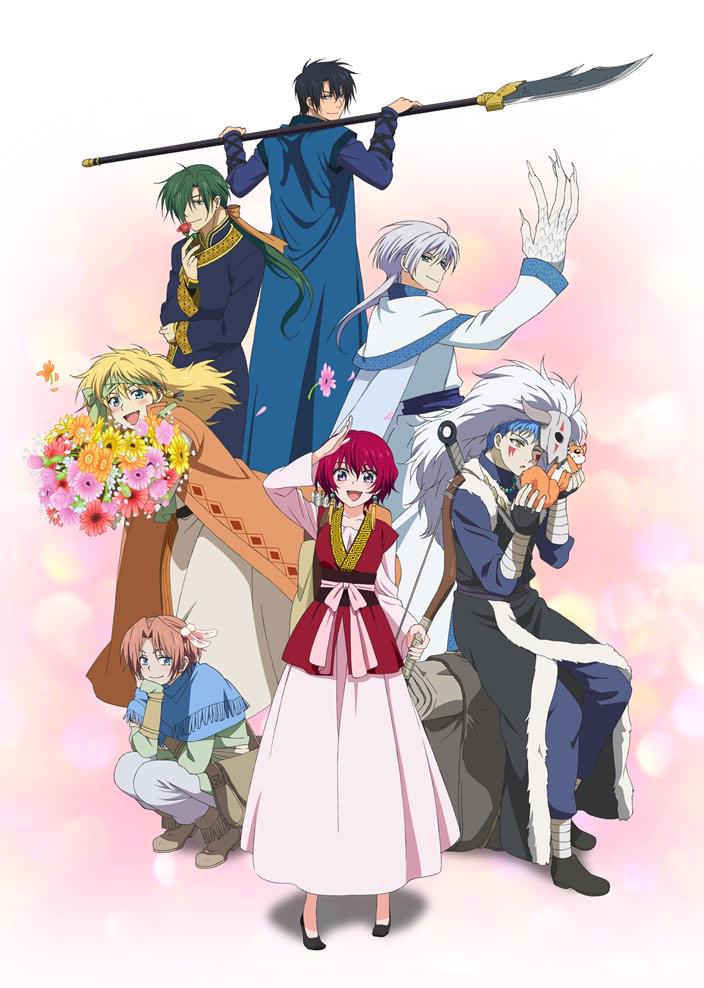 Synopsis of Akatsuki no Yona from Haruhichan:
Upon her sixteenth birthday, the cheerful Princess Yona intended to tell her doting father of her love for Soo-won, but her life was turned upside down after witnessing the man she loves cruelly assassinating her father. Heartbroken by this painful betrayal, Princess Yona fled the palace with her loyal servant Hak. Now, she will take up the sword and the bow on a quest to gain new allies and protect her beloved people.
Source – ANN