With the upcoming unaired 13th episode of Akuma no Riddle on the way, some images from said episode have been previewed in a magazine. The unaired special will be released with the seventh Blu-ray/DVD volume. The special will also be previewed at a screening in Tokyo City on November 22, 2014. The 7th Blu-ray / DVD volume will be released on December 17, 2014.
The special episode appears to be a beach episode with all the girls ready in bikinis / swimwear and a little bit of clothes-ripping yuri action going on.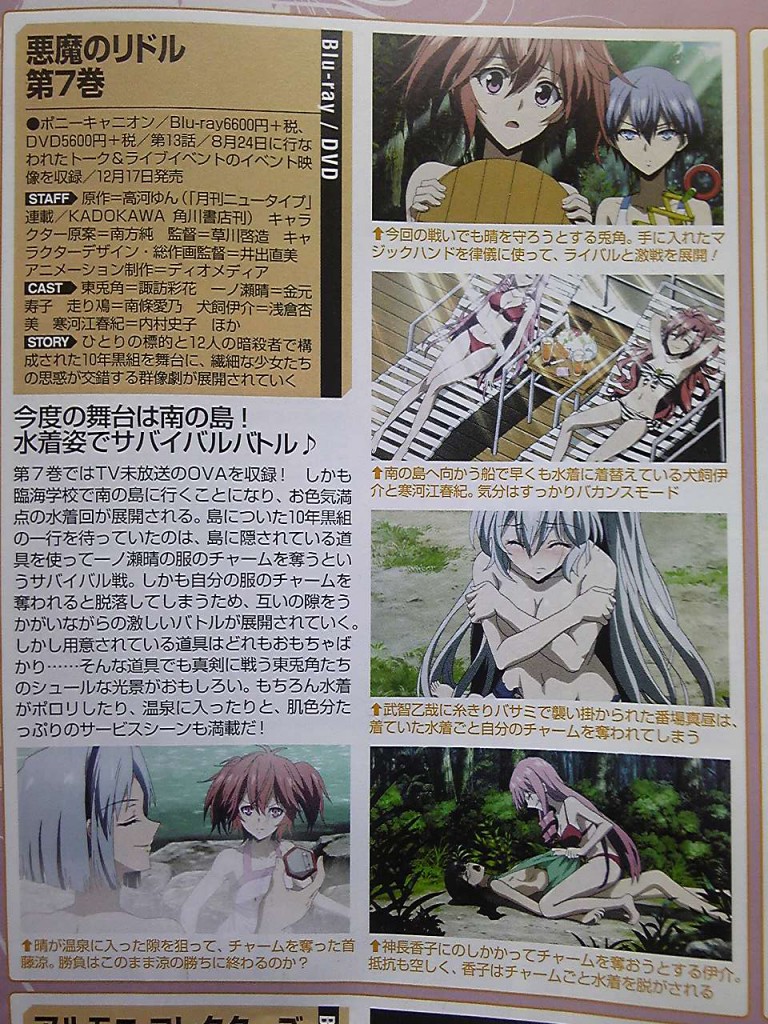 Akuma no Riddle is a Japanese manga series written by Yun Kouga and illustrated by Sunao Minakata. It started serialization in Kadokawa Shoten's Newtype magazine with the September 2012 issue. An anime adaptation directed by Keizou Kusakawa and animated by Diomedea aired in Japan between April and June 2014. The Japanese title is a pun on Devil's Trill by Giuseppe Tartini.
Akuma no Riddle synopsis from Haruhichan:
The story is set at Myoujou Academy, a private girls' boarding school. The 10th year's Kurogumi class has 12 assassins with their sights on one target, Haru Ichinose. Tokaku Azuma is a recent transfer student who is also targeting Ichinose, but she gradually develops feelings for Ichinose.
Source: yaraon