The idea of assassination is terrifying. Anyone around you could be looking for the perfect opportunity to kill another person. However, the art of assassination is more complicated than this, as the manga Ansatsu Kyoushitsu by Matsui Yuusei reveals. In the manga, a class of students are given the task of assassinating their teacher, who is a strangely tentacled fellow. Furthermore, their teacher helps them grow in order to reach this goal! This strange "Assassination Classroom" will be adapted into an anime soon.
The official website for the television anime of Matsui Yusei's Ansatsu Kyoushitsu manga began streaming a promotional video on Monday. Koro-sensei, the class's teacher, starts a word association game to have each student speak up in turn and in doing this introduces the voice cast for the students in Class 3-E.
http://www.dailymotion.com/video/x28912g_%E5%85%AC%E5%BC%8F-%E6%9A%97%E6%AE%BA%E6%95%99%E5%AE%A4-%E6%AE%BA%E3%81%9B%E3%82%93%E3%81%9B%E3%83%BC%E9%80%A3%E6%83%B3%E3%82%B2%E3%83%BC%E3%83%A0_music
The video starts out with Koro-sensei announcing a word game: Now, everyone, let's start Koro-sensei's Association Classroom. Well, let's begin with my name, Koro-sensei. and continues with the students associating words with the previous one.
In order of appearance, the cast includes:
Okamoto Nobuhiko as Karuma Akabane
Hino Miho as Sumire Hara
Kimura Subaru as Ryōma Terasaka
Ohsaka Ryota as Yūma Isogai
Miyashita Eiji as Sōsuke Sugaya
Suwa Ayaka as Tōka Yada
Asanuma Shintarō as Hiroto Maehara
Naitou Ryo as Taiga Okajima
Numakura Manami as Rio Nakamura
Ueda Kana as Yuzuki Fuwa
Saito Fuko as Kirara Hazama
Satou Satomi as Yukiko Kanzaki
Matsuura Chie as Megu Kataoka
Mizushima Takahiro as Kōtarō Takebayashi
Takahashi Shinya as Kōki Mimura
Yahagi Sayuri as Manami Okuda
Harasawa Kouki as Takuya Muramatsu
Suzaki Aya as Kaede Kayano
Kawabe Shunsuke as Masayoshi Kimura
Yamaya Yoshitaka as Tomohito Sugino
Shimozuma Yoshiyuki as Taisei Yoshida
Kanemoto Hisako as Hinano Kurahashi
Tanaka Minami as Hinata Okano
Majima Junji as Ryūnosuke Chiba
Kawaragi Shiho as Rinka Hayami
Fuchigami Mai as Nagisa Shiota
Though not named explicitly in the video, the cast also includes:
Fukuyama Jun as Koro-sensei
Sugita Tomokazu as Tadaomi Karasuma
Itou Shizuka as Irina Jelavic
And finally, the production crew is as follows:
Directed by Kishi Seiji (Persona 4 The Animation)
Character Design by Morita Kazuaki (Aoki Hagane no Arpeggio: Ars Nova)
Scripts by Uezu Makoto (Kore wa Zombie desu ka?)
Produced at Studio Lerche
Ansatsu Kyoushitsu description from Viz Media:
A humorous and action-packed story about a class of misfits who are trying to kill their new teacher – an alien octopus with bizarre powers and super strength! The teacher has just destroyed the moon and is threatening to destroy the earth – unless his students can destroy him first. What makes things more complicated is that he's the best teacher they've ever had!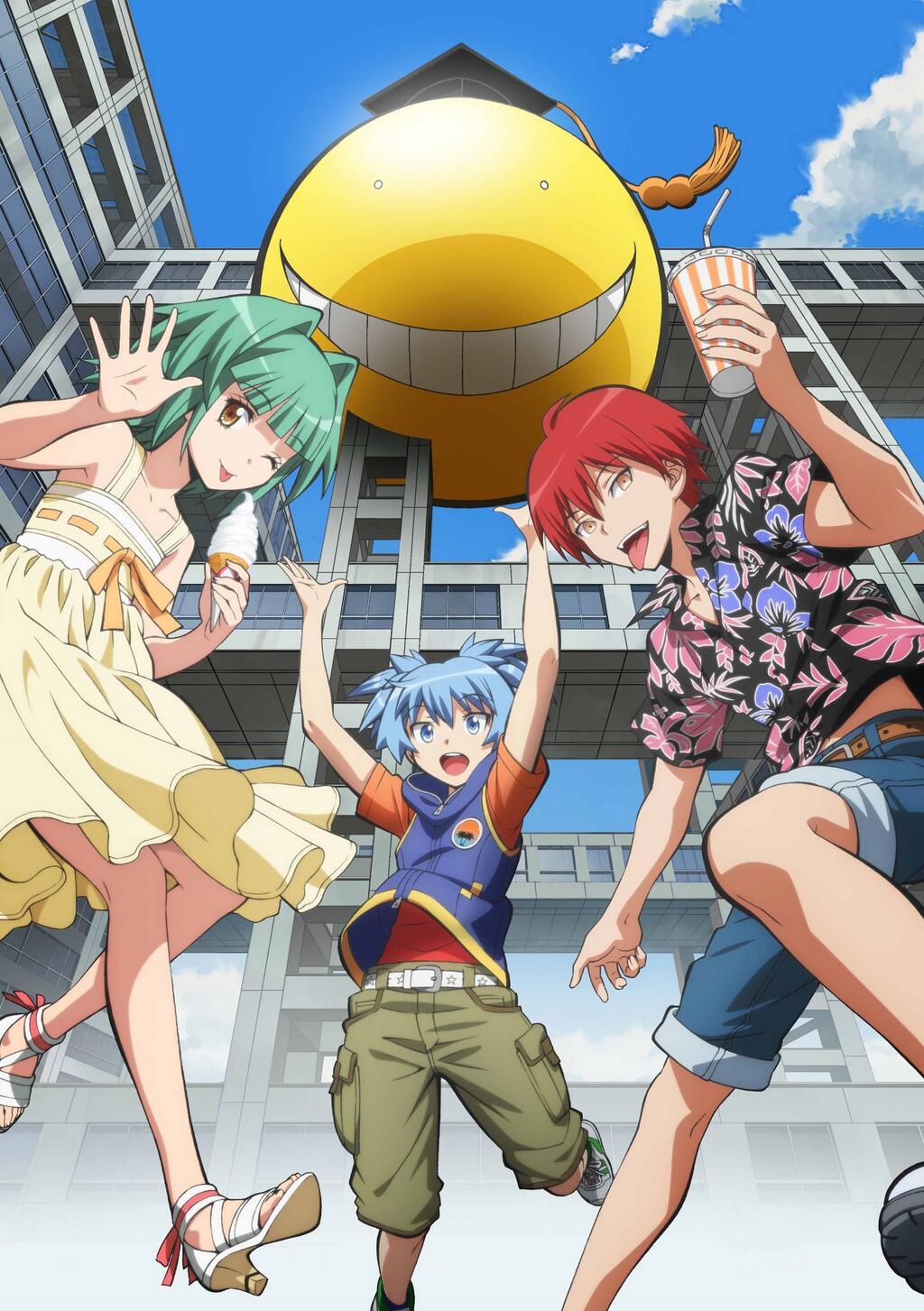 Ansatsu Kyoushitsu is a manga by Matsui Yuusei. Since July 2012, individual chapters have been serialized in Weekly Shōnen Jump. The manga has been collected into 10 tankōbon volumes published by Shueisha as of July 2014. The ten volumes have been released in Japan with a circulation of ten million copies. An event anime adaptation of Assassination Classroom was screened on the Jump Super Anime Tour from October 6, 2013 to November 24, 2013. The manga has been licensed by Viz Media for an English language North American release, who will release the first volume in December 2014 in both digital and print formats. A live action is also in the works.
Ansatsu Kyoushitsu synopsis from Haruhichan:
The students of class 3-E have a mission: kill their teacher before graduation. He has already destroyed the moon, and has promised to destroy the Earth if he can not be killed within a year. But how can this class of misfits kill a tentacled monster, capable of reaching Mach 20 speed, who may be the best teacher any of them have ever had?
Sources: ANN, Official Site