A new visual for the anime adaptation of the Ao no Kanata no Four Rhythm (Four Rhythm Across the Blue) visual novel has been revealed in the February 2016 issue of NewType. You can purchase this issue here (get 5% off with coupon code MOE-N3Y-4YW0QK).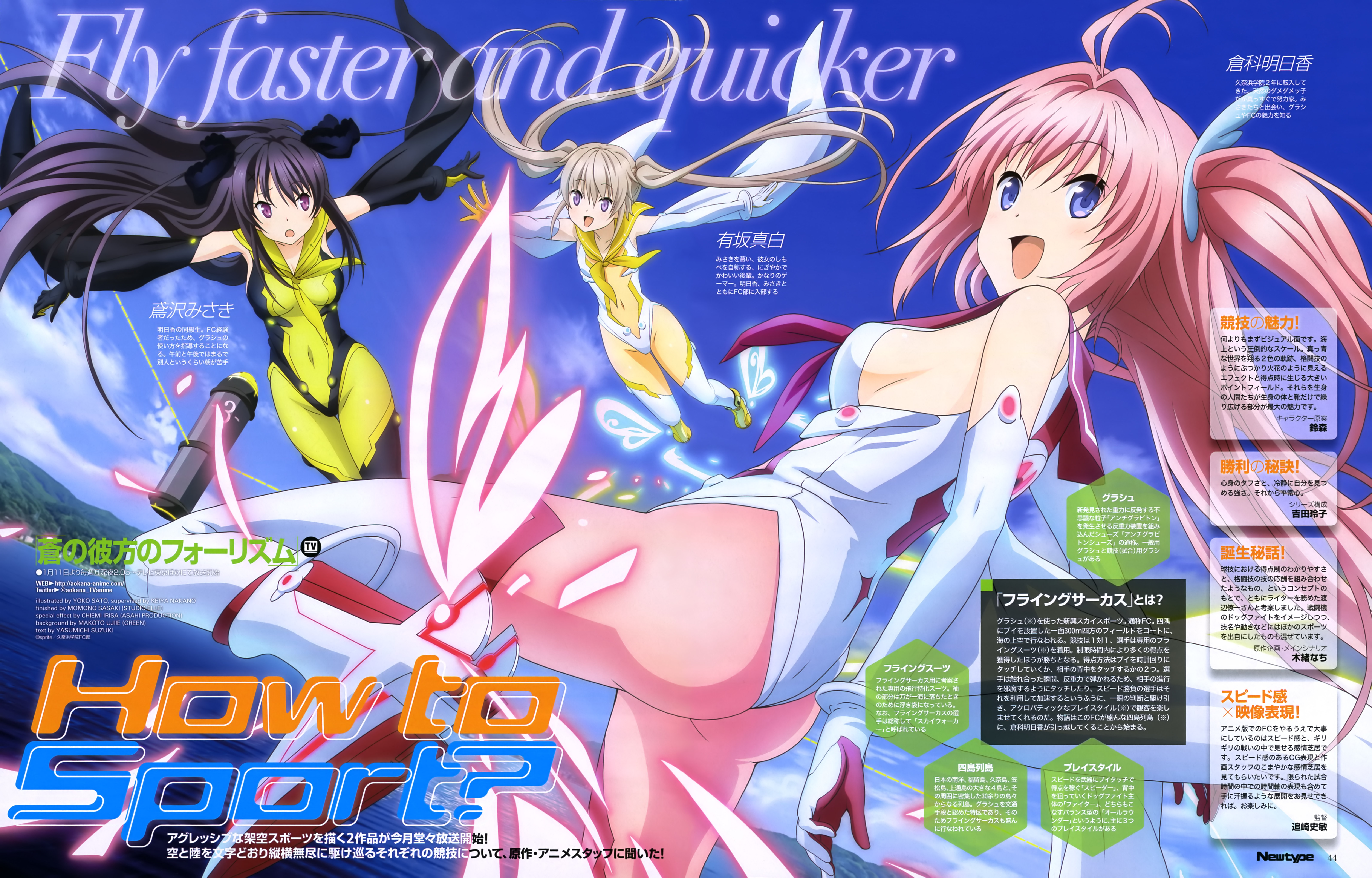 The official website of the Ao no Kanata no Four Rhythm (Four Rhythm Across the Blue) visual novel has announced that it will be receiving a TV anime adaptation and has revealed that the series will air from January 2016, as well as revealing the main cast, staff and first visual.
The first members of the main cast has been revealed and they include:
The leading members of the anime's production staff include:
The site has also revealed that Mami Kawada (To LOVE-Ru Darkness 2nd ED, Shakugan no Shana OP) will perform the Opening theme song of the anime. Reika Nakayama (To Love-Ru Darkness OP, Amnesia ED), known as Ray, will perform the Ending theme song of Aokana.
Ao no Kanata no Four Rhythm (Four Rhythm Across the Blue), abbreviated as Aokana, is an Eroge visual novel that released in 2014. The game was developed and published by Sprite for PC on November 28 last year with a PlayStation Vita release coming in 2016. The visual novel won 1st place at the 2014 Moe Game Awards and also won the User's Choice Award at the event.
Past visual:
Ao no Kanata no Four Rhythm, officially abbreviated as Aokana and translated as Four Rhythm Across the Blue, is a Japanese adult visual novel developed by Sprite and released for Windows on November 28, 2014. An anime television series adaptation, produced by Gonzo and directed by Fumitoshi Oizaki, will premiere in January 2016. A PlayStation Vita version of the game has been announced for a 2016 release.
Ao no Kanata no Four Rhythm synopsis from MAL:
In a world where flying is as simple as riding a bicycle, there is a popular sport called "Flying Circus."

The protagonist once had a bright future ahead of him in that field of sports but due to an overwhelming defeat in addition to a certain other reason, he has left that field. However, he meets the transfer student Kurashina Asuka and regains his passion as he teaches her how to fly.

With his situation changed, he participates once again in the Flying Circus. Just how high will he be able to fly this time with Asuka at his side?

This is a love story about the two who met while soaring in the skies, and the friends surrounding them.
The Ao no Kanata no Four Rhythm anime is currently in production and will air in January 2016 during the Winter 2015/2016 anime season. Additional information about the series will be revealed soon.
You can visit the anime's website here: http://aokana-anime.com/
And follow them on Twitter: @aokana_TVanime