The official website for Yoshiki Tanaka and Yoshitaka Amano's Arslan Senki (The Heroic Legend of Arslan) novel series has revealed that the second season will premiere in July. The new series is titled Arslan Senki: Fuujin Ranbu (The Heroic Legend of Arslan: Dust Storm Dance).
It was also revealed that Eir Aoi (Sword Art Online, Fate/Zero) will perform the new season's opening theme song and Kalafina (Madoka Magica, first season of Arslan Senki) will perform the ending theme song.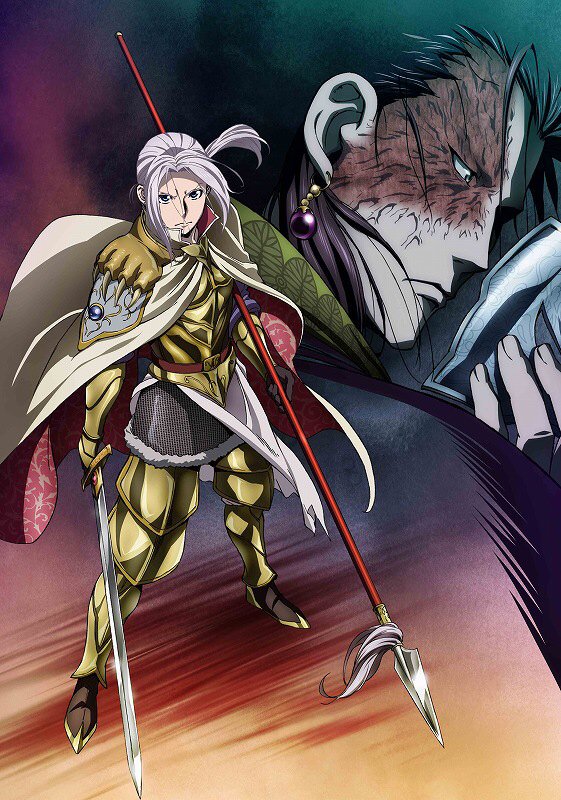 Previous visual:
Arslan Senki or The Heroic Legend of Arslan is a Japanese fantasy novel series written by Tanaka Yoshiki. Tanaka began writing the series in 1986, and the series is still ongoing as of 2008. There are currently 14 novels and one side story published. It was adapted into a manga by Nakamura Chisato in 1991, but the manga caught up to the novels in 1998 and received an original ending. In 2013, it received yet another manga adaptation, this time illustrated by Arakawa Hiromu. The new manga is serialized in the Bessatsu Shounen Magazine. Arslan Senki was also once developed into a short film and a 6 part unfinished OVA (only 4 parts were released).
Arslan Senki synopsis from Haruhichan:
Betrayed from within and overwhelmed by dark sorcery, the valiant armies of Pars are overrun by the warrior-fanatics of Lusitania. Escaping the destruction of his homeland, the heroic Prince Arslan begins to assemble a group of five, extraordinary allies—a priestess, an exiled warrior, a mischievous minstrel, an insightful artist and his attendant—to aid him in his fight against the Lusitanian invaders. Together, they must build an army and defeat 300,000 trained soldiers—including the mysterious Lord Silver Mask—who has also laid claim to the throne of Pars.
You can visit the anime's website here: http://www.arslan.jp/
And follow their Twitter: @arslan_anime
Source: Arslan Senki Anime Website