The official website for Yusei Matsui's Shonen Jump hit Assassination Classroom (Ansatsu Kyoushitsu) has revealed the long version of the first promotional video. The anime will begin airing on January 9th 2015 at 25:20 (effectively the 10th at 1:20am) during the Winter 2014/2015 anime season.
http://www.dailymotion.com/video/x2d2rjo_%E5%85%AC%E5%BC%8F-%E6%9A%97%E6%AE%BA%E6%95%99%E5%AE%A4%E3%83%AD%E3%83%B3%E3%82%B0pv_shortfilms
In addition to this, the main cast were revealed earlier and are:
Jun Fukuyama (Lelouch Lamperouge in Code Geass: Hangyaku no Lelouch) will voice the teacher Koro-sensei
Mai Fuchigami (Miho Nishizumi from Girls und Panzer) as Nagisa Shiota
Nobuhiko Okamoto (Rin Okumura in Ao no Exorcist) will voice Karma Akabane
Miho Hino (Toki from Seitokai Yakuindomo*) voices Sumire Hara
Kouki Harasawa (Hesma in Fantastic Children) voicing as Takuya Muramatsu
Ryota Osaka (Haruto Tokishima in Kakumeiki Valvrave) voices Yuma Isogai
Shizuka Itou (Luviagelita Edelfelt in Fate/kaleid liner Prisma☆Illya) will be voicing Irina Jelavic
Aya Suzaki (Tamako Kitashirakawa from Tamako Market) as Kaede Kayano
Subaru Kimura (Takeshi Gouda from Doraemon) will voice Ryouma Terasaka
The staff was also revealed:
Director: Seiji Kishi (Persona 4 The Animation, Angel Beats!)
Character Designer: Kazuaki Morita (Aoki Hagane no Arpeggio: Ars Nova, Persona 4 The Animation)
Script Writer: Makoto Uezu (Carnival Phantasm)
Animation Studio: Lerche (Fate/Prototype, Unbreakable Machine-Doll)
Visual: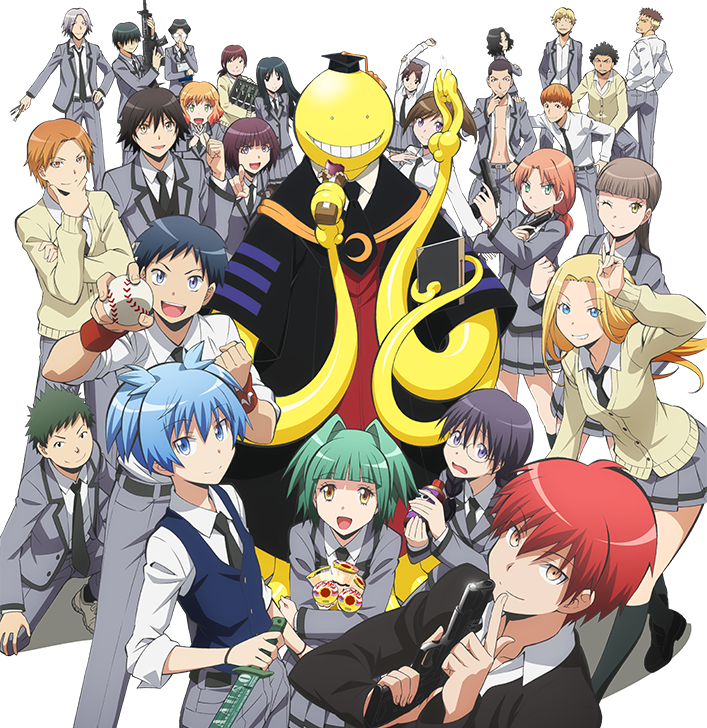 Assassination Classroom (Ansatsu Kyoushitsu) is a Japanese manga series written and illustrated by Yusei Matsui. It follows the daily lives of an extremely powerful octopus-like teacher and his students dedicated to the task of assassinating him to prevent Earth from being destroyed.
Individual chapters have been serialized in Weekly Shōnen Jump since July 2012, and are collected into tankoubon volumes published by Shueisha. As of July 2014, ten volumes will have been released in Japan with a circulation of ten million copies. An event anime adaptation of Assassination Classroom was screened on the Jump Super Anime Tour from October 6, 2013 to November 24, 2013. The manga has been licensed by Viz Media for an English language North American release, who will release the first volume in December 2014 in both digital and print formats.
A live action film has been announced and an anime series based on the manga is scheduled to premiere on Fuji TV in January 2015. The anime has been licensed by Funimation, who will stream the anime as it airs in Japan on their website.
Assassination Classroom (Ansatsu Kyoushitsu) synopsis from Haruhichan.
The students of class 3-E have a mission: kill their teacher before graduation. He has already destroyed the moon, and has promised to destroy the Earth if he can not be killed within a year. But how can this class of misfits kill a tentacled monster, capable of reaching Mach 20 speed, who may be the best teacher any of them have ever had?
Source: Official website