Asuna and Suguha from the Sword Art Online series has been featured as a poster in the November 2016 issue of Megami. You can purchase this issue of Megami magazine here (get 5% off with coupon code MOE-N3Y-4YW0QK) and you can check out the other posters that are included in this issue here.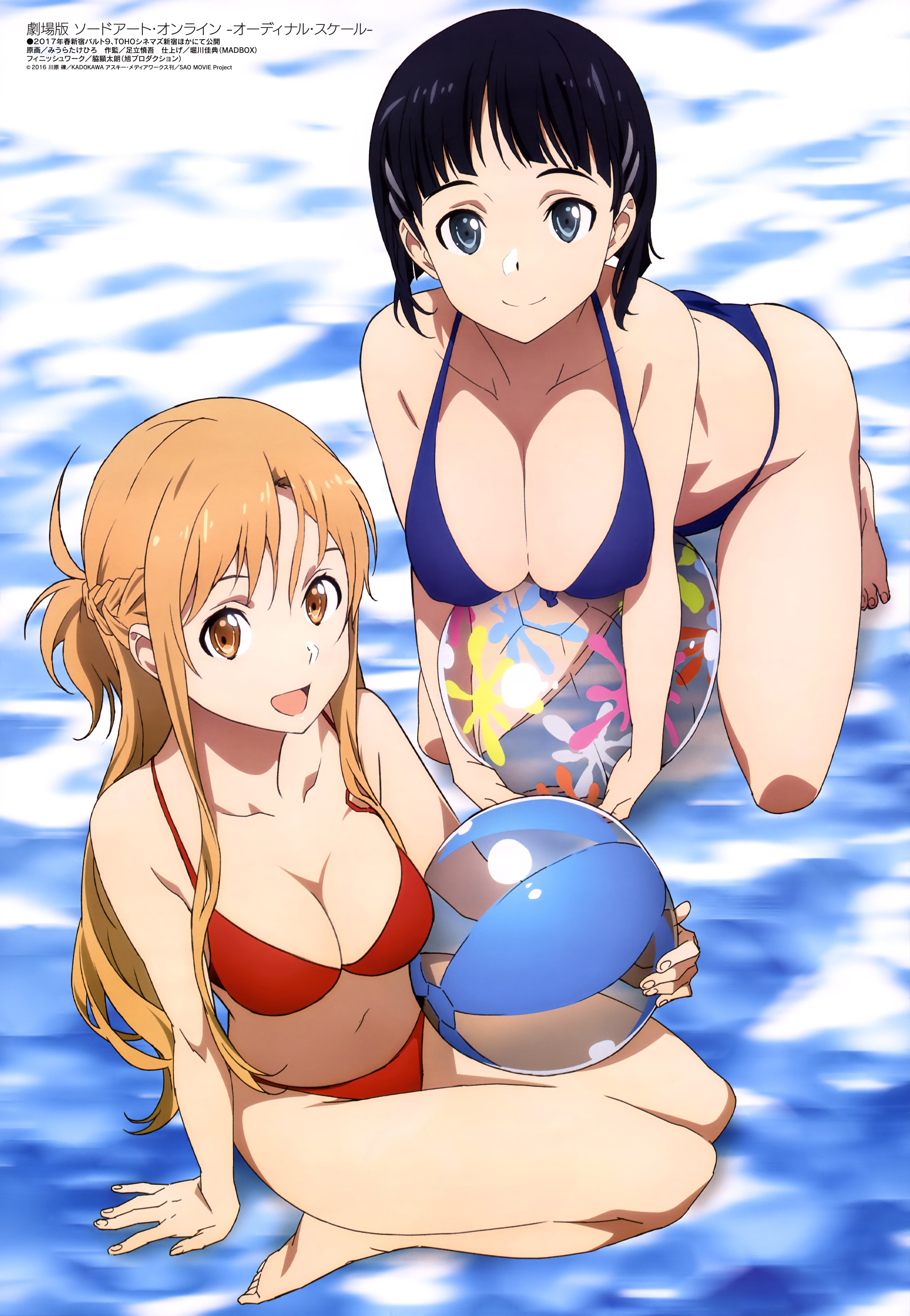 In addition, during the recent Dengeki Bunko Aki no Saiten 2016 event, it was revealed that the upcoming Sword Art Online the Movie: Ordinal Scale anime film will release in Japan on February 18, 2017. In addition, a brand new visual and trailer was also revealed. The film will release on Saturday, February 18th in Japan in over 150 theatres in Spring 2017. In addition, the International website of the movie has also echoed that the film is set for a Spring 2017 release in North America, and is projected to run in approximately 1000 theatres around the world.
The second full trailer for the film has been revealed online with English subtitles. The video introduces the new game and AR technology and the new characters that will debut in the film:
The first full theatrical trailer.
The new characters that will debut in the film have been revealed, but their respective cast members have yet to be announced. They include:
The main cast of the previous two anime seasons will return in the upcoming movie with new original character designs:
The film will feature the new VMMO Ordinal Scale that utilises the new Augma Augmented Reality device. Players rank up in the game by defeating monsters and using special items.It will have an original story, not adapting of Kawahara's any previous work; set after the Mother's Rosario arc, which was the third and final arc to be animated in Sword Art Online II. The arc itself was featured in the light novel's 7th volume.
The Director of first two seasons, Tomohiko Ito (Silver Spoon, Seikimatsu Occult Gakui), will return to direct the film alongside Anime Character Designer Shingo Adachi (Working!!, Galilei Donna). Yuki Kajiura (Mahou Shoujo Madoka Magica,Fate/Zero) will also return to compose the music and A-1 Pictures (Shigatsu wa Kimi no Uso, AnoHana) will be back to animate the film. Reki Kawahara will be writing the movie's original story.
Previous visual:
Sword Art Online is a Japanese light novel series written by Reki Kawahara and illustrated by abec. The series takes place in the near-future and focuses on various virtual reality MMORPG worlds. The light novels began publication on ASCII Media Works' Dengeki Bunko imprint from April 10, 2009, with a spin-off series launching in October 2012. The series has spawned eight manga adaptations published by ASCII Media Works and Kadokawa. The novels and four of the manga adaptations have been licensed for release in North America by Yen Press.
An anime television series produced by A-1 Pictures aired in Japan between July and December 2012. An Extra Edition episode aired on December 31, 2013, and a second anime series, titled Sword Art Online II, aired between July and December 2014. A video game based on the series, Sword Art Online: Infinity Moment, was released on PlayStation Portable in March 2013, with a second game, Sword Art Online: Hollow Fragment for PlayStation Vita (PS Vita) released in April 2014. A third game, Sword Art Online: Lost Song, was released on PlayStation 3 and PS Vita in March 2015.
Sword Art Online synopsis from Haruhichan:
In the near future, a Virtual Reality Massive Multiplayer Online Role-Playing Game (VRMMORPG) called Sword Art Online has been released where players can control their avatars through brain waves using technology called "NerveGear." When players enter the game, they discover they cannot log out, as the game creator is holding them captive. To escape, players must beat the game by defeating each boss on all 100 floors; however, if they die in the game, they die in real life too. Their struggle for survival starts now…
Visit the film's website here: http://sao-movie.net/
Check out their International site here: http://sao-movie.net/us/
And follow the latest developments on their Twitter: @sao_anime