A new visual for the anime adaptation of Mimana Orimoto's Bakuon!! manga series has been featured as a double page spread of May 2016 issue of NewType. This issue can be purchased here (get 5% off with coupon code MOE-N3Y-4YW0QK).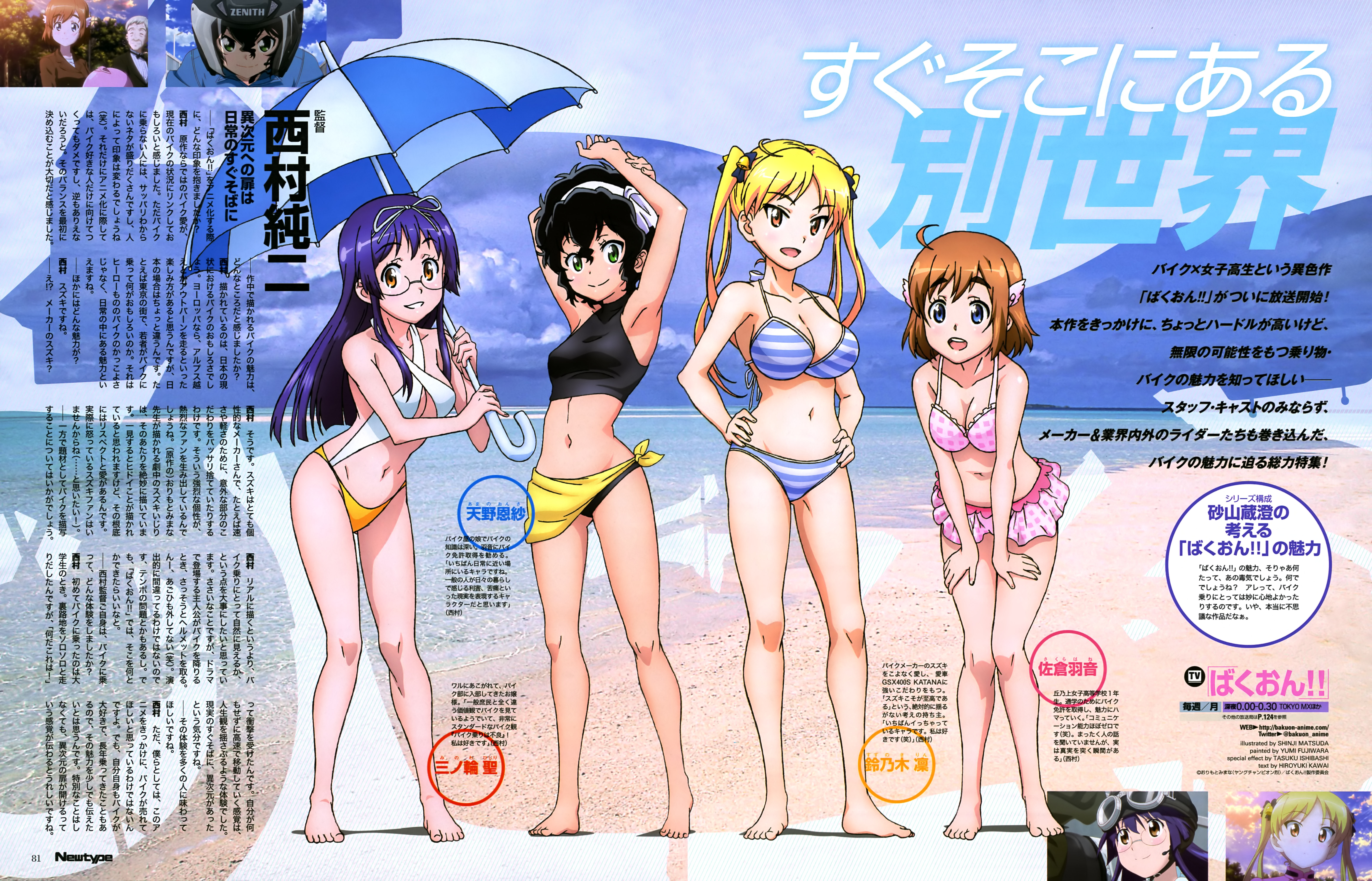 The cast members include:
Unshou Ishizuka (Jet Black from Cowboy Bebop) will voice Hayakawa
Yoko Hikasa (Rias Gremory from High School DxD) as Tazuko
Shinichiro Miki (Lockon Stratos from Mobile Suit Gundam 00) as Rin's Father
Mitsuo Iwata (Kintarou Ooe from Golden Boy) as Onsa's Father
Kazusa Aranami (Grendizer from Robot Girls Z) as Sayama
Azusa Tadokoro (Fino Bloodstone from Yuushibu) as Yume Sakura
The previously announced cast includes:
Here's the most recent trailer which revealed the cast:
The staff for the anime was recently revealed and include:
Director: Junji Nishimura (Glasslip, True Tears)
Series Composition: Kurasumi Sunayama
Character Design: Isao Sugimoto (Girls und Panzer, Kemeko Deluxe!)
Studio: TMS Entertainment (D.Gray-man, Lupin III (2015))
In addition to this the first promotional video was recently revealed:
In addition to this, the official website previously revealed that it will premiere in April 2016 and unveiled a new visual for the series.
The official Twitter account also welcomed the New Year with the illustration pictured below at the start of January.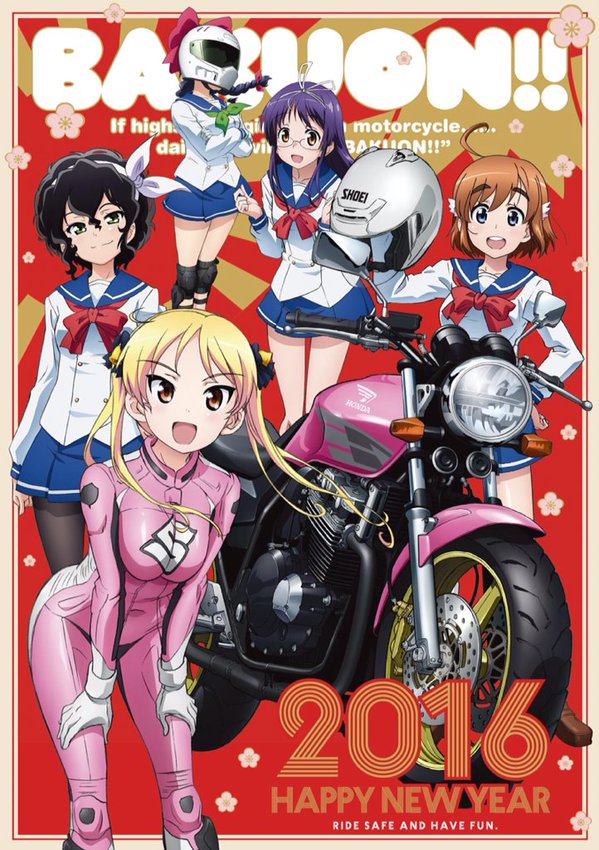 The anime adaptation of Bakuon!! was revealed on the 6th volume of the manga with a wraparound jacket.
Bakuon!! is a motorcycle, slice of life manga written and illustrated by Mimana Orimoto. The series began in early 2011 being serialized in Akita Shoten's Young Champion Retsu magazine. To date a total of 6 compiled volumes have been produced, with a 7th volume releasing on March 18, 2016. The series itself features motorcycles from real companies. An anime adaptation has been announced and slated for 2016.
Bakuon!! synopsis from MAL:
The story revolves around high school girls who discover the appeal of motorcycles. Sakura Hane is a high school student who looks a little bit like an airhead. On the way to her all-female high school one day, she is worn-out climbing a hilly road with a bicycle, but she sees a girl named Onsa Amano who is riding a motorcycle. Sakura immediately becomes interested in motorcycles, and she and Onsa join the motorcycle club at the school. Then, Sakura sets out to get her license.