This weekend I attended Supanova 2014 in Sydney, Australia. Supanova is an Australian Pop-Culture Expo event, publicly acknowledging the anime, manga, comics, sci-fi, tv-show, movie, gaming and cosplay media, as well as the appearances of special guests. Celebrities recognisable to the anime community included Maile Flanagan (Naruto Uzumaki-Naruto), Tara Platt (Temari-Naruto) and Vic Mignogna (Edward Elric-Fullmetal Alchemist) from the English dub of their anime.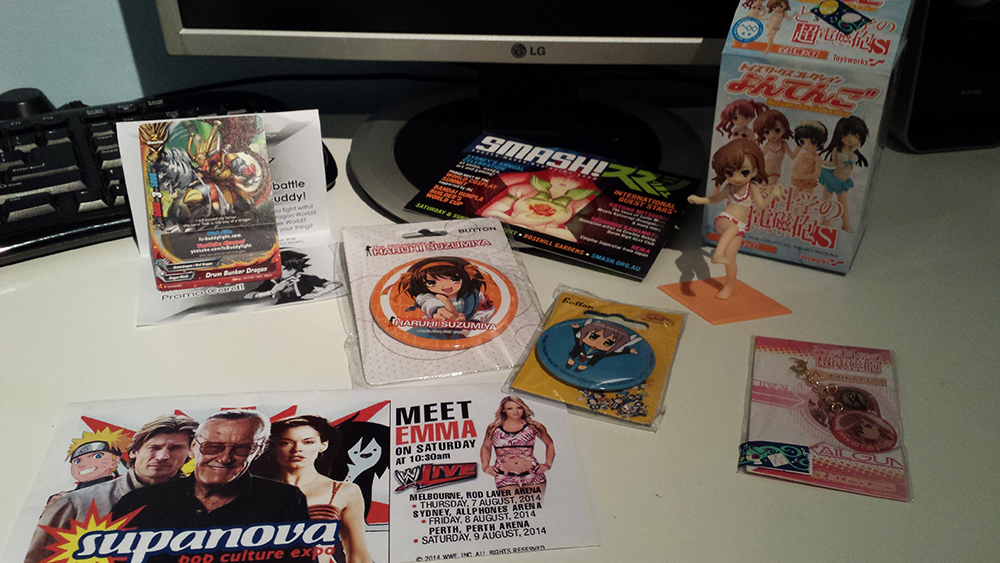 In tribute to my first-ever entertainment convention, I'll be listing everything I've bought attending Supanova 2014, in my order of purchase. Keep in mind that my selection in Animerch' isn't very diverse, since I didn't pack a lot of spending money on that day (also, I'm not very creative). With that said, let's get this list under way!
Attack on Titan A2-Sized Poster
---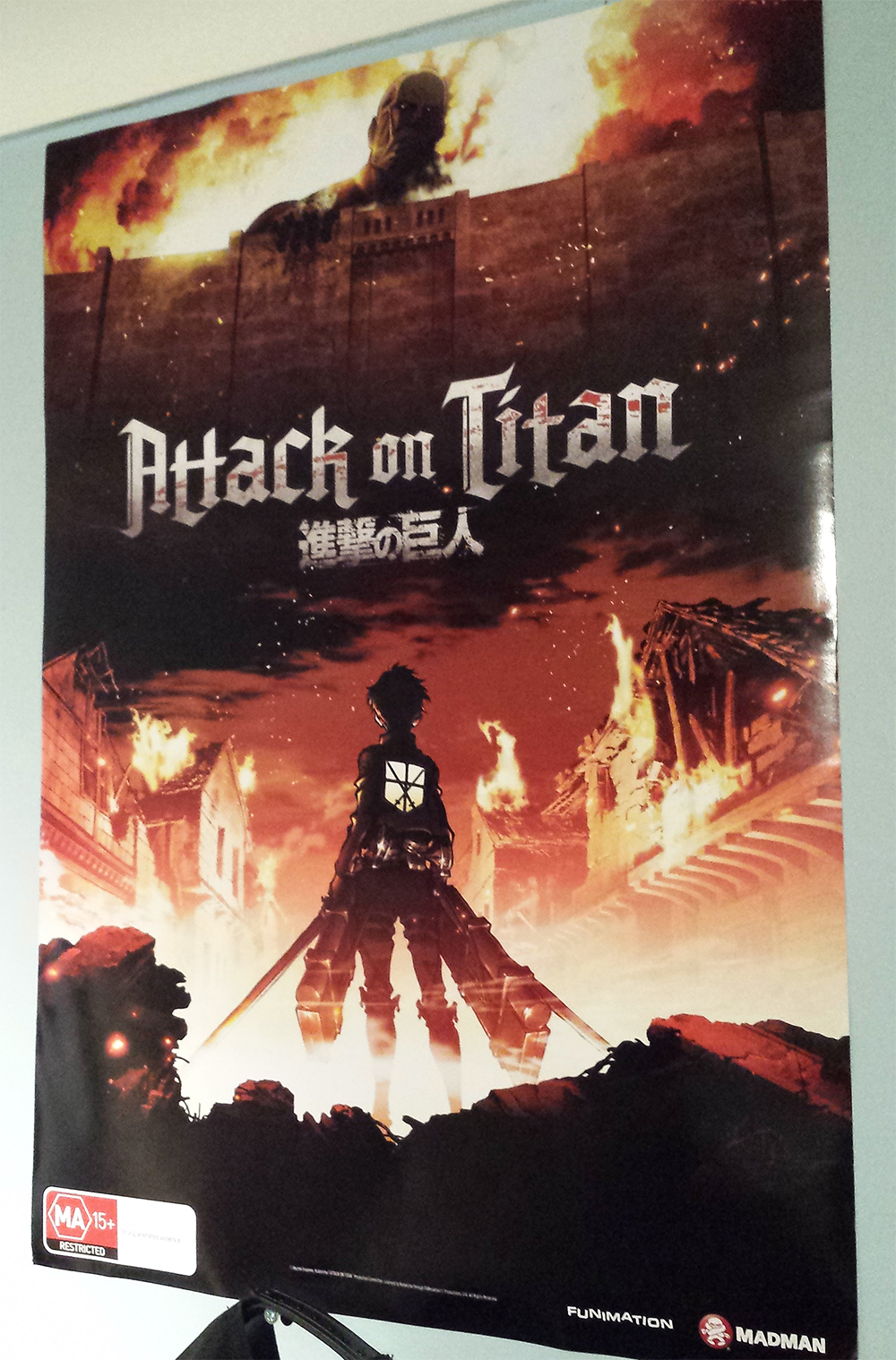 My earliest, and possibly favourite find in Supanova. While scanning through the anime/manga selection at the Madman Anime booth, I discovered there was a large promotion of the newly-made Attack on Titan dub, and what better way to promote it? Free poster distribution! This poster was pretty much of the same design as its original, only to be altered with English text placed above the Japanese characters.
Toaru Kagaku no Railgun – Misaka Mikoto Accessory Keyring
---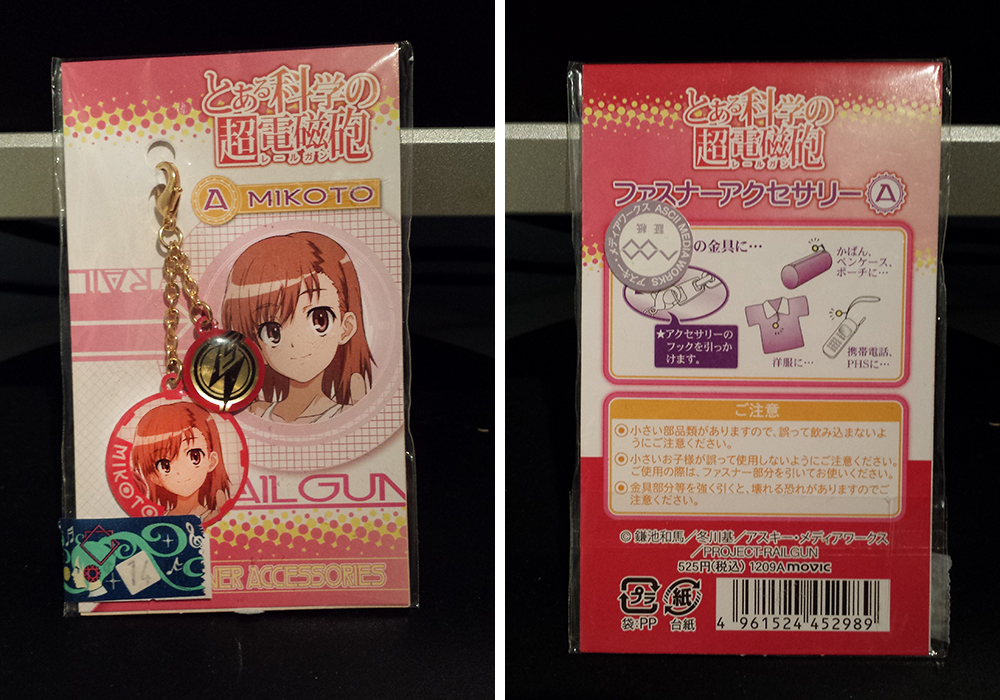 Heading over towards the Tamarket booth, (not Tamako Market booth) was a board full of accessories, plushes and figures. Luckily enough for me, my eye caught its glimpse near the bottom of the display board for a small $14, which is easily cheap for a metal keyring. Really quality material for its price and will now live a long lifetime on my backpack zipper, which brings me to my next discovery.
To Aru Kagaku no Railgun 'S' – Toys Works Collection Yontengo
---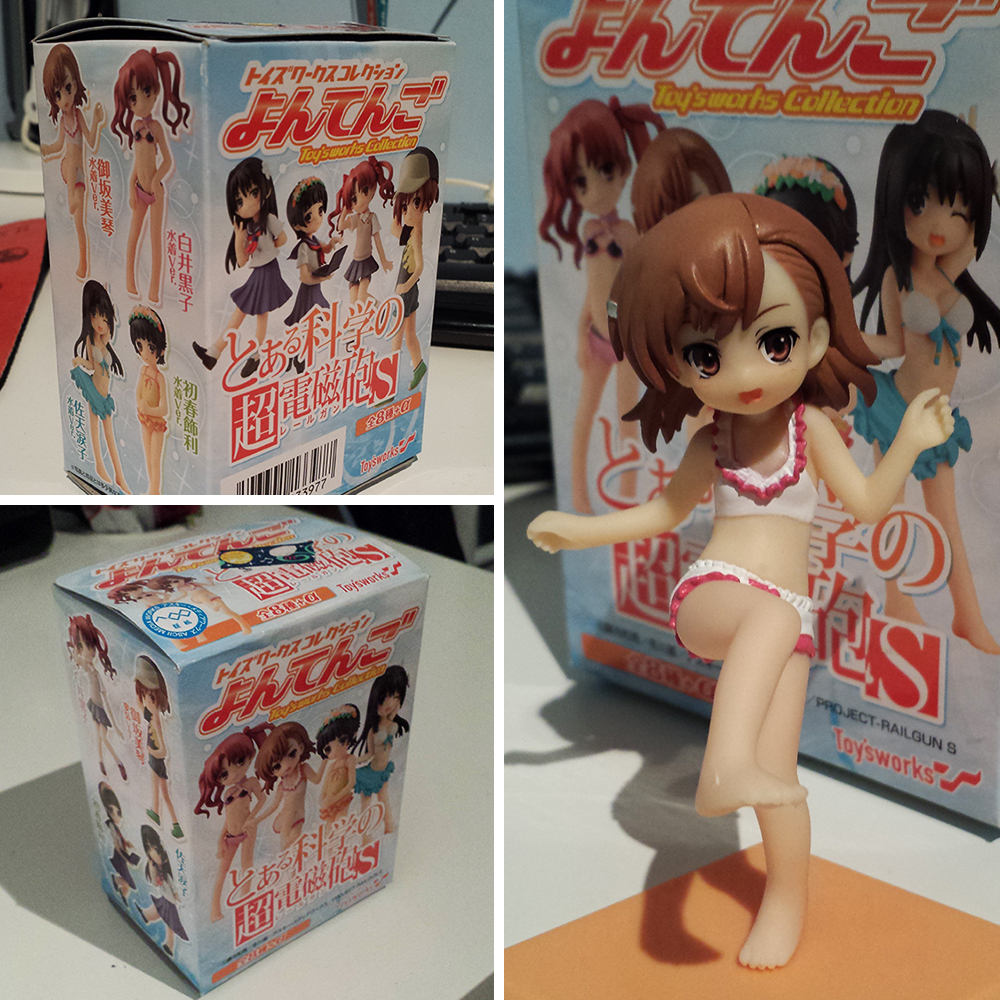 Noticed how I emphasised the 'S' earlier? This one came as an oddity to me at first glance, when I noticed the heroines wearing swimsuits on the front part of the box. I was pretty sure their swimsuit attire only appeared in the Railgun series, opposed to the Railgun S series it claims itself as. Noticing this however, only made me want it more as I became curious of its content. In terms of prices with anime figures, Yotengo was possibly the most easily affordable in terms of its given size and structure quality. As 1/8 scale figma figurines cost most to $200, finding a low price figure like Yotengo was a break for the smaller budget carriers such as myself. One problem with Yontengo boxes is whatever you purchase is chance-based, as you couldn't see what was inside, risking me a healthy $13. As a lucky pass, what I chose was at least another Mikoto to my collection, but yeah, this ain't no Railgun S.
Haruhi Suzumiya and Yuki Nagato – Button Badges
---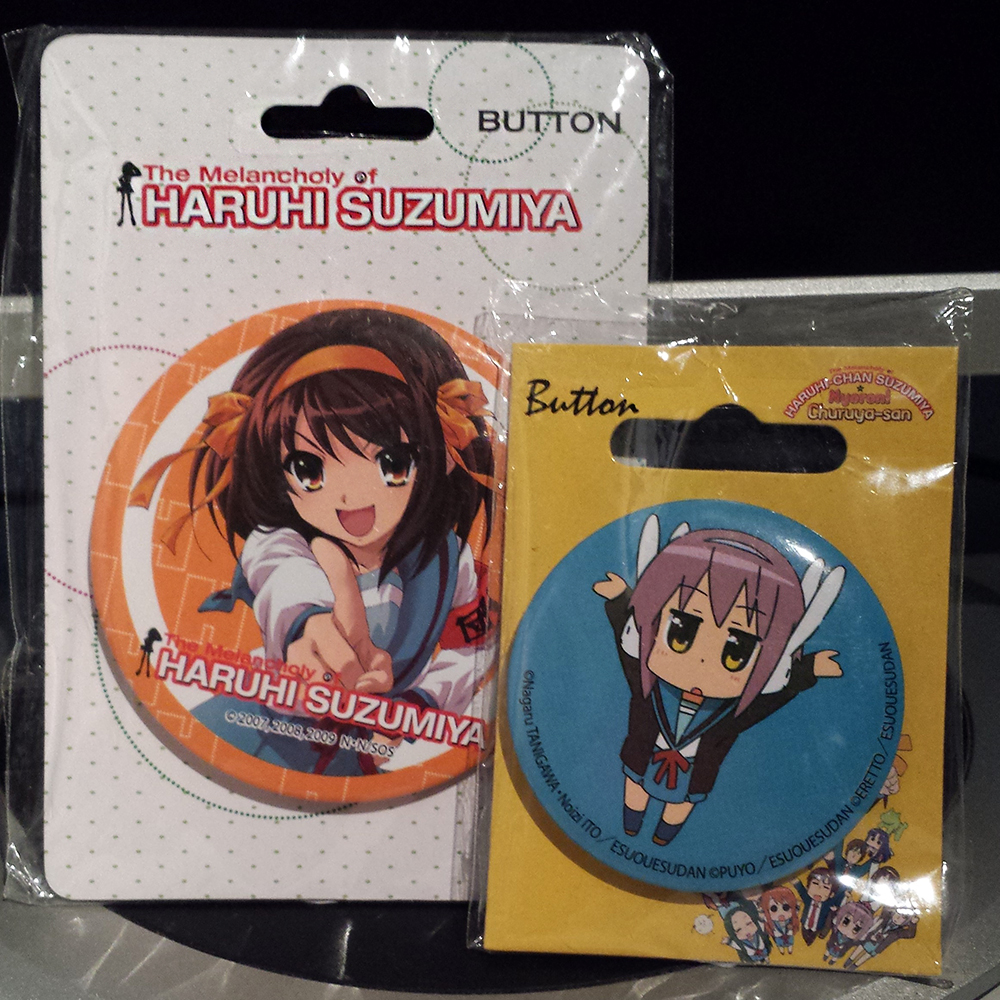 Two button badges I found near the start of Supanova once again, but have put on-hold in case I wanted something else first. Located in MS Merchandising – Rock 'n' Roll Vision, is a fairly large stall that sold mainly t-shirts as well as smaller accessories such as these. Not being able to afford the 'Haruhiism' wallet at $49, I could turn my direction towards these two (I took a picture of the wallet in case but the shopkeeper make me delete it). The orange and white badge, featured Haruhi Suzumiya from her original series, 'The Melancholy of Haruhi Suzumiya' available for $15. The smaller, blue coloured badge featured Yuki Nagato, from The Melancholy of Haruhi Suzumiya's spin-off series 'Nyoro-n Churuya-san' which I purchased for $8, making my total amount spent at this stall $23. Representing myself as a blogger of Haruhichan, I'll now be wearing our mascot on my schoolbag with my head held high.
Future Card Buddyfight – Distribution Card
---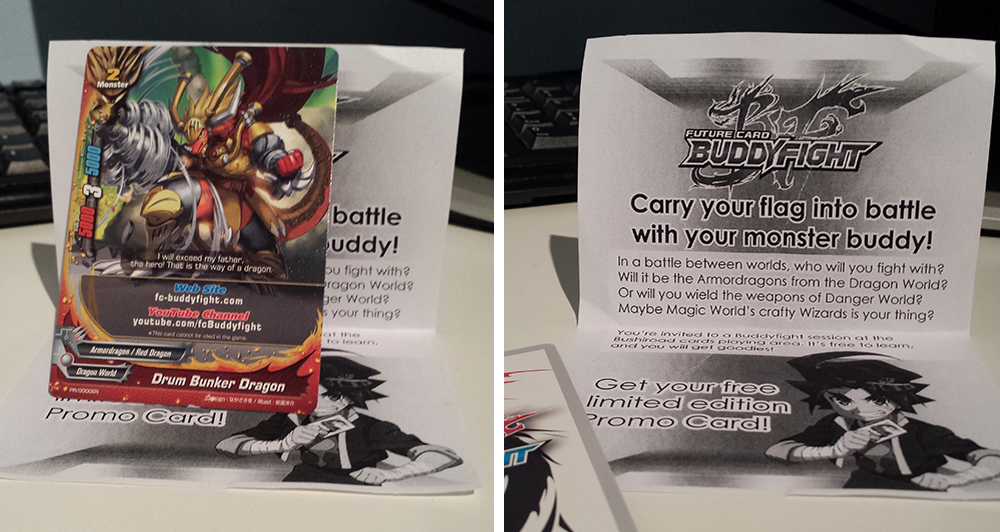 Another freebie I scored while passing through the card-games isle; Future Card Buddyfight is a new collectable card game that started this year, and as presented, went off with a kick at Supanova 2014. While I can't say too much about this game being quite a new hit itself, its anime adaptation last season (released 3 weeks prior to the trading card game) is currently airing and worth a look for anyone with time on their hands. The promo card I've been given is simply advertising (see URLs) and is unusable in-game.
Well that being it for everything I've purchased this weekend, adding the total of my spendings; 14 + 13 + 15 + 8 = $50.