With the original anime adaptation of the Classroom Crisis series debuted this month for the 2015 summer anime season, a new visual featuring Mizuki Sera and Iris Shirasaki has been featured in a double page spread in the August 2015 issue of popular Japanese magazine Comptiq. This issue of Comptiq can be purchased here.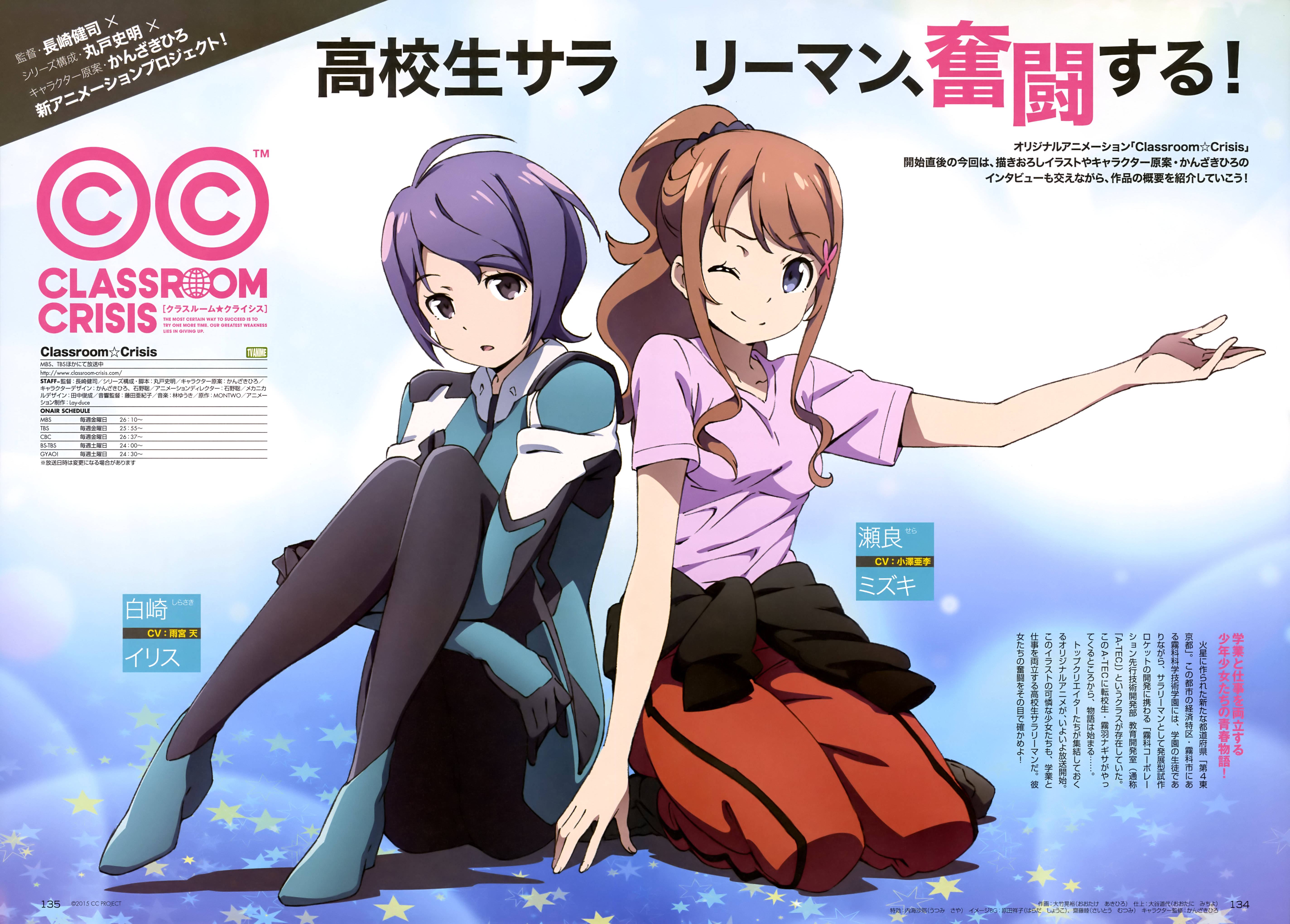 The August 2015 issue of Dengeki G's Magazine also featured the series as a double page spread. The new visual features Mizuki Sera and Iris Shirasaki. This issue of Dengeki G's Magazine can be purchased here.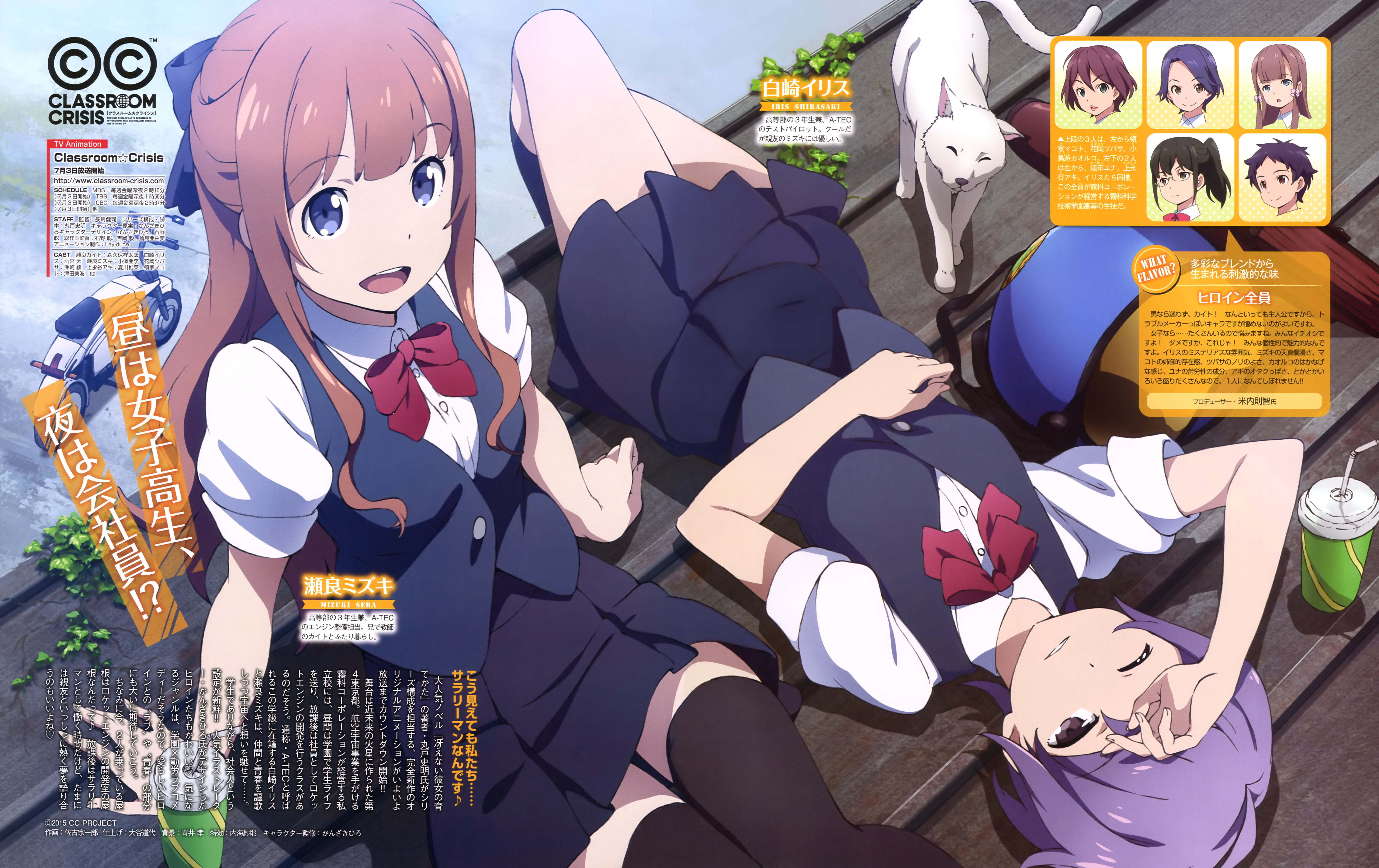 The main cast includes:
Showtaro Morikubo (Shikamaru Nara from Naruto) will voice Kaito Sera, a young engineer teacher
Ari Ozawa (Chiyo Sakura in Gekkan Shoujo Nozaki-kun) voices Mizuki Sera, yougner sister of Kaito and is a third year engineer student
Sora Amamiya (Asseylum Vers Allusia from Aldnoah.Zero) as Iris Shirasaki, a thrid year reckless pilot
Aya Suzaki (Mako Mankanshoku from Kill la Kill) joins the cast to voice Tsubasa Hanaoka
Yui Horie (Tsubasa Hanekawa in Bakemonogatari) voices Karoruko Takanashi
Kana Asumi (Nyaruko in Haiyore! Nyaruko-san) is voicing Yuna Nounen
Shiina Natsukawa (Nonoka Komiya from Sora no Method) will be voicing Aki Kaminagaya
Minami Tsuda (Yui Funami from YuruYuri) as Makoto Ryouke
Yoshino Nanjo (Eri Ayase from Love Live! School Idol Project) will voice Subaru Yamaki
Toshiyuki Toyonaga (Mikado Ryuugamine from Durarara!!) will voice Kajiro Kitahara
Takayuki Kondu (Shuichiro Oishi from Prince of Tennis) voicing as Sakugo Maioka
The main staff of Classroom☆Crisis where earlier released and consists of:
Anime visual: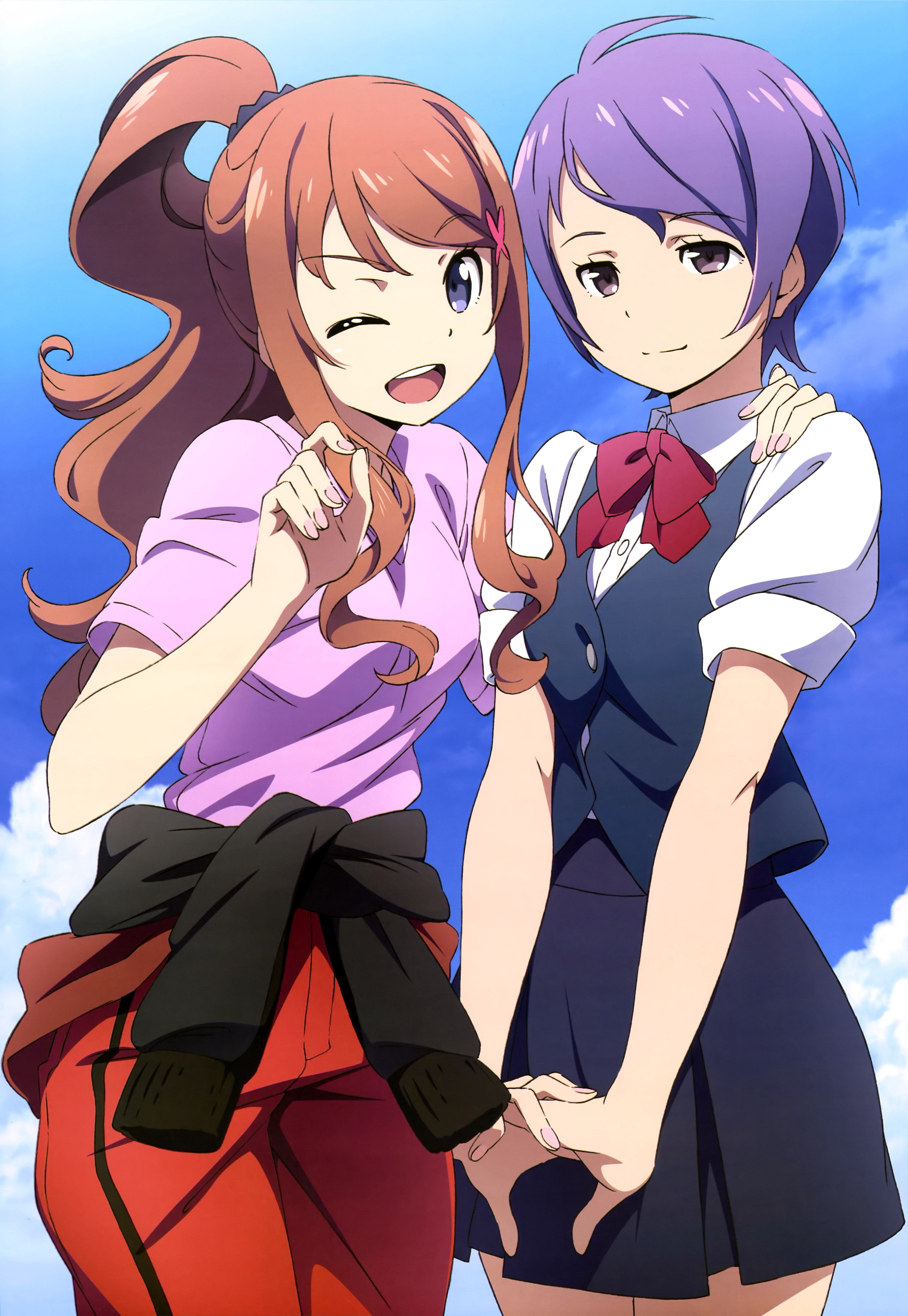 Classroom Crisis synopsis from Haruhichan:
With aims to one day reach out into the stars, humanity has colonized all the planets of the solar system. This story of young high school hopefuls is set in Fourth Tokyo in a Japanese Martian prefecture. Iris Shirasaki is a third year student/aspiring test pilot. Mizuki Sera is her peer/mechanic and Mizuki's brother Kaito is their homeroom teacher and the young director of the program developing their talents.
You can visit the anime's website here: http://www.classroom-crisis.com/
And follow them on Twitter: @clcr_project