During the Danganronpa v3 event hosted by Spike Chunsoft, it was revealed that a new anime series for the franchise titled Danganronpa 3 – The End of Hope's Peak Academy is in production and scheduled for 2016. It's an original story set after Danganronpa 2.
The first promotional was also revealed at the event:
The staff includes:
Original Character Design: Rui Komatsuzaki
Chief Director: Seiji Kishi (Ansatsu Kyoushitsu)
Series Composition: Norimitsu Kaihou (Gakkou Gurashi!)
Character Design: Kazuaki Morita (Ranpo Kitan: Game of Laplace), Ryoko Amisaki (Sumomomo Momomo: Chijou Saikyou no Yome)
Music: Masafumi Takada (Danganronpa: Kibou no Gakuen to Zetsubou no Koukousei The Animation)
Studio: Lerche (Ansatsu Kyoushitsu, Gakkou Gurashi!, Monster Musume no Iru Nichijou)
The first key visual has also been unveiled: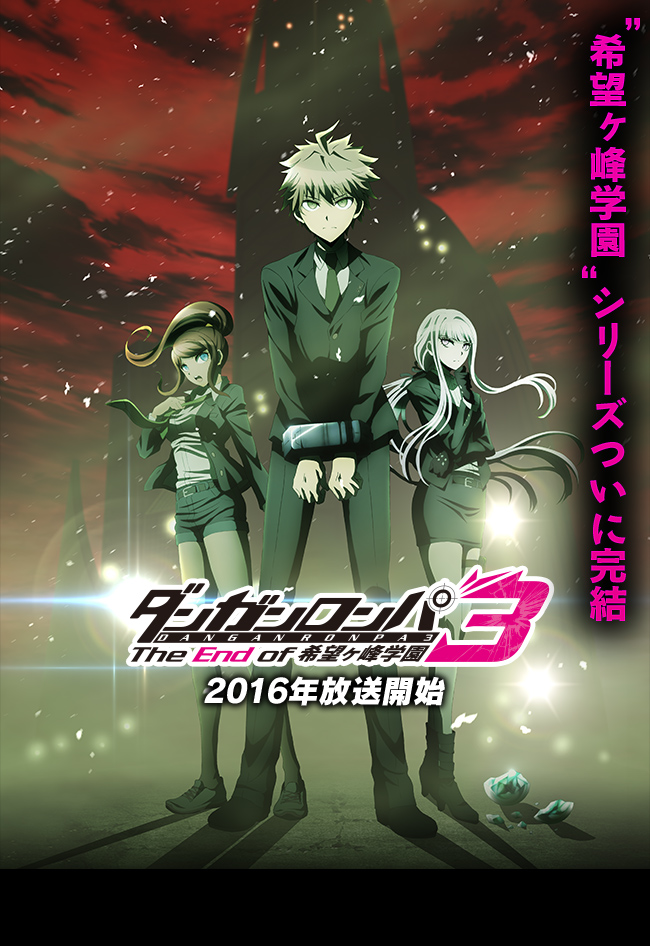 Below is the trailer for Danganronpa V3 that was revealed at Tokyo Game Show 2015.
New Dangraronpa V3: Minna no Koroshiai Shingakki (New Semester for Everyone's Killing) is in development for PlayStation 4 and PlayStation Vita.
Danganronpa is a Japanese video game franchise created and developed by Spike Chunsoft (formerly Spike) for the PlayStation Portable, PlayStation Vita, iOS, and Android. The series currently consists of three main titles; two visual novel games, Danganronpa: Trigger Happy Havoc and Danganronpa 2: Goodbye Despair, and a third-person adventure spin-off, Danganronpa Another Episode: Ultra Despair Girls, along with an upcoming third visual novel, New Danganronpa V3: Minna no Koroshiai Shingakki, and multiple smartphone titles, as well as various manga, novel, and anime adaptations.
Danganronpa: The Animation synopsis from MAL:
Hope's Peak Academy is an elite high school that accepts only the most talented students. Individuals who successfully enroll receive their own unique titles, suitably reflective of their skills and traits. Of the fifteen candidates admitted to the peculiar school that year, Makoto Naegi is a completely ordinary individual who has been accepted by sheer chance, with the title of "Ultimate Lucky Student."

Naegi and his fellow classmates are initially ecstatic to be chosen to study at this prestigious institution, but these feelings of happiness are short-lived. They are soon confronted by Monokuma, the principal and resident bear, who traps them inside the school. The pupils' hopes of escape and graduation hinge on one of them successfully murdering one of their peers without being discovered. However, if the killer is caught, he or she will be executed, and the remaining survivors will be left to continue the deathmatch until only a single victor remains.
Source: Famitsu