The official website for the Diabolik Lovers anime project based on Rejet's drama CD/Visual novel franchise has revealed that the second season will premiere on AT-X on September 23, then on Tokyo MX on October 4. Nico Nico Douga plans to stream it in October as well.
The website also revealed a new visual: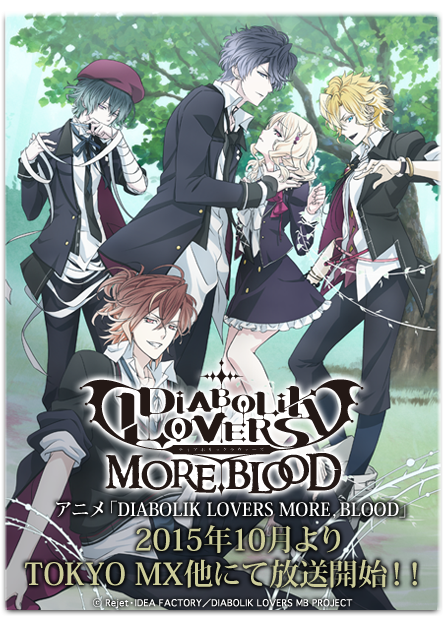 In addition to this, it has been revealed that the opening song for the second season will be titled, "Kindan no 666" (The Forbidden Three Six) and performed by Kou Mukami (CV: Ryohei Kimura) and Azusa Mukami (Daisuke Kishio), and its CD single is set for a release on November 25.
Anime visual:
Diabolik Lovers is a Japanese visual novel franchise by Rejet. Its first entry was released on October 11, 2012 for the PlayStation Portable system. Thus far the franchise has released four games with the first two having been remastered for the PlayStation Vita and released as "Limited V Editions". The franchise has spawned a 12-episode television anime adaptation by Zexcs which aired from September 16, 2013 to December 9, 2013. This was followed by a single OVA which was bundled with Diabolik Lovers: Dark Fate on February 28, 2015. A second television anime adaptation is currently in production, as is a stage-play.
Diabolik Lovers from Haruhichan:
Yui Komori used to see dead people. But as troubling as past glimpses of spirits, poltergeists, and psychic phenomena may have been, they pale into insignificance compared to what she's about to discover once she's forced to transfer to a new school. Because it turns out that her own history is very different from what she thought it was, and she has a very different kind of family waiting for her.

Now she'll be sharing her living space with six very attractive young men, though not a single one is human. And while her new dorm mates may be brothers, and their attraction to her involves her bloodline, "brotherly" is the last word to describe their intentions. In moving from her father's church to becoming the object of six blood lusting young vampires' affections, Yui will undergo the most shocking, soul ripping and draining experience any teenage girl could imagine in her wildest fantasies… or most salacious nightmares.
Source: Diabolik Lovers official website