The official website of the anime adaptation of Masaki Tsuzuki's manga Dog Days 3 began streaming its second commercial on Friday. The video introduces the two new characters, Leo and Nanami. The series is set to air this January on Tokyo MX, during the winter 2014 / 2015 anime season.
http://www.dailymotion.com/video/x2bt767_dog-days-cm2_news
The commercial proclaims to Princess Millhiore that the three heroes have returned. The text adds, "The three heroes are coming back to Flonyard for the third time. This time the stage is autumn. The new-generation hero entertainment returns for a repeat performance!"
Nana Mizuki is performing the opening theme song titled No Limit. Yui Horie returns again to perform the ending theme, the ending theme song name has yet to be announced.
Here's the first commercial which was streamed last November:
The first promotional video was also released last August:
http://www.dailymotion.com/video/x23qpgu_dogdays-%E7%AC%AC3%E6%9C%9F-%E3%83%86%E3%82%A3%E3%82%B6%E3%83%BC%E5%91%8A%E7%9F%A5
In addition, the staff were revealed earlier and is as follows:
Original Series Creator: Masaki Tsuzuki
Director: Junji Nishimura (Glasslip, True Tears, Violinist of Hamelin)
Assistant Director: Kikuchi Katsuya (Mushibugyou)
Character Design: Osamu Sakata
Chief Animation Director: Tomoyuki Kitamura (Amagami SS+, Chrome Shelled Regios, Servant x Service), Makoto Iino (Campione!,  Mushibugyou, Shinryaku!? Ika Musume)
Animation Production: Seven Arcs Pictures (Inukami!, Mahou Shoujo Lyrical Nanoha, Sekirei)
Visual: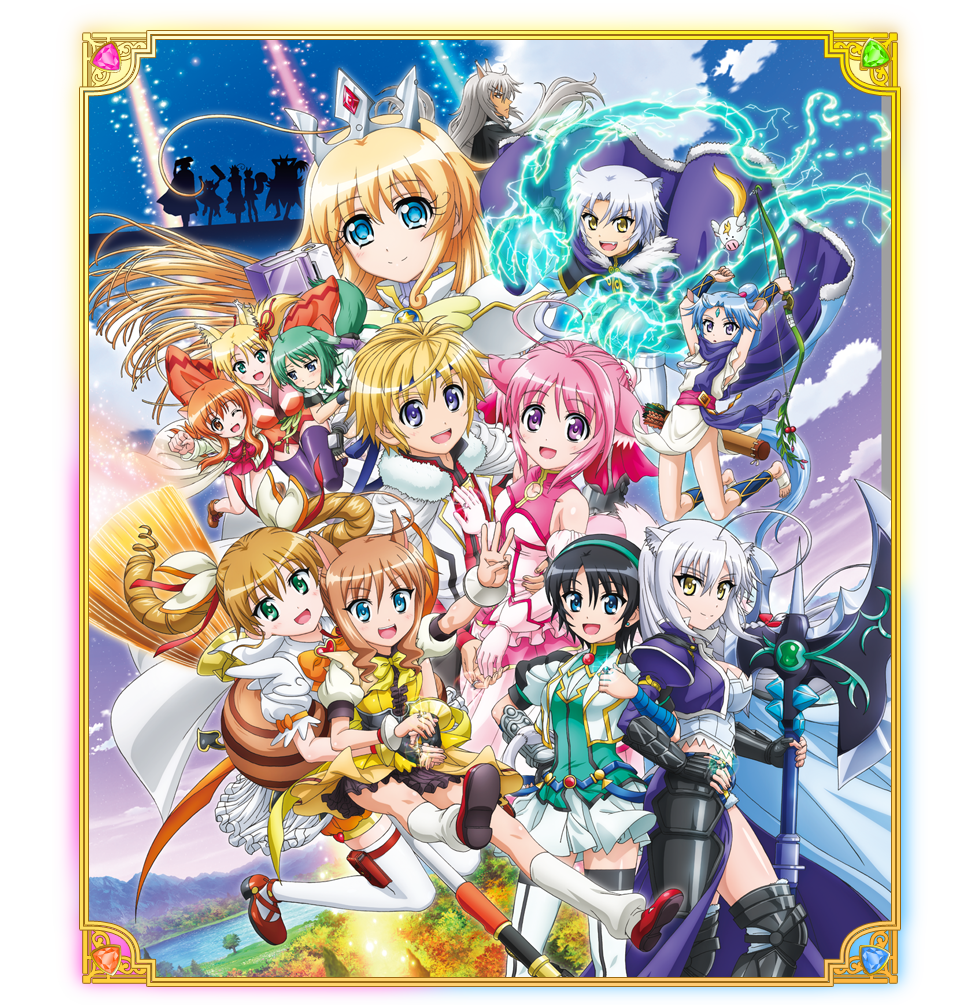 Dog Days is an original anime series created and written by Masaki Tsuzuki, known for creating the Magical Girl Lyrical Nanoha manga. The series first began in 2011 for a total of 13 episodes. The anime was produced by Seven Arcs and directed by Keizo Kusakawa (Magical Girl Lyrical Nanoha A's, Campione!). A second season of the anime, titled Dog Days', was produced in the following year by the same producers, though it was directed by Junji Nishimura instead. The series also inspired a light novel and manga adaptation in 2011.
Dog Days synopsis from Haruhichan:
Republic of Biscotti faces a predicament by the invasion of Galette Leo Knights. In order to save the country, Princess Milchore summons a "hero" from the outer world. Cinque, a junior high school boy living on the Earth, is chosen as the hero.
Source: Dog Days Official Website, ANN