The official website of anime adaptation of Ryohgo Narita and Suzuhito Yasuda's Durarara!! light novel series began streaming the first commercial for the upcoming third cour of the anime's second season: Durarara!!x2 Ketsu. The site has also revealed that the anime will begin its broadcast from January 9.
The new commercial video also previews the opening theme song "Steppin' out" by FLOW.
http://www.dailymotion.com/video/x3iz4jh
The website also revealed a new visual in November.
It has also been revealed that FLOW will perform the opening theme song "Steppin' Out" and PENGUIN RESEARCH will perform the ending theme song "Joker ni Yoroshiku" (Say Hello to Joker).
In addition to this, it was revealed at a screening on November 14th that a new Durarara!!x2 episode 13.5 OVA has been revealed. Titled "Journey of Love," the episode will take place between episodes 13 and 14 of the currently on-goingDurarara!!x2 series. It will be released on Blu-ray and DVD on January 27, 2016.  Toshiyuki Toyonaga's "91cm" will be featured as the ending theme song.
http://www.dailymotion.com/video/x357tct
A new visual was also revealed: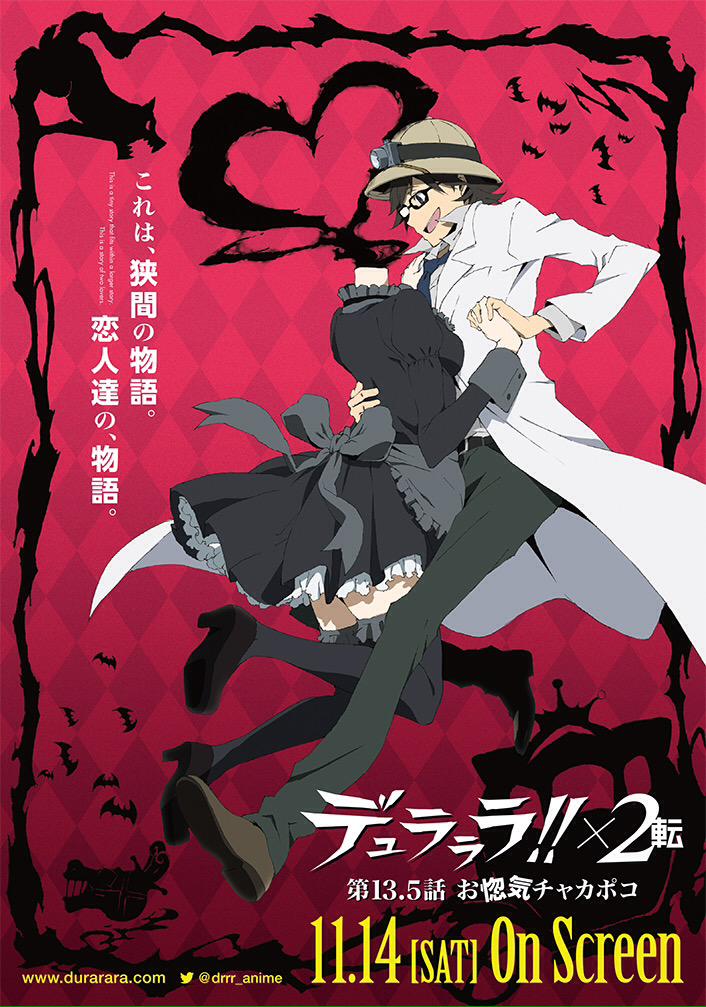 Durarara!!x2 is part of the 10th anniversary celebration of the Durarara!! series, created and written by Ryohgo Narita featuring art from Suzuhito Yasuda. The light novel series began in 2004 published by ASCII Media Works' Dengeki Bunko. The original light novels ended in January 2013 for a total of 13 volumes, but Narita has started a new series of light novels titled Durarara!! SH set two years after the original's conclusion. The third issue released this year on January 10th. The light novels received an anime adaptation in 2010 from animation studio Brain's Base with a second season airing throughout this year. In addition, two manga adaptations and a few visual novels were also released.
The third and final cour of Durarara!!x2, Durarara!!x2 Ketsu, will start its broadcast on January 9th on  Tokyo MX, during the Winter 2015/2016 anime season. Further information about the anime will be revealed within the next few weeks.
You can visit the anime's website here: http://www.durarara.com/
And follow the anime on Twitter: @drrr_anime
Source: Durarara!! official website