So much figures are coming over at Haruhichan and we are more than happy of your usual but strong support with our collection of anime figure reviews!  Available at E2046.com, next on our list is robot babe that won't disappoint you. This next character was once ranked as the ninth best Playstation 2 babe. Now without further ado, let's examining Xenosaga's KOS-MOS.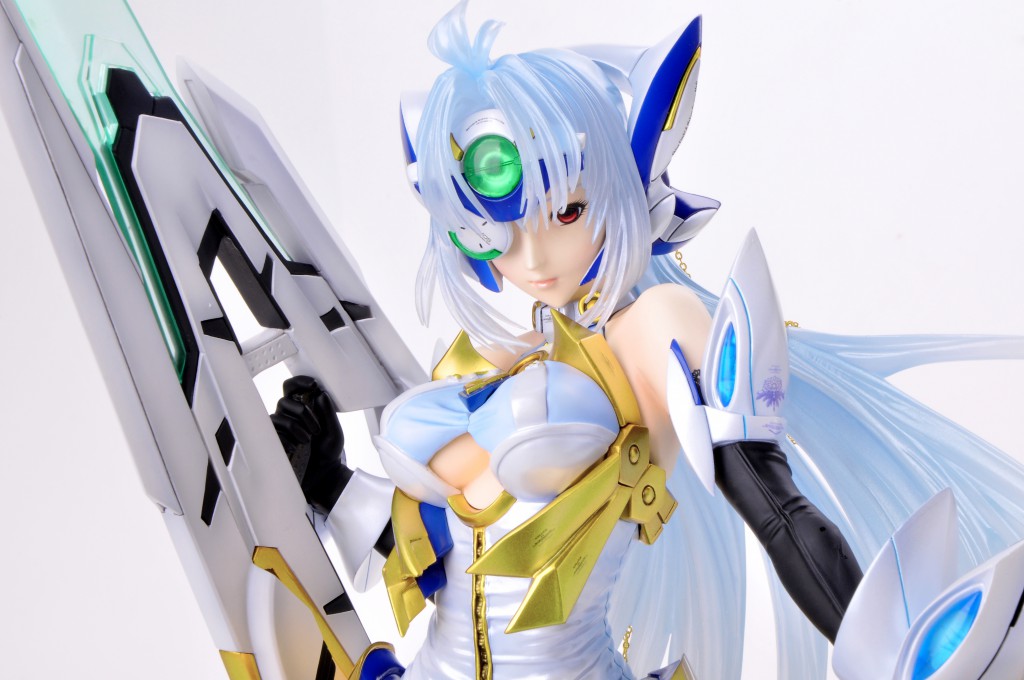 This blue-haired hottie, which happens to be a robot as well, is projected wearing her Dragon Tooth costume. On the front, there are three focal points that will initially caught your attention. First would be her face, which is beautifully framed by her blue fringe and side bangs. She looks both angelic and cute, perfect for fans. Her realistic red eyes gaze on you while you will also notice her blue headgear is slightly tucked in her hair. Get a closer look and you'd see her name on the gear which is also design with yellow and green linings. Second focal point will definitely be her chest area: plump and perfectly big. You can get a bit of a sneak peek of her breasts as the top area of her costume has a hole situated under her cleavage area while golden spikes are under and all over it, giving KOS-MOS a tighter top. Third is her removable Tri-barrel Gatling Gun (which is exchangeable with her Saber Sword). Both weapons are crafted beautifully. The gun just as it is in anime is unrealistically larger than her size. It has three silver barrels and gold and blue plating.  While the sword is a beautiful long aqua blue weapon with a sleek white handle.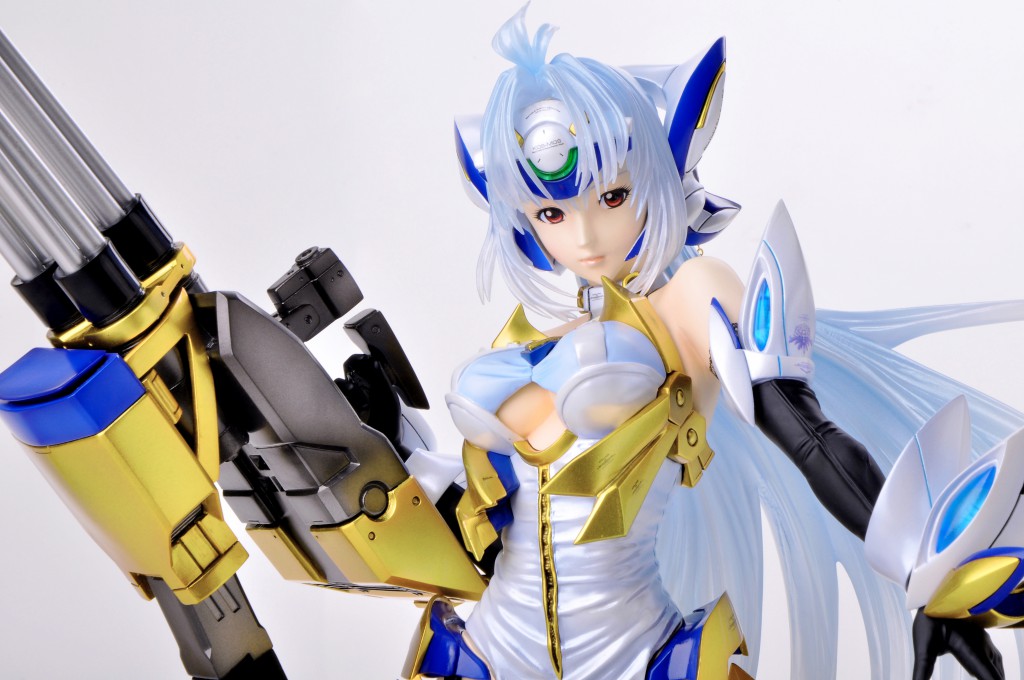 Have a better look, and you would see her tight strapless dress. Silky and flowy, it perfectly shapes her curves and leaves little to the imagination, accessorized with black sleeves with pointy petal-like cuffs. KOS-MOS is also seen wearing thigh-high tights with black and gold hemlines that ends with a very mechanical-looking gold shoes.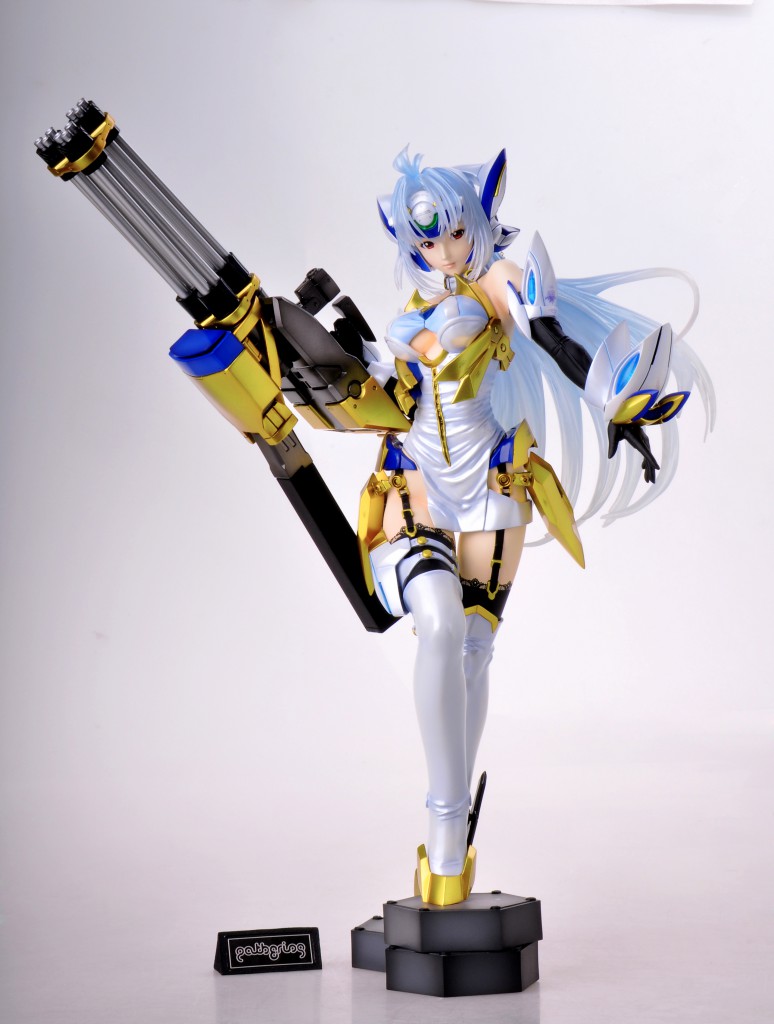 On the back, you can have a better view of her flowing blue hair. The headgear, which was predominantly colored blue on the front, is white and clean on the back. It also has a golden chain plate which also doubles as a great hair accessory. And as much as her hair is fantastic and all, you wouldn't miss her silky-looking skin and sculptured buttocks. Her dress costume, having both side slits, gives more of a sexier illusion for KOS-MOS. And lastly, a gold decoration, that greatly resembles a spinal cord, shells her back.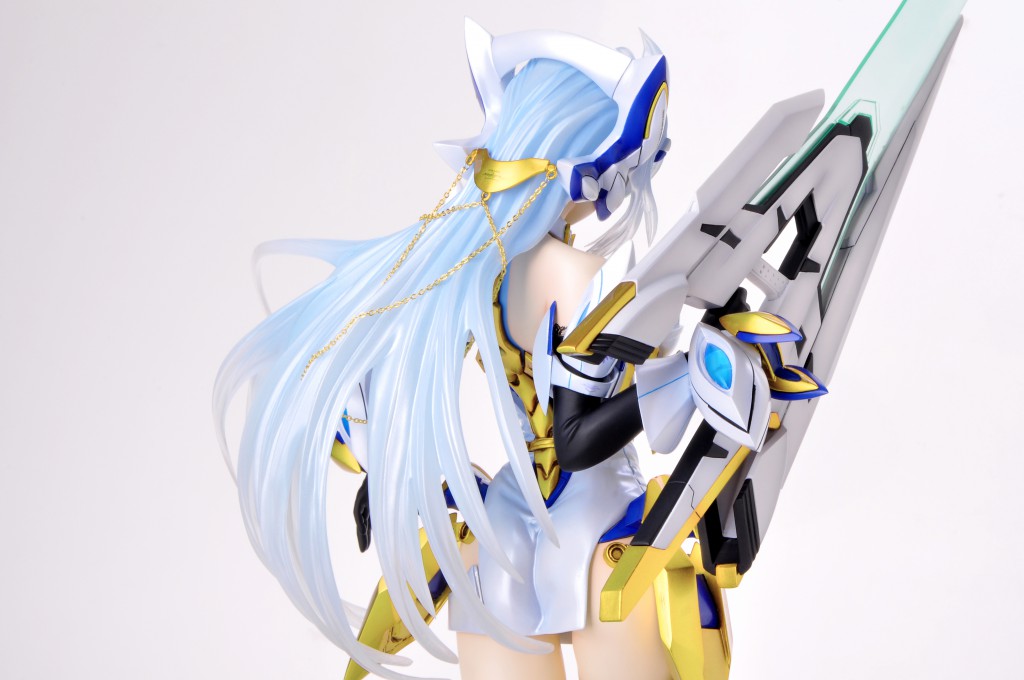 With her right leg standing forward, her back also gives you a peek to her godly buttocks. Also seen from the side (and back) is her the back side of the shoes which is painted blue.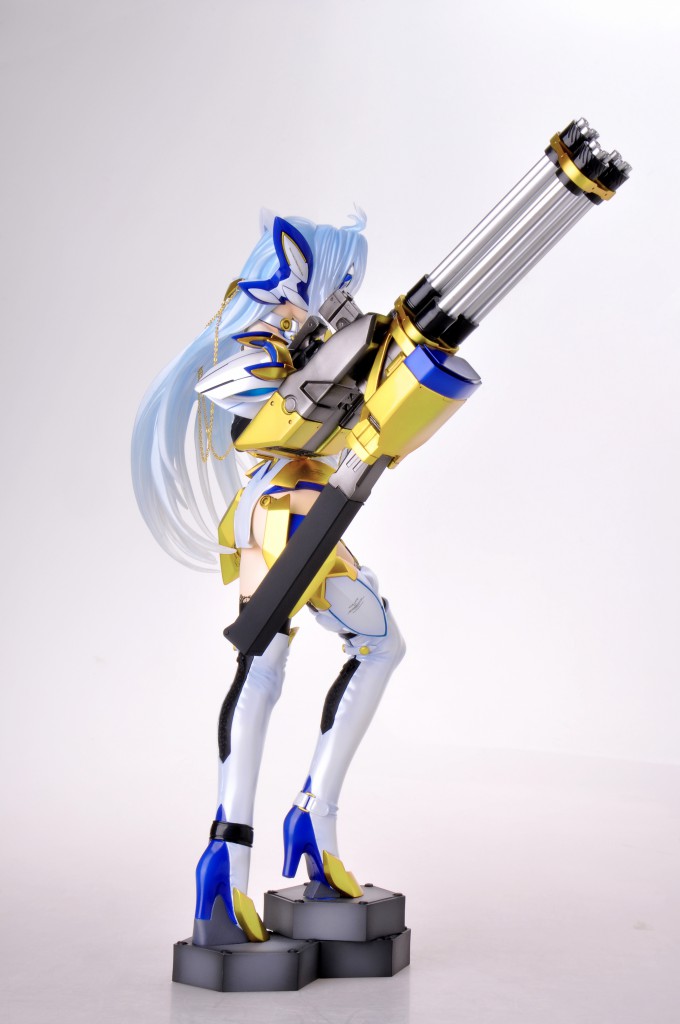 Weighing 3.75kg and standing 65cm, this humanoid hottie is a sure treat for the gents and ladies. Package comes with a stand base and two weapons! So avail this great deal with 25% off and get KOS-MOS for a reasonable price of 332.39USD (GK Version here)! Or if you're feeling a bit naughty for this robot, you can also purchase this adult version! Happy shopping!