North American anime licensor and distributor Sentai Filmworks have streamed the first couple two videos for their English dubbing of Chuunibyou demo Koi ga Shitai!, or Love, Chunibyo & Other Delusions! in English. The dub itself will be featured with the release of the collectors edition of Love, Chunibyo & Other Delusions! on DVD and Blu-ray, which will contain: all 12 episodes of the 2012 anime and the OVA, an eye patch similar to the one worn by Rikka Takanashi, various stickers based on the series,a keychain, a massive 152 page booklet that contains art and character information, audio commentary with the Japanese staff and crew, all the web shorts, all released promotional videos, and textless versions of the OP and ED. The anime itself is produced by Kyoto Animation (Hyouka, Amagi Brilliant Park) and directed by Tatsuya Ishihara (Clannad, The Melancholy of Haruhi Suzumiya).
Love, Chunibyo & Other Delusions! will be releasing in North America on February 24th and is currently being sold on Rightstuf for $77.99 USD. The release will come in both the English dub and Japanese dub with English subtitles.
Here is the first teaser:
And teaser 2:
Here is the main visual of the release: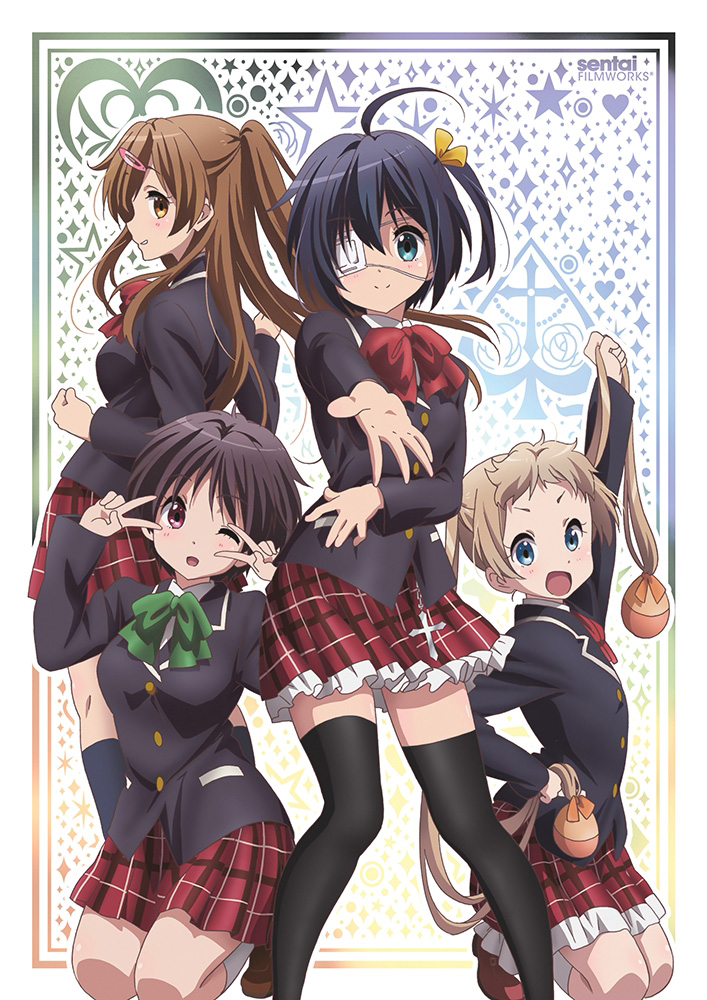 Anime synopsis from Haruhichan:
Yuuta Togashi suffered from chuunibyou while he was in middle school. When he graduated, he put that dark history behind him and forgot about it… or he was supposed to. High school was smooth sailing and full of enjoyment—until the unavoidable, sad event occurs. The event that locks Yuuta into a contract with Rikka Takanashi and disrupts his desperately ordinary life.
You can visit it the anime's website here: http://www.anime-chu-2.com/
You can also follow the anime's Twitter: @anime_chu_2
And don't forget to follow Sentai Filmworks on Twitter: @Sentaifilmworks