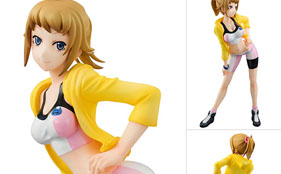 From the popular mecha anime series Gundam Build Fighters Try, Fumina Hoshino has joined the Gundam Girls Generation figure series. She's widely known for her clothing choice which is white/pink spats with a yellow jacket.
She's a 1/10 scale figure posed in a way so you can appreciate her curvy body.
Gundam Build Fighters Try – Fumina Hoshino 1/10 Figure – Pre-orders are currently available on JList and is scheduled to be released in July 2015.