It will be announced in the March issue of Megami Magazine, which will be released on January 30, 2015, that Koi's 4-panel comedy manga series Gochuumon wa Usagi Desu ka? will get a second season. More information will be released at a later time.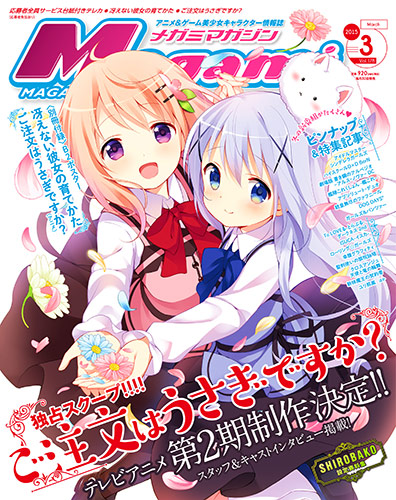 Here's the opening theme for the first season:
Gochuumon wa Usagi Desu ka?, also known in short form as GochiUsa, is a Japanese 4-panel comedy manga series by Koi, serialized in Houbunsha's seinen manga magazine Manga Time Kirara Max since March 2011. It has been collected in three tankobon volumes as of March 2014. An anime television series adaptation by White Fox aired in Japan between April and June 2014. A second season is currently in production.
Gochuumon wa Usagi Desu ka? synopsis from Haruhichan:
Cocoa arrives at the cafe Rabbit House one day, excited for rabbits. She actually all but lives in that cafe. She meets lots of different girls there, including a tiny and cool girl named Chino, a tough and soldier-esque girl named Rize, a spacey and quintessentially Japanese girl named Chiyo, and the ordinary but dignified Sharo.
Source: otakomu