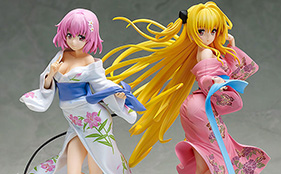 FREEing have revealed images for the upcoming 1/8th scale figure of Golden Darkness from the To Love-Ru Darkness series. She's dressed in a loose-fitting pink yukata while revealing a glimpse of her legs and breasts.
To Love-Ru Darkness – Golden Darkness 1/8 Figure Yukata Ver. – Pre-orders are available on Jlist here and is expected to be released in March 2016.
Golden Darkness Yukata figure can be pre-ordered here. You can view Momo's figure here.